Vital Stats:
This cigar was reviewed blind (no bands) by a panel of at least 4 reviewers. They did not know what they were smoking beforehand. The scores are an average of all the reviewers' scores with outliers removed. All of our cigars reviewed are shipped to the panelists with Boveda packs to ensure optimal smoking experience.
Vitola: Toro
Length: 6″
Ring Gauge: 50
Country of Origin: Dominican Republic
Wrapper: Corojo Shade
Binder: Dominican Olor
Filler: Dominican Blend + Andullo
Factory: E. León Jimenes Tabacalera
Blender: Unknown
Number of reviewers: 5 —– Ron (shuckins) Cindy (Ms_CindyLynn) Brian (B-daddy) Jason (bigslowrock) Emmett (rhetorik)
Price: $7.00
Contributed by: Ventura Cigars
Description (from Manufacturer)
ANDULLO, the exclusive tobacco in Project805, bound in a balanced blend of the finest Dominican leaf for an incredibly aromatic and complex smoke. Hand-finished boxes, each one unique, manufactured by a network of underground craftsmen. Project805 is the cigar they tried to keep from you, this is the disruption they tried to suppress, yet here it is, in your hands – you are now part of the disruption.
You are part of the disruption, the first wave of underground trendsetters prepared to experience Project805's secret ingredient, ANDULLO. What is Andullo? Andullo is a unique tobacco never before used in cigars. Naturally flavored, aromatic, and so utterly different it is a disruption to the Industry. Expertly blended and hand-rolled at La Aurora under the supervision of Ventura Cigar Company.
Initial Impressions
Appearance: 90
"Nice, even medium brown wrapper with a smooth velvety texture to it. Tight seams. A simple single cap but neat and well applied. No veins to speak of. Pretty." –Brian (B-daddy)
Aroma: 92
"Really nice prelight draw and aroma to this one. I'm getting a mix of strong barnyard, chocolate and tobacco. Usually a sign of good things to come." –Jason (bigslowrock)
Construction: 91
"Other than the big veins and only a single cap, the construction appears to be quite good. Nice give to the squeeze but not too soft." –Emmett (rhetorik)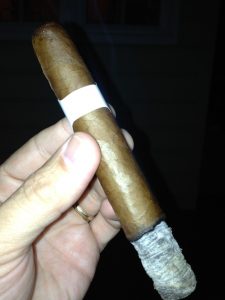 First Third
Flavor: 94
Strength: Mild-Medium
Body/Complexity: Medium-Full
"White peppery allspice, earthy cedar and musty tobacco flavors in the first few puffs. Then it turned to a peat tasting cedar that was borderline sour for a few minutes." –Ron (shuckins)
"This third starts and ends with pepper. It's the dominating flavor throughout this third. I'm also picking up notes of cedar and just the lightest hint of caramel sweetness creeping in." –Jason (bigslowrock)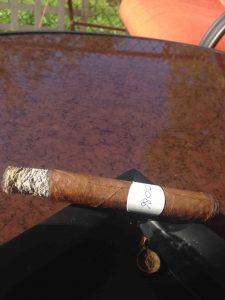 Second Third
Flavor: 93
Strength: Medium
Body/Complexity: Medium-Full
"The cedar continued to make its appearance, as it became a creamy cedar profile. Midway through the cigar, the new velvety smoke was tickling my palate with each puff. I felt that every puff made me love this cigar even more.. I was thoroughly enjoying this. In the end of the second third, the velvety texture disappeared as it became a creamy cedar, once again." –Cindy (Ms_CindyLynn)
"The flavors have softened in the second third; blended together into a mellow toasted wood flavor. I'm getting a little of the toasted bread flavor but only in the after taste well into the finish. The smoke still has a lovely creamy texture. I find myself having to put this cigar down to keep from smoking it too fast. The flavors are ramping back up again at the end of the second third. Hearty yeasty bread flavor and just enough leather bite on my tongue. Getting a touch of baking spice now too. Even the retrohale is mild and creamy, and it really accentuates the baking spice." –Brian (B-daddy)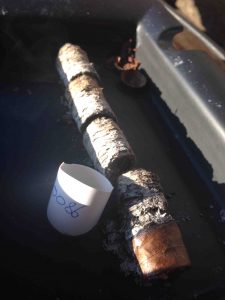 Final Third
Flavor: 96
Strength: Medium-Strong
Body/Complexity: Medium-Full
"The final third starts off with a bit of sweetness; almost like french toast, blending with the creamy woody and tobacco core. The leather bite has faded away and there's hardly any spice except at the very end of the finish. And, as before, it's a baking spice rather than a pepper bite. When 2+ inches of ash fall, the next few draws bring some darker heavier flavors; dried fruit and rich earthy leather. They hang on for a little while but eventually the toasted bread and creamy flavors take over again. Right at the nub I start to pick up some hay or grassy notes. It never gets hot or bitter." –Brian (B-daddy)
"This third starts off with the baking spices from the previous, but with the pumpkin spice amped up. The flavors continue to develop as I near the nub, mixing with leather, almond and more baking spices in a great finale to a great cigar." –Emmett (rhetorik)
Overall Impressions
Draw: 94
"Just about perfect. Just enough resistance and put out huge volumes of smoke throughout." –Brian (B-daddy)
Burn: 96
"Perfect burn! It had a nice, tight ash.. the burn line was consistently straight. As I said before, the individual(s) who constructed this cigar has skill. I never once had to adjust. There was a smooth, even smoke the entire time." –Cindy (Ms_CindyLynn)
Overall Strength: Medium
Overall Body/Complexity: Medium-Full
Overall Experience: 95
"Started off tasting like it needed some rest time and maybe it did because it would have scored higher if not for the first third. I would like to revisit this one after it has rested." –Ron (shuckins)
"The overall experience was wonderful. The profile was wonderful. This was a perfect cigar for the warm day that it was when I smoked it. I even pictured myself smoking this in different situations and I don't see that it would be any different. This would be a perfect smoke for the morning with coffee, afternoon smoke, and even a night smoke with a nice glass of bourbon. I am extremely eager to find out what this is.. and pick up more of these. Absolutely delicious!" –Cindy (Ms_CindyLynn)
"Can't say enough about this cigar. Flavors were wonderful. Burn and draw were just right. I'm looking forward to finding out what it is so I can spend my kids college money buying a box. (Something tells me it ain't cheap.)" –Brian (B-daddy)
"Nothing really exciting about this cigar to me. Pretty one note and that one note was pepper. If you're a pepper fan, give it a shot." –Jason (bigslowrock)
"This cigar was extraordinary in it's subtle nuances of spice and complexity or flavor. The appearance was originally a turn off, but given how well everything else performed I'm willing to look past it if the price is right. This is a must buy for me and a contender for cigar of the year." –Emmett (rhetorik)
Smoking Time (in minutes): 98
Total Score: 94 (Great)
Edit

| Reviewer | Appearance | Aroma | Construction | First Third | Second Third | Final Third | Draw | Burn | Overall |
| --- | --- | --- | --- | --- | --- | --- | --- | --- | --- |
| Ron | 88 | 80 | 90 | 82 | 84 | 88 | 89 | 89 | 86 |
| Cindy | 97 | 95 | 97 | 95 | 96 | 96 | 99 | 99 | 98 |
| Brian | 92 | 84 | 89 | 97 | 93 | 97 | 96 | 96 | 97 |
| Jason | 93 | 94 | 93 | 90 | 89 | 88 | 93 | 93 | 88 |
| Emmett | 87 | 94 | 90 | 93 | 95 | 95 | 893 | 97 | 95 |
| Overall | 90 | 92 | 91 | 94 | 93 | 96 | 94 | 96 | 95 |
To view the complete scores and notes, click here
Blind Cigar Review: Ventura Cigars | Project 805 Toro