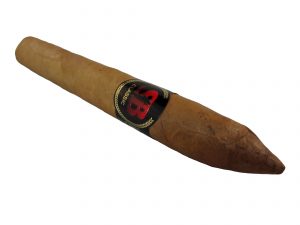 Vital Stats:
Vitola: Belicoso
Length: 6.5″
Ring Gauge: 52
Country of Origin: Dominican Republic
Wrapper: Connecticut
Binder: Dominican Republic
Filler: Dominican Republic and Nicaragua
Factory: Undisclosed
Blender: Jose Dominguez
Number of reviewers: 5—–Ron (shuckins) Dave (mdwest) Sandeep (Djangos) Jason H. (Jokey Smurf) Wes (SosaCub4Life)
Price: $3.00
Age: 4 Months
Release Date: Undisclosed
Contributed by: StogieBoys.com
This cigar was reviewed blind (no bands) by a panel of at least 4 reviewers. They did not know what they were smoking beforehand. The scores are an average of all the reviewers' scores with outliers removed. All of our cigars reviewed are shipped to the panelists with Boveda packs to ensure optimal smoking experience.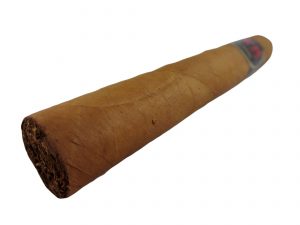 Initial Impressions
Appearance: 93
"Great looking torpedo with a very light brown wrapper. The surface is mostly smooth except for the areas with the veins which are quite prominent. No major blemishes are present on the wrapper." –Sandeep (Djangos)
Aroma: 88
"A very light aroma of nutmeg with faint pepper and cocoa." –Ron (shuckins)
First Third
Flavor: 93
Strength: Medium
Body/Complexity: Medium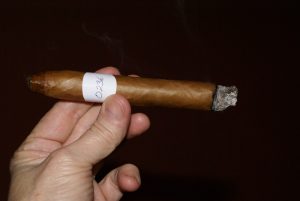 "I'm pleasantly surprised by some very bold grass and floral notes and possibly a little sage or other herbal type note in the background, but then just as quickly become disappointed after these flavors start to wane and become harder to detect after I get about 2″ in to the stick." –Dave (mdwest)
"The initial third starts off with a more earthy profile than would have been inferred from the dry puff. The sweeter flavors are definitely not present, but the hay and grass with some wet earth are really good. There is definitely some leather to the finish. The pepper does not appear till about a quarter inch in. After this, pepper gets a bit stronger as we progress. No issues with the burn or draw. There is copious amounts of smoke being produced. Also the ash is solid and holds a good 2 inches before falling off." –Sandeep (Djangos)
Second Third
Flavor: 89
Strength: Medium
Body/Complexity: Medium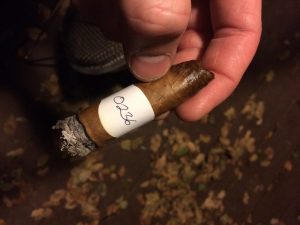 "The middle third starts with the pepper increasing in intensity. Also, the flavor profile seems to shift to a more leather and woodsy one. There is definitely cedar and some nutmeg as well. Definitely delivers in the complexity department, however, the flavors are a little muted as compared to the initial third even though the pepper is increasing in intensity. No issues with the burn or draw." –Sandeep (Djangos)
"Still some very nice spice to the cigar, especially on the retro. Picked up some sweetness to go with the overall creamy profile of the stick. Burn has stayed well also." –Wes (SosaCub4Life)
Final Third
Flavor: 88
Strength: Medium
Body/Complexity: Medium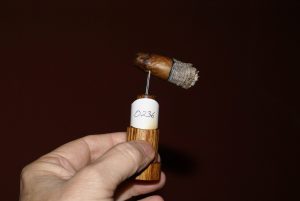 "The grassy flavor has lost most of its sweetness as more pepper joins the nutmeg and brings a little heat with it the closer to the end it got. A splash of cedar crept in which pushed most of the cocoa flavor out and brought a dry taste with it at the very end." –Ron (shuckins)
"The final third of this cigar has a bit more body coming into play but still not much. I'm drinking this with coffee tonight, and I can see this being an enjoyable way to start the day. The charred flavors are still present but there is a creamy texture to the smoke that is leaving a bit of a slick on my palate. The vegetal note is back and again brings candela to my mind. I have lost the acrid note, and the finish has become very short…lasting only a few seconds after each puff." –Jason H. (Jokey Smurf)
Overall Impressions
Draw: 96
"An excellent draw with just the right amount of resistance present." –Dave (mdwest)
Burn: 98
"The burn was very good. Didn't need any touch ups and it stayed almost perfect." –Wes (SosaCub4Life)
Construction: 93
"This cigar felt a bit light in the hand but burned surprisingly well. The draw was superb, and the ash was strong and firm…dropping in solid 1.5″ chunks while the cigar rested…there was no flowery mess or flakes of ash on my sweater…very impressive." –Jason H. (Jokey Smurf)
Overall Strength: Medium
Overall Body/Complexity: Medium
Overall Experience: 91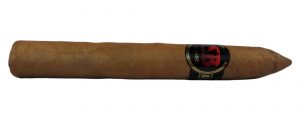 "I thoroughly enjoyed this cigar and the flavors it had. It was well blended and changed gears often enough to keep me entertained." –Ron (shuckins)
"Not a stick I'm much interested in trying again. While the first third had some initial promise, the rest of the stick was pretty much flat and flavorless for me. That, combined with poor appearance and overall poor performance, I think I'd rather spend my money on other options." –Dave (mdwest)
"Overall, the cigar was a good and pleasant smoke. There was enough complexity to keep the interest even though it would have been better if it had maintained the complexity of the initial third. Definitely will smoke again." –Sandeep (Djangos)
"This cigar didn't present anything that I didn't like, but it didn't present much by way of flavor that I'd say was remarkable. For an early morning smoke, or for lovers of mild cigars, this would be highly recommended. Not so much for the evening (when I am smoking) or for the BOTL who loves a full body pepper bomb. The performance is something every cigar should be…creating a great smoking experience. I wouldn't mind having some of these on hand to share with new smokers, or to grab in the morning." –Jason H. (Jokey Smurf)
"Overall, the cigar was good. Not anything great, but still good. It had a good mild spice throughout the first two thirds then kinda fell flat at the end." –Wes (SosaCub4Life)
–
Smoking Time (in minutes): 77
Edit

| Reviewer | Appearance | Aroma | 1/3 | 2/3 | 3/3 | Draw | Burn | Constr. | Overall |
| --- | --- | --- | --- | --- | --- | --- | --- | --- | --- |
| Ron | 95 | 90 | 93 | 90 | 90 | 90 | 88 | 93 | 90 |
| Dave | 83 | 88 | 88 | 85 | 83 | 93 | 88 | 83 | 83 |
| Sandeep | 95 | 95 | 93 | 90 | 90 | 97 | 98 | 95 | 92 |
| Jason H. | 90 | 88 | 88 | 88 | 88 | 97 | 98 | 93 | 90 |
| Wes | 90 | 88 | 93 | 90 | 85 | 97 | 98 | 93 | 90 |
To view the complete scores and notes, click here.
–
Blind Cigar Review: Stogie Boys | Classic Belicoso
Blind Cigar Review: Stogie Boys | Classic Belicoso
92
Total Score - Excellent