I received a box of Commonwealth Cedar Spills that had the Blind Man's Puff name and logo laser engraved onto the lid of the case. When I took the case out of the tube they came in, the quality of the engraving really impressed me. There are some nice touches with the burn marks where the lid and box come together which makes it nice and rustic looking. This is definitely something that is a cool touch to add to your smoking room or man cave, or even to pull out of your locker and take with you to your seat at your local B&M.
One of the caveats to keep in mind when using cedar spills (the same could be said for matches and most soft flame lighters) is that they are not wind proof, so you will most often times be using them indoors or in a location that has little to no breeze. Using a soft flame from the cedar spill also takes a little bit of practice as you need to experiment with the right angle to hold the spill as well as how to hold the flame near the cigar.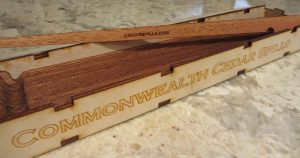 The way I like to use a spill is similar to how I use a soft flame lighter or torch. I toast the foot of the cigar, trying not to touch the flame to the tobacco, until the tobacco at the foot is combusting. This process takes a little longer and usually takes an entire spill to accomplish.
The other method you could use, is to light the spill, hold it to the foot of the cigar while the cigar is in your mouth and puff on the cigar while rolling it to get it lit. This method is typically faster and you would be able to extinguish the spill and use the second half to light a second cigar.
When puffing on a cigar to get it lit, you may impart some flavors from your lighting method, so if you were using a butane lighter, you may get some flavors that you don't care for. Using this method with the Commonwealth Cedar Spill imparts a slight cedar flavor which is a flavor already typically found in cigars and isn't unpleasant, so it doesn't upset the flavors intended by the blender.
I used approximately a dozen spills for this review and I have to say that every spill burned consistently. I used both lighting methods I outlined above and never found that the spill overpowered the cigar flavors. When I had the spillbox out on the kitchen counter, my wife saw it and said "That's pretty cool looking," so I guess you can say that the ladies dig it as well.
The spills are available in bundles (no box) starting at $25 and go up from there depending on quantity of spills and the type of spillbox and design that you'd like the spills to come in. They offer customized lettering and logos, so if you don't want one of their preconfigured designs, feel free to create your own. These are meant to be a personal statement, so you should make them personal to you. These also make great gifts, and especially with Father's Day coming up, not a bad option for Dad if he smokes cigars.
Thanks to Commonwealth Cedar Spills for providing these spills as it's always nice to be interrupted from your normal torch lighting method to slow down a bit and be refined about lighting up a cigar. It really is an added experience to the already soothing experience of smoking a cigar.
We are going to give away this box of Commonwealth Cedar Spills with the Blind Man's Puff name and logo on it. The spillbox is full of spills as well, so the winner will get to light with spills while having some sexy Blind Man's Puff and Commonwealth Cedar Spills swag.
See the rafflecopter entry below for all of the different ways to get entered into the giveaway.
Accessory Review: Commonwealth Cedar Spills and a Giveaway