Vital Stats:
This cigar was reviewed blind (no bands) by a panel of at least 4 reviewers. They did not know what they were smoking beforehand. The scores are an average of all the reviewers' scores with outliers removed. All of our cigars reviewed are shipped to the panelists with Boveda packs to ensure optimal smoking experience.
Vitola: Toro
Length: 6″
Ring Gauge: 52
Country of Origin: Honduras
Wrapper: Mexican San Andres
Binder: Honduran
Filler: Nicaraguan and Honduran
Factory: Compania Hondurena De Tobacos
Blender: Adin Perez
Number of reviewers: 4—–Sandeep (Djangos) Milton (mjohnsoniii) Jason H. (Jokey Smurf) Emmett (rhetorik)
Price: $11.00
Age: 3 Months
Release Date: November 2013
Contributed by: Chinnock Cellars Cigars
Initial Impressions
Appearance: 88
"This cigar displays a dry toothy wrapper with moderate veins. Fairly dark chocolate wrapper and invisible seams. There is a soft box press and what looks to be a double cap that is uneven and a little loosely applied. The cigar is firm with no soft spots." –Jason H. (Jokey Smurf)
Aroma: 93
"Smells like spiced chocolate! There are definite notes of cedar and leather as well. The dry draw gave out a lot of sweet spices including some nutmeg." –Sandeep (Djangos)
First Third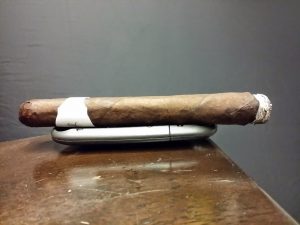 Flavor: 93
Strength: Mild-Medium
Body/Complexity: Medium-Full
"There was a mild pepper at initial light that tapered off into a roasted coffee and baking spices along with a doughy-type thickness. It was more mild than medium which I thought a darker colored wrapped cigar would be." –Milton (mjohnsoniii)
"The initial flavors were deep chocolate and some coffee. Flavors were deep, but the strength seems pretty mild at this point. As the first third progressed, the flavors deepened further with the primary flavor being bitter dark chocolate (the good kind of bitter) and some white pepper through the nose." –Jason H. (Jokey Smurf)
Second Third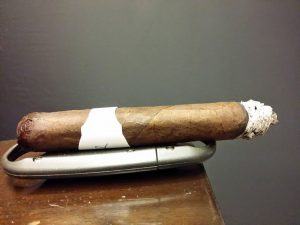 Flavor: 90
Strength: Medium
Body/Complexity: Medium
"Baking spices were still very much present with the other flavors mellowing out a bit. Nuttiness and leather crept in and provided an interesting twist. Surprisingly, it was very pleasant." –Milton (mjohnsoniii)
"I enter this third with cedar now dominating the flavor profile, in a good way. The smoke production is remarkable. Part way through, leather joins the mix which is a nice change. This third isn't very complex, but it is enjoyable. Every once in a while I get a hint of something sweet, but it never stays around." –Emmett (rhetorik)
Final Third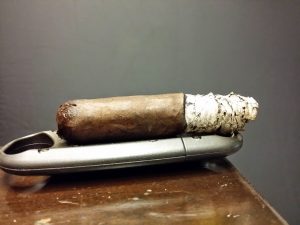 Flavor: 88
Strength: Medium
Body/Complexity: Medium
"As I enter the final third, I have to finally get out the lighter and touch up the side that is not burning. The flavors, however, are not changing significantly from the middle third. More leather and grassy flavors predominate and the sweeter flavors are now almost non existent. The burn is still skewing as the third progresses to the very end. Mostly a unilateral flavor dimension in the last two thirds. The draw and smoke are almost perfect to the very end. Pleasant but would have preferred more complexity." –Sandeep (Djangos)
"Now the sweetness is really coming through in the form of milk chocolate, still atop the cedar and leather base from the previous third. The cigar continued in this mannor until the end, still with an excellent burn and draw. A nice finish." –Emmett (rhetorik)
Overall Impressions
Draw: 96
"The draw was simply excellent. It had resistance and tickled the tip of my tongue just enough so I could really enjoy it." –Milton (mjohnsoniii)
Burn: 94
"Only needed attention once, other than that a little wavy, but fixed itself." –Emmett (rhetorik)
Construction: 93
"It was a bit hard in certain places and the wrapper had small imperfections. The double cap was also a bit tattered. It could have been rolled with a bit more care." –Milton (mjohnsoniii)
Overall Strength: Medium
Overall Body/Complexity: Medium-Full
Overall Experience: 91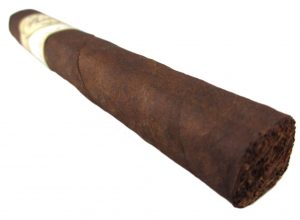 "Had it not been a unilateral experience in the middle and final thirds, this one would have scored much higher. I wish it had kept the complexity that I experienced in the first third. There were burn issues that were not deal breakers but definitely took away from the enjoyment. An overall pleasant experience and I want to see if this was an outlier, so I will try another one for sure." –Sandeep (Djangos)
"This was an overall excellent cigar in my honest opinion. The flavors were constantly changing and there was never a dull moment. It wasn't a "pretty" one, but the flavor profile more than made up for its looks (or lack thereof). I'm excited to see what it is." –Milton (mjohnsoniii)
"Overall, this was a very enjoyable cigar. Not overly complex, but interesting, and with the deep cocoa and espresso flavors that I often enjoy. I'd smoke some more for sure depending on the price point." –Jason H. (Jokey Smurf)
"This was a pretty good cigar all in all, one that I would recommend for a mid-afternoon smoke. It wasn't very strong, and maybe could have used the kick of a little more ligero, but still made for a nice, mild experience. The classic maduro flavors and subtle change kept it interesting." –Emmett (rhetorik)
Smoking Time (in minutes): 76
Total Score: 92 (Excellent)
Edit

| Reviewer | Appea-rance | Aroma | 1/3 | 2/3 | 3/3 | Draw | Burn | Constr. | Overall |
| --- | --- | --- | --- | --- | --- | --- | --- | --- | --- |
| Sandeep | 97 | 95 | 95 | 90 | 88 | 97 | 88 | 97 | 90 |
| Milton | 85 | 93 | 93 | 92 | 92 | 93 | 93 | 88 | 92 |
| Jason H. | 90 | 90 | 93 | 90 | 88 | 90 | 95 | 95 | 92 |
| Emmett | 88 | 93 | 90 | 90 | 90 | 97 | 95 | 90 | 90 |
| Overall | 88 | 93 | 93 | 90 | 88 | 96 | 94 | 93 | 91 |
To view the complete scores and notes, click here.
Blind Cigar Review: Chinnock Cellars | Pressoir Toro