Vital Stats:
This cigar was reviewed blind (no bands) by a panel of at least 4 reviewers. They did not know what they were smoking beforehand. The scores are an average of all the reviewers' scores with outliers removed. All of our cigars reviewed are shipped to the panelists with Boveda packs to ensure optimal smoking experience.
Vitola: Robusto
Length: 5″
Ring Gauge: 50
Country of Origin: Honduras
Wrapper: Honduran Corojo
Binder: Honduras
Filler: Honduras
Factory: Fabricas Unidas
Blender: Christian Eiroa
Number of reviewers: 5 —– Dave (mdwest) Aaron (aaron72) Jason (Jokey Smurf) Ron (shuckins) James (dscl)
Price: $10.00
Age: 2 Months Rest
Release Date: July 2013
Contributed by: CLE Cigars
Initial Impressions
Appearance: 90
"A nice medium brown wrapper. The caps were neatly applied and the seams are visible. There are some veins that are noticeable." –Aaron (aaron72)
Aroma: 90
"Initial aroma provides hints of chocolate and espresso." –James (dscl)
First Third
Flavor: 85
Strength: Medium
Body/Complexity: Medium
"If you like pepper, you'll like this smoke. It's got plenty of it to spare. Wood and wet hay or straw are the most noticeable flavors. Not much oil or sheen was noticed on the wrapper, but the cigar is producing a pretty high volume of smoke, which is nice. The smoke however is a bit on the "harsh" or edgy side. I could in no way describe this as creamy or smooth." –Dave (mdwest)
"Started off very peppery, with woodsy tasting tobacco. The pepper eased off a little, leaving the dominate wood flavor to stand alone until an unexpected shot of coffee showed up at the end of the first third." –Ron (shuckins)
"The first third opened with an immense cloud of smoke and effortless draw. The flavor however was very flat with bittersweet chocolate being the forerunner." –James (dscl)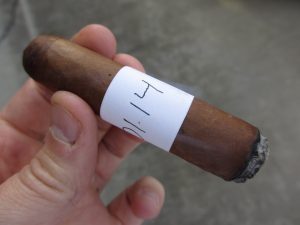 Second Third
Flavor: 87
Strength: Medium
Body/Complexity: Medium
"The mineral flavor has gone away and transitioned to a light general woodiness. The cigar has gone out on me twice during this third and I am getting an underlying bitterness from it, even after purging. The mineral flavor has returned about halfway through the third. Towards the end of the third, the mineral flavor went away and the general woodiness returned." –Aaron (aaron72)
"The second third brought a surprise transition for me. As the pepper faded I picked up a sweetness that reminded me strongly of anise. This I liked! The pepper never went fully away, but the harshness left, replaced by some woody (oak) notes." –Jason (Jokey Smurf)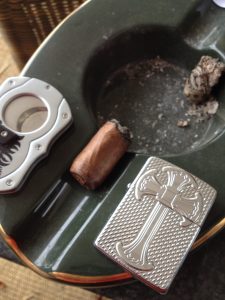 Final Third
Flavor: 86
Strength: Medium
Body/Complexity: Medium
"Changes in flavor from the second third to the final third were not detected. The strength seemed to ramp up a little bit though toward the end. This is not an overly complex stick, but it is consistent. Faint pepper is still present, and hay and grass are still the most obvious flavors. Since the touch up in the first third, the burn has been extremely good. " –Dave (mdwest)
"The wood flavor has toned down and has more of a cedar taste to it, which was a welcome relief to my palate. It also allowed more coffee to come through, although the strength of the pepper kept the cocoa at bay, so a tease was all I got." –Ron (shuckins)
Overall Impressions
Draw: 93
"The cigar drew wonderfully throughout. The cigar does deserve high marks in this regard." –James (dscl)
Burn: 90
"Subtracting the flame outs, the burn line was excellent and the rate of burn was very nice. The one relight I chose to do was easy enough, but significantly impacted flavor to the negative." –Jason (Jokey Smurf)
Construction: 88
"Very well constructed. The cigar had a well applied cap, tight seams and a consistent firm feel from toe to cap." –Dave (mdwest)
Overall Strength: Medium
Overall Body/Complexity: Medium
Overall Experience: 86
"While the flavor profile of this cigar really wasn't in my personal wheelhouse, it will likely appeal to others who prefer sticks that bring a strong pepper punch on the front end and like smokes with grass and hay type overtones. While not very complex, it was not overly simple or boring either. It was well made and other than the single touch up required (not really a big deal at all) it performed nicely from start to finish as well." –Dave (mdwest)
"It started out with some distinct flavors in the first third, but as the cigar went on, the flavors got very generalized and nothing that really maintained my attention. With the burn issues, it just detracted even more from the enjoyment. I wouldn't see myself reaching out for this cigar again unless my experience was the exception from what the other reviewers experienced." –Aaron (aaron72)
"This was not a cigar that I would pursue to smoke again based upon this single sampling. The pepper was just too dominant for me. That fact, coupled with the flame outs was just more than I could overcome and significantly impacted overall enjoyment. The harshness of this smoke stayed with me for almost two hours after it was finished." –Jason (Jokey Smurf)
"A borderline power house cigar that was leaning towards harsh at times because of the heavy wood presence. I would like to smoke another one with some rest time in the humidor, just to see if it changed my experience." –Ron (shuckins)
"Despite obvious skill by the bunchero (good construction and great burn) the overall experience was soured by an intense bitterness. I sadly would not want to smoke this again." –James (dscl)
Smoking Time (in minutes): 83
Total Score: 88 (Good)
Edit

| Reviewer | Appea-rance | Aroma | 1st Third | 2nd Third | Final Third | Draw | Burn | Constr. | Overall |
| --- | --- | --- | --- | --- | --- | --- | --- | --- | --- |
| Dave | 92 | 92 | 85 | 87 | 87 | 95 | 88 | 95 | 90 |
| Aaron | 90 | 90 | 87 | 85 | 85 | 88 | 83 | 88 | 85 |
| Jason | 90 | 85 | 85 | 92 | 83 | 85 | 88 | 88 | 85 |
| Ron | 92 | 90 | 87 | 87 | 90 | 93 | 92 | 95 | 87 |
| James | 90 | 90 | 85 | 80 | 70 | 95 | 92 | 90 | 80 |
| Overall | 90 | 90 | 85 | 87 | 86 | 93 | 90 | 88 | 86 |
To view the complete scores and notes, click here.
Blind Cigar Review: Eiroa by CLE | Robusto