Vital Stats:
This cigar was reviewed blind (no bands) by a panel of at least 4 reviewers. They did not know what they were smoking beforehand. The scores are an average of all the reviewers' scores with outliers removed. All of our cigars reviewed are shipped to the panelists with Boveda packs to ensure optimal smoking experience.
Vitola: Double Robusto
Length: 5″
Ring Gauge: 58
Country of Origin: Nicaragua
Wrapper: Mexican San Andres
Binder: Nicaragua
Filler: Nicaragua
Factory: Casa Fernandez
Blender: Kyle Hoover & Chris Kelly
Number of reviewers: 5—–Sandeep (Djangos) Gregg (McGreggor57) Jason H. (Jokey Smurf) Brian (B-daddy) Milton (mjohnsoniii)
Price: $12.50
Age: 5 Months
Release Date: 2013
Contributed by: House of Emilio
Initial Impressions
Appearance: 89
"This cigar is presented in a short, fat belicoso format. The wrapper leaf is quite leathery in appearance, showing few veins, but having the feel and look of a well worn leather jacket. The seams are nearly invisible, as is the cap, which is quite nicely applied." –Jason H. (Jokey Smurf)
Aroma: 93
"Notes of leather and tobacco as well as unsweetened chocolate on the dry puff. Very inviting pre-light flavors." –Sandeep (Djangos)
First Third
Flavor: 93
Strength: Medium
Body/Complexity: Medium-Full
"The initial third starts with quite a bit of pepper that lasted about quarter of an inch before dying down. Even after, the pepper was present with each draw but more gravitating to the back of the throat. The predominant flavors are that of leather and coffee. There is also something that is reminiscent of unsweetened chocolate. The ash is mottled grey and is flaky. Only held about a half inch before falling off. The draw is great with lots of creamy delicious smoke. The burn line is not straight but not an issue at this time." –Sandeep (Djangos)
"Right away, this thing starts pumping out smoke like crazy. Flavor starts off a little woody but has some leather on the draw and definitely a spicy tingle on the beginning of the finish. The finish hangs on for a while with some cedar and leather that fades after about a minute or two. Some pretty bold flavors from this stick, and some nicotine too. I just ate dinner and I'm already getting a nic buzz. At about the one inch mark, flavors settle into a cedar and leather blend, with a touch of pepper and some black coffee coming in on the finish. Pretty nice." –Brian (B-daddy)
Second Third
Flavor: 91
Strength: Medium
Body/Complexity: Medium
"The leather is becoming more prominent and smooths out the edges of the other flavors. A bit of pepper is returning to the retro. Grasses, tea and allspice linger on the palate and the richer flavors of the first third is giving way to a lighter profile." –Gregg (McGreggor57)
"The strength has kicked it up a notch and has become much more enjoyable at this point. Some call it the "sweet spot" and the second third of this cigar was a perfect example of such. I began tasting more smokiness and leather along with baking spices, cinnamon and sweet cherries that was most noticeable on the retrohale." –Milton (mjohnsoniii)
Final Third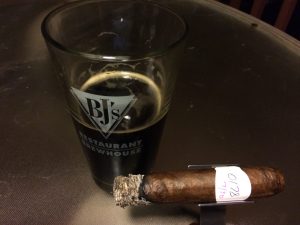 Flavor: 94
Strength: Medium
Body/Complexity: Medium
"The final bit of this cigar was absolutely the best for me. While the earth remained, the sweetness developed into a flavor that reminded me of a delicious oatmeal raisin cookie with extra molasses…so yummy! The leather note disappeared entirely, and along with it, any harshness. There was also a bit of a nicotine kick that became apparent as I warmed up and got just the right amount of buzz. For me this stick had it all, deep flavors with an interesting mix of transitions, and enough strength to keep me involved without being overwhelming." –Jason H. (Jokey Smurf)
"The flavors tasted in the final third closely mimicked that of the second third with the exception of the sweet cherry which had all but disappeared. Although not quite as prominent as during the second third, the smokiness, leather and cinnamon were the flavors tasted the most with the baking spices tapering off a bit. I began burning my fingertips and had to bring out the nubbing tool because I didn't want this cigar to end just yet. This was a very well spent hour and a half." –Milton (mjohnsoniii)
Overall Impressions
Draw: 93
"Just a touch too loose but otherwise, great." –Brian (B-daddy)
Burn: 89
"The burn line was at an angle to begin with and the skewing worsened as the cigar progressed. It required one touch up in the final third." –Sandeep (Djangos)
Construction: 91
"With the exception of the sometimes uneven burn, which could be due to a number of different reasons (tightness or looseness of the way it's rolled, the way the leaves are gathered, etc.), this cigar was built very well. From holding and squeezing it, you couldn't find or feel any soft spots, the wrapper was completely seamless and I honestly couldn't tell if it had a single, double or triple cap. I was impressed with the construction on this one." –Milton (mjohnsoniii)
Overall Strength: Medium
Overall Body/Complexity: Medium-Full
Overall Experience: 89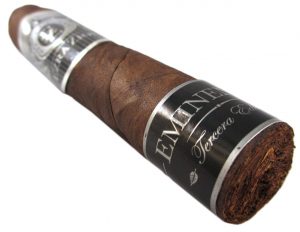 "The cigar performed well in the initial and middle thirds with a lot of complexity and flavors, however unfortunately, the final third made me take the rating down quite a bit as there was a lot of harshness and bitterness. I will definitely give this another shot to see if this was the case only with the one that I had." –Sandeep (Djangos)
"The first two thirds were very flavorful but the final leg was a let down. Once the leather disappeared, everything became harsh. I would give this cigar another try but wouldn't be in a hurry to stockpile them." –Gregg (McGreggor57)
"This was an interesting cigar that hit me in just the right mood. I was quite pleased with my beverage pairing and found the deep flavors of the smoke to be quite complementary to the chocolate stout. I don't think I would choose this cigar as the first of the day because it's almost like a meal in itself…a hearty steak meal, with all the fixings! Quite good and quite satisfying." –Jason H. (Jokey Smurf)
"I really liked the flavor profile of this stick. If the second half burned like the first half, I would have scored this much higher. I'd like to try another in hopes that the cracked wrapper and burn issues were an anomaly. I'd be willing to buy a single for another shot." –Brian (B-daddy)
"Bottom line up front, this cigar is one that EVERY cigar lover wants to have in his (or her) humidor. With time, I'm almost positive that it will get better and even more enjoyable. Let's pull back the curtain and reveal this one. I gotta know!" –Milton (mjohnsoniii)
Smoking Time (in minutes): 68
Total Score: 91 (Very Good)
Edit

| Reviewer | Appea-rance | Aroma | 1/3 | 2/3 | 3/3 | Draw | Burn | Constr. | Overall |
| --- | --- | --- | --- | --- | --- | --- | --- | --- | --- |
| Sandeep | 88 | 95 | 95 | 92 | 88 | 97 | 90 | 92 | 88 |
| Gregg | 90 | 90 | 93 | 90 | 88 | 90 | 88 | 90 | 90 |
| Jason H. | 90 | 90 | 93 | 90 | 95 | 93 | 88 | 90 | 92 |
| Brian | 88 | 93 | 93 | 92 | 93 | 93 | 83 | 85 | 88 |
| Milton | 97 | 95 | 90 | 95 | 95 | 95 | 90 | 95 | 95 |
| Overall | 89 | 93 | 93 | 91 | 94 | 93 | 89 | 91 | 89 |
To view the complete scores and notes, click here.
Blind Cigar Review: Ezra Zion | Eminence Belicoso Gran Toro