Cigar Info
Carefully grown in the sandy, mineral-rich soil of the Connecticut River Valley, Connecticut Shade Wrapper is prized for its unique, silky texture, golden color and delicate flavor. The finest leaves are nurtured on Montecristo's company farms and reserved exclusively for these special cigars. The leaves are grown in the sandy loam, unique to the Connecticut River Valley, under special tenting that filters the sun and elevates humidity to ideal levels. The very finest of these leaves are carefully nurtured on Montecristo's company farms and are reserved for Montecristo cigars. These cigars are priced between $10.50 and $14.50 per cigar.
This cigar was reviewed blind (no bands) by a panel of at least 4 reviewers. They did not know what they were smoking beforehand. The scores are an average of all the reviewers' scores with outliers removed. All of our cigars reviewed are shipped to the panelists with Boveda packs to ensure optimal smoking experience.
They are available in the following sizes: No. 2 Belicoso 44 x 5 ½", No. 3 50 x 6", Double Corona 50 x 6 ¼"
Vital Stats: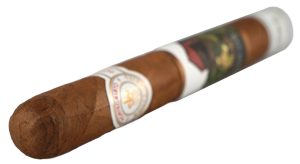 Vitola: Toro
Length: 6.25″
Ring Gauge: 50
Country of Origin: Dominican Republic
Wrapper: U.S. Connecticut Shade Vintage 2008
Binder: Nicaragua
Filler: Dominican Republic, Nicaragua and Peru
Factory: Tabacalera de Garcia
Blender: Grupo de Maestros
Number of reviewers: 4—–Jiunn (jliu) Alan (Eulogy) Kent (Throck) Robert (NavyPiper)
Price: $14.50
Age: 3 Months
Release Date: August 2015
Contributed by: Altadis U.S.A.
Initial Impressions
Appearance: 88
"A nice golden brown wrapper and well applied triple cap give this cigar a nice appearance. Delicate veins run throughout the length of the cigar and there is a slightly toothy, oil free feel to the wrapper." –Alan (Eulogy)
Aroma: 89
"The smell of ripe brie cheese adorned the cigar. It was pleasant, in a barnyard sort of way." –Kent (Throck)
First Third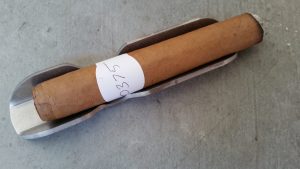 Flavor: 91
Strength: Medium
Body/Complexity: Medium-Full
"This is a very well balanced cigar. There's a very mild pepper that is present throughout the first third but is not overwhelming to the palate. Nuts, coffee and leather all work really well together on the draw and a graham cracker sweetness is found on the retrohale. There's a lot of Cubanesque flavors in this first third and it's a fantastic start to a cigar." –Alan (Eulogy)
"Dry puff elicited a green tea flavor which was very unexpected. The first third was highly complex with notes of mellow cherries and leather intertwined, and the smallest hint of earthiness. It was a well balanced concoction." –Kent (Throck)
Second Third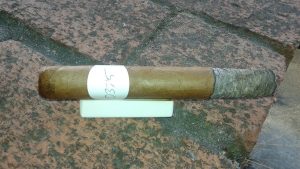 Flavor: 89
Strength: Medium
Body/Complexity: Medium
"The second third's flavor profile stays true to the first third. At certain pockets I only taste toasty and burnt natural tobacco notes. At other pockets, I get the tongue sticking white pepper, slight bread and medium light bodied sweet cream. This cigar ramps up on flavors then dies off them at random points… how annoying. Strength and body still at a medium." –Jiunn (jliu)
"Leather, cedar, nuts and a slight pepper that coats the entire mouth make for another great third. There are some nice floral notes on the retrohale now with an ever so slight peppery finish. The ash held on until the halfway point of the cigar and it has been burning perfectly so far." –Alan (Eulogy)
Final Third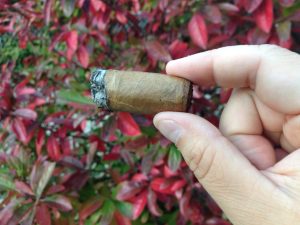 Flavor: 89
Strength: Medium
Body/Complexity: Medium
"Last third finally comes to full circle. Main notes consist of medium bodied sweet cream, tapered white pepper spice, dried nuts and light oak. It's too bad the cigar didn't perform like this the entire way through. This I am on board with. Strength and body still at a medium." –Jiunn (jliu)
"As I progress through the final third, there was no real changes flavor wise, other than the pepper is the dominant flavor, followed by the tobacco. Don't know when the toast disappeared. It was so gradual I didn't realize it was gone. It was quite consistent flavor wise with the exception of the toast going away from when the pepper came in during the first third." –Robert (NavyPiper)
Overall Impressions
Draw: 91
"The cigar had a slight loose draw. But the important factor is, this did not over-heat the cigar at all. The draw was nice and cool the entire way through." –Jiunn (jliu)
Burn: 94
"No complaints with the burn. It was even and beautiful in its entirety. Great, thick plumes of smoke were drawn forth with little effort." –Kent (Throck)
Construction: 93
"The only issues I found was the excessive looseness of the draw, and that the stogie was real soft when pressed." –Robert (NavyPiper)
Overall Strength: Medium
Overall Body/Complexity: Medium-Full
Overall Experience: 91
"Overall, a subpar experience. This is another typical underwhelming Connecticut shade cigar. With namely uneventful flavors within the first and second thirds and a good last third, I don't feel the want to smoke more of these. If the entire cigar performed like the way it did the last third, I would easily buy a fiver of these to smoke in the morning. Unfortunately, not the case." –Jiunn (jliu)
"This was an amazing smoke throughout. The flavor profile changes, perfect burn and construction, and flavor over strength make this an easy recommendation to anyone who enjoys cigars. I could easily see myself buying a box of these and sharing them with those who appreciate a great cigar with Cubanesque flavors." –Alan (Eulogy)
"I really enjoyed this cigar. I loved the peculiar first third that was able to undergo a metamorphosis into other complex flavors. I will be a purchaser of this cigar in the near future." –Kent (Throck)
"All in all, it was pretty good. Once the draw issue was sorta resolved, it was good. Pretty one dimensional but good. I was really surprised when the pepper launched in the first third. I think it'd be a great stogie for those mornings when you need the coffee with the extra, extra caffeine! Definitely woke me up and got my attention when that pepper launched!" –Robert (NavyPiper)
–
Smoking Time (in minutes): 97
Reviewer

Appearance

Aroma

1/3

2/3

3/3

Draw

Burn

Constr.

Overall
Experience

Jiunn
jliu)
83
88
80
80
88
95
95
95
83
Alan
Eulogy)
90
90
97
95
92
100
100
97
97
Kent
Throck)
88
90
95
90
88
88
95
95
95
Robert
NavyPiper)
90
88
90
90
90
83
88
85
88
To view the complete scores and notes, click here.
–
Blind Cigar Review: Montecristo | White Series Vintage Connecticut Double Corona (Pre-release)
Blind Cigar Review: Montecristo | White Series Vintage Connecticut Double Corona (Pre-release)
91
Total Score - Very Good