Cigar Info
Back on April 9, 2015, MoyaRuiz Cigars Inc. announced the release of The Rake, a new line of cigars from the makers of the La Jugada cigar brand. The Rake is made at Erik Espinosa's La Zona factory in Esteli, Nicaragua. The cigars are presented in classic cabinet-style boxes of 20 and available in 4 different vitolas, Fix (5-5/8×46), Cut (5×52), Take (6×52), and Vig (6×60). Two of the sizes will be slightly box pressed, Cut and Fix.
This cigar was reviewed blind (no bands) by a panel of at least 4 reviewers. They did not know what they were smoking beforehand. The scores are an average of all the reviewers' scores with outliers removed. All of our cigars reviewed are shipped to the panelists with Boveda packs to ensure optimal smoking experience.
Danny Moya, co-founder of MoyaRuiz Cigars explained the concept behind The Rake: "The Rake is a poker term which describes the fee taken by the card room for operating the poker game. You gotta pay to play!" said Moya, "and in the cigar business, this couldn't be more true."
As with MoyaRuiz Cigars' first cigar line, La Jugada, The Rake pays homage to the company's love of "the game", and where La Jugada drew from the theme of dominos, The Rake stems from a love of poker. With The Rake, brand owners Danny Moya and Nelson Ruiz plan to give the cigars a different feel from the their previous releases. "Our La Jugada brand had more of a traditional/Cubanesque look, but as for The Rake, we wanted to give it a modern touch. The design of the band is inspired by the speakeasy peep hole found in many doors at underground gambling rooms and the cigar box has two slots on the top of the box to resemble a rake box" said Moya.
MoyaRuiz is describing The Rake as a med-full bodied, full flavored cigar – incorporating a powerhouse blend of four ligero leaves. Two from Jalapa which are sweeter and two from Esteli known for their strength. The wrapper will be Connecticut Broadleaf. Even though The Rake will feature four ligeros it's very balanced because of the other leaves in the binder and filler. Truly showcasing the quality blending coming out of the La Zona factory. "We want to keep pushing the envelope, with full and complex flavors," said Moya. The rake was released at this years IPCPR trade show in July.
Vital Stats:
Vitola: Robusto
Length: 5″
Ring Gauge: 52
Country of Origin: Nicaragua
Wrapper: Connecticut Broadleaf
Binder: Undisclosed
Filler: Nicaragua
Factory: La Zona
Blender: Danny Moya and Nelson Ruiz
Number of reviewers: 5—–Stefan (Stefan) Craig (WyldKnyght) Kent (Throck) Emmett (BMP_Emmett) Jessica (Cigar Ninja)
Price: $10.25
Age: 2 Months
Release Date: July 2015
Contributed by: MoyaRuiz Cigars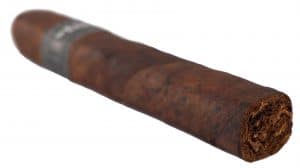 Initial Impressions
Appearance: 92
"This is a nice looking box pressed Maduro. No major veins present. Cap is noticeably darker than the rest of the cigar by at least 3 or 4 shades." –Jessica (Cigar Ninja)
Aroma: 90
"Floral and woody notes are present at the foot. Cold draw is rather muted." –Stefan (Stefan)
First Third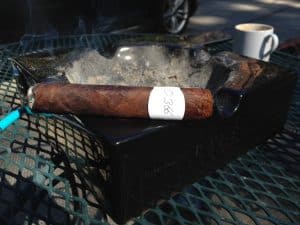 Flavor: 92
Strength: Medium-Strong
Body/Complexity: Medium-Full
"This cigar was pretty easy to light and the initial flavor was lots of pepper with a hint of mesquite-like taste. The burn was a little wavy but fairly even. The smoke felt nice and creamy in my mouth." –Craig (WyldKnyght)
"The first third was the strongest section with respect for complexity. The dry puff elicited a raisin-like flavor which dissipated on initial light. Beautiful tingling pepper sensation slowly subsided through the duration of the first third as cedar and leath notes persisted. There was a good amount of nicotine kick from this section." –Kent (Throck)
Second Third
Flavor: 89
Strength: Strong
Body/Complexity: Medium-Full
"This third kicks it up a notch with spices as there is some cayenne and green pepper. There are a lot more subtle flavors still there including leather, earth and coffee flavors. This third has been even better than the first." –Emmett (BMP_Emmett)
"Holy chocolate, chewy, pepper spice bomb Batman. There is definitely a healthy dose of Nicaraguan tobacco in this cigar. The ash is holding strong for a good two inches at this point and the burn line has corrected itself. There isn't much in the way of flavor transitions that I can pick up, but my palate isn't the most refined." –Jessica (Cigar Ninja)
Final Third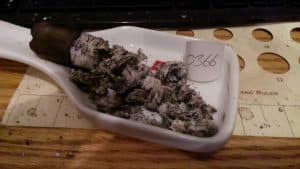 Flavor: 90
Strength: Strong
Body/Complexity: Medium-Full
"The final third balances out the dark tobacco flavor by introducing more acidity, thus making the smoke more vibrant. Turns rough at the nub." –Stefan (Stefan)
"The pepper bomb has mellowed out some but the strength and body has definitely been kicked up a notch. Very consistent, strong earthen, dirty, dusty flavors are present but a small amount of bitterness is creeping in. There seems to be a hearty honey wheat bread note making its presence known in this final third and it's a welcome addition to the fray." –Jessica (Cigar Ninja)
Overall Impressions
Draw: 95
"Perfect, just the right amount of resistance and great smoke production." –Emmett (BMP_Emmett)
Burn: 93
"The burn was fairly even, but wavy throughout." –Craig (WyldKnyght)
Construction: 96
"A tiny section of the wrapper was initially untucked but caused no problems with the burn. There was slight bulging of the burning end during the length of the cigar, but no splitting occurred." –Kent (Throck)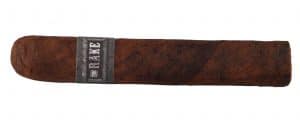 Overall Strength: Strong
Overall Body/Complexity: Medium-Full
Overall Experience: 92
"An everyday cigar to enjoy over a strong cup of coffee, ideally while focusing one's mind on something else." –Stefan (Stefan)
"This cigar pushed my upper limit of pepper. I definitely would let this cigar rest awhile and hoped it mellowed out. Other than that, it was quite enjoyable. The flavors were nice and subtle." –Craig (WyldKnyght)
"This was a very flavorful cigar that started off with its best foot forward in the first third. Different flavors in its spectrum continued to drop off as the cigar continued, but it never became unpleasant. The smoke is some of the thickest that I've ever had. I would like to take a few of these and season them a little longer in my humidor to try at a later point." –Kent (Throck)
"I really enjoyed this cigar, one of the best I have reviewed this year. This was a classic maduro cigar with great notes of spices, leather and coffee. I would definitely buy more of these, stoked to figure out what this cigar is." –Emmett (BMP_Emmett)
"Overall, this was an excellent cigar and one that I won't hesitate to seek out in the future, especially if it's priced in the $8 range. There was a flavor present that I couldn't quite place and I kept wishing that there was a cherry or fig note to balance out the pepper, but alas, it never shows up. If that note was present or there was a bit more complexity this could be an even more enjoyable cigar." –Jessica (Cigar Ninja)
–
Smoking Time (in minutes): 71
Reviewer

Appearance

Aroma

1/3

2/3

3/3

Draw

Burn

Constr.

Overall
Experience

Stefan
Stefan)
83
88
88
85
85
88
88
85
85
Craig
WyldKnyght)
90
92
90
90
90
95
90
93
90
Kent
Throck)
95
95
95
90
90
93
95
95
92
Emmett
BMP_Emmett)
92
88
95
97
95
100
97
97
97
Jessica
Cigar Ninja)
90
88
90
90
90
100
93
97
95
To view the complete scores and notes, click here.
–
Blind Cigar Review: Moya Ruiz | The Rake Cut
Blind Cigar Review: Moya Ruiz | The Rake Cut
92
Total Score - Excellent