Vital Stats: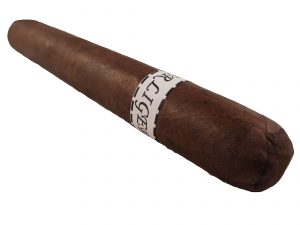 Vitola: Robusto
Length: 5″
Ring Gauge: 50
Country of Origin: Honduras
Wrapper: St. Augustine Habano
Binder: Habano
Filler: Nicaraguan and Costa Rican Triple Ligero
Factory: El Paraiso
Blender: Rocky Patel
Number of reviewers: 5—–Ron (shuckins) Dave (mdwest) Sandeep (Djangos) Jason H. (Jokey Smurf) Paul (pmr1010)
Price: $7.00
Age: 4 Months
Release Date: October 2014
Contributed by: Rocky Patel
This cigar was reviewed blind (no bands) by a panel of at least 4 reviewers. They did not know what they were smoking beforehand. The scores are an average of all the reviewers' scores with outliers removed. All of our cigars reviewed are shipped to the panelists with Boveda packs to ensure optimal smoking experience.
Initial Impressions
Appearance: 93
"This cigar was nicely rolled and the seams were neat, clean and nearly invisible. The cap was applied well with no issues or excess glue. A smooth, dark wrapper with minimal veins and a slight sheen covered the neatly bunched and rolled binder." –Paul (pmr1010)
Aroma: 90
"Amazing aroma of nutmeg and leather. The dry puff is more exciting with more nutmeg and a strong nuttiness. There is also some white pepper to the tongue. A faint aftertaste of cocoa finishes the complex dry puff and aroma." –Sandeep (Djangos)
First Third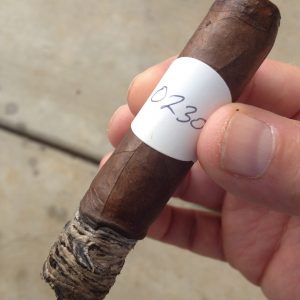 Flavor: 91
Strength: Medium
Body/Complexity: Medium-Full
"Starts off with a healthy shot of leather with a gentle pepper back. This held true for the first inch or so, then a taste of allspice, along with a trace of coffee joined the mix." –Ron (shuckins)
"The initial third starts off with a bang! Starts with a lot of pepper that is pervasive and then gravitates to the back of the throat. The pepper dies down in about half an inch and then the flavors take on a complex profile. There is definite nutmeg and leather. Also, there is distinct nuts reminiscent of almonds. As the third progresses, the leather becomes more prominent with the other flavors receding into the back ground. The burn is a little skewed but the draw and smoke production is phenomenal. The ash is dark grey and holds for about an inch before falling off." –Sandeep (Djangos)
Second Third
Flavor: 93
Strength: Medium
Body/Complexity: Medium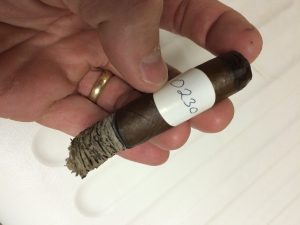 "As I get to the second third, some dark earth notes begin to make their way into the profile. Leather continues to be the predominant flavor I am picking up though. The sweetness that was up front and in your face during the first third has started to fade and the cigar has become much more balanced. This continues to be a very nice smoke." –Dave (mdwest)
"The flavors that were hard to pinpoint in the first third became more clear as the second third progressed. Sourdough toast and light wood smoke were the flavors that had been hiding and took so long to develop. This was a nice turn of events. Now things began changing a little more rapidly. More wood smoke came in and a little baking spice. The sourdough toast reduced and the wood smoke became a little mellower but more up front as the second third came to a close." –Paul (pmr1010)
Final Third
Flavor: 93
Strength: Medium-Strong
Body/Complexity: Medium-Full
"More pepper comes through as it nears the end. This adds a boost in strength to the cigar, but not enough to chase away the creaminess of the leather. The coffee remained light tasting while the cedar lost its sweetness as the cocoa faded at the very end." –Ron (shuckins)
"The final third developed a caramel, burnt sugar sweetness and leather note. Most of the pepper has faded but the smoke is creamier and brings a heady rush of nicotine with each puff. The strength is firmly full now but is not overpowering. A damn fine smoke for those who can handle the strength." –Jason H. (Jokey Smurf)
Overall Impressions
Draw: 98
"A really nice draw, easy, smooth and with clouds of tasty smoke." –Ron (shuckins)
Burn: 94
"A reasonably straight burn light was maintained from start to finish with no touch ups required at all. I was amazed with the high volume of smoke output this stick created. By the final third, the output seemed to cut back to what you would normally expect out of most cigars, but for the first two thirds, I would guess it to have put out 25-30% more smoke than what is "usual" for cigars in this vitola. It was also an amazingly long smoke for a robusto sized stick, taking over 2 hours to burn (I was smoking particularly slow today.. but still.. 2 HOURS! and it never went out or needed a touch up!)." –Dave (mdwest)
Construction: 95
"The cigar looked very nice and performed nearly perfectly. I honestly have no complaints at all about the construction. The ash held on for the entire first half of the smoke, and stayed on until I knocked it off in 1″ chunks afterward." –Jason H. (Jokey Smurf)
Overall Strength: Medium-Strong
Overall Body/Complexity: Medium-Full
Overall Experience: 95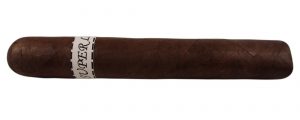 "An enjoyable cigar with bold and tasty flavors that were right in my wheelhouse. An easy cigar to recommend to anyone." –Ron (shuckins)
"This was one of the 2 or 3 best cigars I have reviewed for BMP this year. The flavors hit me just right, the smoke was wonderfully smooth and creamy, and it was about as low maintenance a stick as you could ever ask for. Based on smoking this one stick alone, I would go out and buy a box tomorrow. I am anxiously awaiting the reveal." –Dave (mdwest)
"Overall, this was a great cigar with a lot of complexity and flavor changes. It paired well with bourbon. I am definitely excited to find what this one is!" –Sandeep (Djangos)
"This was a full bodied flavor bomb that kept me interested from beginning to end! I highly recommend this to anyone who likes flavor, strength and performance to all be at the top of their game…well done!!" –Jason H. (Jokey Smurf)
"With the nicely evolving flavors and the great aroma in the beginning, I was really wanting to love this cigar but I can only say that I liked it. There were good flavors, just not enough of a clear flavor, everything was a little blurred. I would try it again to see if maybe a little less or more time would improve the clarity of the flavors." –Paul (pmr1010)
–
Smoking Time (in minutes): 66
Edit

| Reviewer | Appearance | Aroma | 1/3 | 2/3 | 3/3 | Draw | Burn | Constr. | Overall |
| --- | --- | --- | --- | --- | --- | --- | --- | --- | --- |
| Ron | 90 | 90 | 90 | 92 | 90 | 95 | 95 | 93 | 90 |
| Dave | 93 | 88 | 92 | 90 | 93 | 98 | 93 | 95 | 95 |
| Sandeep | 95 | 95 | 95 | 95 | 95 | 98 | 90 | 93 | 95 |
| Jason H. | 93 | 90 | 92 | 93 | 95 | 98 | 97 | 95 | 95 |
| Paul | 93 | 95 | 90 | 93 | 90 | 95 | 95 | 95 | 90 |
To view the complete scores and notes, click here.
–
Blind Cigar Review: Rocky Patel | Super Ligero Robusto (Prerelease)
Blind Cigar Review: Rocky Patel | Super Ligero Robusto (Prerelease)