Source: http://www.cigaraficionado.com/webfeatures/show/id/17088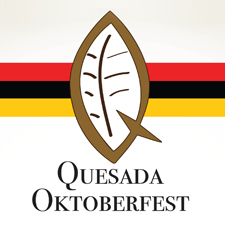 Gregory Mottola
Posted: May 28, 2013
While you might not be thinking about October at the moment, the Quesada family certainly is. S.A.G. Imports, owners of the Fonseca and Quesada brands, is adding its final size to the Quesada Oktoberfest line this summer and it's going to be a corona. Dubbed the Krone (which translates to corona in German), this 5 inch by 43 ring gauge cigar will be unveiled at July's International Premium Cigar & Pipe Retailers' trade show.
"We have had a lot of smokers show excitement for the Oktoberfest, but felt the brand lacked a smaller vitola, which they enjoy smoking most," said Terence Reilly of S.A.G. Imports. "Consequently, we felt a corona would give us the one size we were missing."
The Quesada Oktoberfest brand was created in 2011 as a limited-edition seasonal smoke intended to pair with the Märzen-style beers served in Munich during Oktoberfest. Though it debuted in only two sizes, three more vitolas quickly followed. This year's Krone brings the brand to six sizes.
Only 500 boxes of the Krone will be produced for 2013. They're set to retail for $7.25 each.
Wrapped in a dark Dominican Cibao cover leaf, Quesada Oktoberfest is blended with only Dominican tobacco and made at the MATASA factory in the Dominican Republic.