Cigar News: Sons of Anarchy Gets Its Own Cigar Line
Source:  http://www.cigaraficionado.com/webfeatures/show/id/17251
Gregory Mottola
Posted: September 16, 2013
Through a licensing partnership between Twentieth Century Fox's Consumer Products division and Meier & Dutch cigar distributors, Sons of Anarchy now has its own line of cigars, humidors and accessories.
In case you're unfamiliar with the popular television program, Sons of Anarchy is a cable-TV drama about a gun-running motorcycle club operating out of California. Now entering its sixth season on the FX channel, the show stars veteran actor and real-life cigar enthusiast Ron Perlman, who portrays the club's brooding and ill-tempered former president, Clay Morrow. Since the show's start in 2008, Perlman is seen smoking a cigar in almost every episode.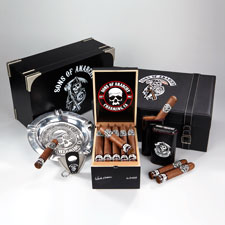 "The production team at Fox was already purchasing cigars from us for the show anyway," said Stephen McDevitt, director of sales for Meier & Dutch. "So last year, 20th Century Fox actually contacted us to do a project like this. It was their idea."
Officially called Sons of Anarchy by Black Crown, the new cigars will be adorned with the club's ominous Grim Reaper symbol—a perfect replica of the biker's patch found on the back of every member's jacket in the show.
As for the blend, the Sons of Anarchy line is an extension of the Black Crown brand, a cigar line owned and distributed by Meier & Dutch. They're made in Honduras at the S.T. Danlí factory (formerly known as HATSA) and feature a sun-grown, Ecuadoran Sumatra wrapper, Nicaraguan Criollo '98 binder and hearty Nicaraguan filler. It comes in five sizes: Prospect, 4 1/2 inches by 60 ring gauge; Robusto, 5 by 54; Toro, 6 by 54; Gordo, 6 by 60; and Torpedo, 6 1/2 by 54. They'll retail from $5.50 to $6.50 and will come in boxes of 20.
For the die-hard fans, a line-up of branded accessories will also be available later this year. Two 75-count humidors—one in saddle-bag leather and one with metal corners—and a pewter ashtray look as though they've come straight out of the Sons of Anarchy clubhouse. They'll retail for $200, $175 and $50, respectively. If you want to show your devotion to the Sons in public, a three-finger cigar case ($50) also dons the club's Reaper symbol, as does the Xikar Xi4 cutter ($50).
The gear has yet to make an appearance on the show, and it still isn't clear whether or not it ever will. So far, this year's season of Sons is only one episode in.
"They should be in the clubhouse," said McDevitt. "I haven't spotted them yet, but I think one of the humidors will be placed behind the clubhouse bar. Either way, we're all big fans of the show here."
The cigars should hit stores in a few weeks, just in time for Sons of Anarchy enthusiasts to puff away while they tune in.
McDivett said that he's even sent some boxes of the new cigars over to Fox, but hasn't received any feedback from the cast or crew. If the cigars did in fact, end up in Perlman's hands, it's likely that he's already smoked them.
"On a bad day, I'll smoke about four. On a good day, maybe two," Perlman said recently of his personal cigar-consumption in an interview with the StarTribune. "I smoke them the wrong way. I inhale."
Cigar News: Sons of Anarchy Gets Its Own Cigar Line