Source: CigarAficionado
David Savona
Posted: July 12, 2013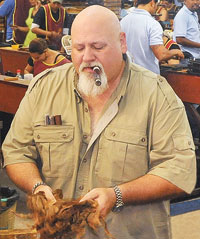 Steve Saka has retired from
Drew Estate
. Saka, who was hired as president of the Nicaraguan cigarmaker in July 2005 and named chief executive officer a year ago, stepped down officially today.
Saka, who is 47, according to Drew Estate, had an equity stake in the company, one of the largest cigarmakers in the world, making brands that include Liga Privada No. 9, Acid and Herrera Esteli. Drew Estate bought his share of the company, and Saka has "agreed to step away from the cigar and tobacco industry at an operational level for two years," according to a statement from Drew Estate provided to Cigar Aficionado.
Michael Cellucci, who joined Drew Estate in 2000, succeeded Saka as president in 2012 when Saka was named to the new post of CEO. Cellucci said no one would be named CEO at this time.
Before joining Drew Estate, Saka wrote extensively about cigars online, first on his own website and later as part of JR Cigars. In a statement, Saka said he intended to devote serious time to fishing for smallmouth bass, but he expressed his love of the cigar business. "I am a cigar and tobacco man at heart, and both are integral parts of my life, but for now I want to return to just being a cigar citizen," he said.
In a joint statement, Drew Estate co-founders Jonathan Drew and Marvin Samel heaped praise on Saka: "The team at Drew Estate would like to thank Steve for all of his hard work and dedication over the past eight years. His passion, leadership and expertise are a very rare combination within our industry. Steve will be truly missed and we wish him all the best moving forward."
Celluci told Cigar Aficionado that Saka will be at the International Premium Cigar & Pipe Retailers show in Las Vegas, which begins on Sunday.