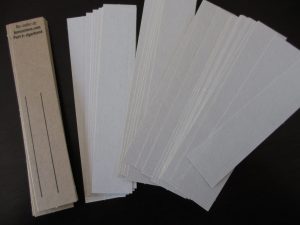 Blank cigar bands are something that we use quite a bit of here at Blind Man's Puff. We remove the bands that cigars are shipped with and then use blank bands with a review number on the cigars that then get sent out to the reviewers. Over the course of a year we end up using more than 750 blank cigar bands.
Some of you may ask, "If I'm not doing blind cigar reviews, why would I need blank cigar bands?" That's a good question. Other reasons that you may want to use blank cigar bands are:
To identify cigars that don't come with bands
To identify where you got a cigar, such as trades, gifts, store, etc.
To track the date of cigars
For any other notes that you might want to keep with the cigar
Elisha from Kenco Label & Tag reached out to me and said that they were coming out with a new version of their blank cigar bands and wanted us to review them so we could give our honest opinion on them. This type of product is right up our alley, so we definitely wanted to give them a try. We received a sample pack of 50 bands and we used them all for this review.
The bands measure 4" long by ¾" high. They have a textured face and the backing of the label is cracked in three locations at ½", 1" and 1 ½". The reason for the multiple cracks in the backing is to accommodate different ring gauge cigars. For large ring gauge cigars, you don't want too much of the adhesive exposed as it will stick to the wrapper of the cigar, possibly causing tears when you try to remove it. For small ring gauge cigars, the more adhesive that is exposed, the more of the label that can adhere to itself and with a large curve in the label due to the small ring gauge, this aids in keeping the label from unraveling once adhered. With the multiple options for where to pull off the backing, you can pick which works best for the size cigar you are using it for.
The length of these bands are larger than the bands we typically use by close to ½". This makes a big difference on the 60+ ring gauge cigars as I sometimes have to add in a piece of paper on the back of the bands to either get the band to fit or to cover up some of the exposed adhesive from sticking to the wrapper.
The face of the bands use what Kenco calls a Textured Estate Face. This provides a slightly soft and textured surface. I tried 3 different pens when writing on the bands. The first was a ball point pen which I typically use when writing on our normal bands. This was a bit challenging as the pen didn't release the ink onto the band as easily as I expected and I had to trace the numbers a few times. Next, I used a Sharpie. This worked well as the ink transferred easily to the band surface. I prefer not to use a Sharpie since the ink thickness is much wider and you have to make your writing more pronounced. Also, the aroma of the Sharpie ink is something I prefer not to introduce into my cigar storage enclosures. Finally, I tried a different ball point pen, and this one performed much better than the first one I tried. This pen had ink that flowed much better, so you'll just have to find the right pen that works for you.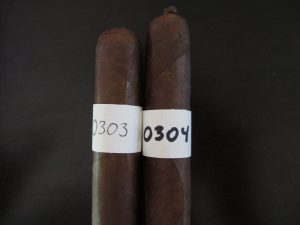 One of the most important features to evaluate for blank cigar bands is how well they stick. There is nothing worse than labeling a bunch of cigars, putting them away and coming back to find multiple bands have popped off and you can't figure out which one went to which cigar. When using these bands, they went on nicely. The very edge of the band did raise a little bit, but with the amount of band that is adhered, they still had a very good amount that was still tight. I checked back on a few different sized cigars a few days later and none of the bands had come off. A long term test would help to better determine the overall quality of them, but for this review an extended stress test was not conducted.
The bands are sold in packages of 500 for $16. They also qualify for free shipping. These bands are cheaper than the bands we currently use and I definitely think that they are a good value. Click here for a direct link to the product.
Overall, I would rate these bands as very good. The options for the different adhesive lengths is a very nice feature. The length of the bands should fit all but the egregious ring gauges out there. The minor issue I had with writing on the bands is not enough to deter me from using them and I didn't run into any other negatives that would make me shy away from them. If you are looking for blank cigar bands, these are definitely worth a try.
–
Accessory Review: Kenco Blank Cigar Bands