Vital Stats:
This cigar was reviewed blind (no bands) by a panel of at least 4 reviewers. They did not know what they were smoking beforehand. The scores are an average of all the reviewers' scores with outliers removed. All of our cigars reviewed are shipped to the panelists with Boveda packs to ensure optimal smoking experience.
Vitola: Robusto
Length: 5″
Ring Gauge: 52
Country of Origin: Nicaragua
Wrapper: Nicaraguan Habano
Binder: Nicaragua
Filler: Nicaragua
Factory: La Zona
Blender: Erik Espinosa
Number of reviewers: 5 —– Paul (pmr1010) Aaron (aaron72) Sandeep (Djangos) Ron (shuckins) Jason H. (Jokey Smurf)
Price: $6.70
Age: 3 Months Rest
Release Date: 2013
Contributed by: Arandoza Cigars
Initial Impressions
Appearance: 94
"This is a really nice looking robusto cigar. The wrapper is chocolate-brown and has a leathery,  slightly mottled appearance. There are a few veins and the cap is expertly applied. The cigar is heavy in my hand and is firmly packed." –Jason H. (Jokey Smurf)
Aroma: 91
"This cigar smells of espresso with faint hints of chocolate. There is also a spicy aroma that I think is clove. The dry draw is similar with chocolate and coffee. There is definitely some pepper to the tongue on the dry draw." –Sandeep (Djangos)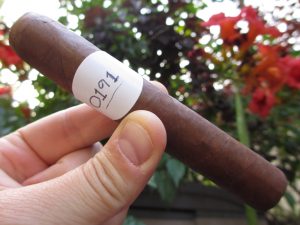 First Third
Flavor: 93
Strength: Medium
Body/Complexity: Medium
"The initial third starts off with lots of coffee and leather. There is also chocolate in the background. Definitely some pepper, but not overwhelming. There is also that clove like spiciness that I got in the dry draw. The major issue with this cigar is the draw. I had to use the draw tool twice in order to make it smokable without getting a headache or passing out! I would have rated the flavors at a 95 had it not been for the draw. However, I am persisting because of the awesome flavor profile. The burn is also wavy, most likely from the draw. The smoke is also slightly wispy and thin. The ash is flaky and does not even hold half an inch before falling off." –Sandeep (Djangos)
"A little blast of pepper on light up for a nice kick-start to the cigar. Coffee with rich leather showed up soon after and was quickly joined by a light taste of oak. A hint of cocoa joined the mix, which was very pleasing to my palate and took the cigar in a direction I knew I was going to enjoy." –Ron (shuckins)
Second Third
Flavor: 91
Strength: Medium
Body/Complexity: Medium
"I only rated the second third as very good because it didn't get better and the flavors that started to develop in the first third didn't. Now, that being said, it's still Very Good. It got a little less in strength as well which was good because I could focus on the flavors. There were smokey jalapeño notes,  not hot, but a great jalapeño flavor starting. Other flavors that started but didn't develop were a baked cherry undertone, like black cherries, not red and sweet." –Paul (pmr1010)
"Smoke production through the first third has been a bit thin, but there is no lack of flavor. The sweetness is remaining, but is now more of an afterthought as the earth and espresso are becoming dominant. Also, there is a significant tongue bite with this cigar that beckons me to drink more beer…mmmm beer….but I digress… The retrohale remains just a bit spicy, but not as much as I'd expect based upon the spicy mouth feel. Honestly though, this cigar isn't as pleasant on the retrohale as many…there is a sharp tangy note through the nose that is not quite enjoyable." –Jason H. (Jokey Smurf)
Final Third
Flavor: 89
Strength: Medium
Body/Complexity: Medium-Full
"More pepper showed up as it neared the end, bringing both strength and heat to the cigar. The oak flavor faded a bit, taking the cocoa with it as the coffee and leather flavors moved toward the front and provided a great finish to the cigar." –Ron (shuckins)
"Smoke production has really fallen off, and I'm having a difficult time keeping the cigar lit…as the smoke production fell away, so have the flavors, now noting mostly a light coffee and very light pepper. I find that if the cigar sits for more than about 30 seconds it almost goes out…obviously this is greatly speeding up the smoking process and is bringing this cigar to a premature end as the last 1.5″ are heating up and becoming bitter." –Jason H. (Jokey Smurf)
Overall Impressions
Draw: 89
"A great draw, although a bit firm at times, it produced clouds of tasty smoke." –Ron (shuckins)
Burn: 89
"Burn had issues most likely related to the very tight draw." –Aaron (aaron72)
Construction: 96
"There was nothing that I could pick up that was a flaw. This was a really nicely constructed, wrapped and formed cigar." –Paul (pmr1010)
Overall Strength: Medium
Overall Body/Complexity: Medium-Full
Overall Experience: 89
"This cigar reminded me at times of a few different cigars, one of which was Flor de las Antillas. The flavor profile reminded me a lot of it. Not knowing for sure, I believe the wrapper to be Habano. I would buy this cigar." –Paul (pmr1010)
"This cigar couldn't overcome the draw issues. The flavors started off pretty good in the first third, but I think the effects from having to pull really hard on it compounded over the rest of the smoke and things went downhill from there. I'm really hoping I got the dud of the bunch, otherwise I don't have any reason to want to smoke another one." –Aaron (aaron72)
"If this cigar had a decent draw, I would have rated it a 95 across the board, however, that is not the case. I realized how so much negative pressure applied to the draw can hurt your head. The complexity is something that I have not even seen with Tats (and I love Tats). I am hoping fervently that I got a bad stick, because after trying one more I am ordering a box if the draw is good on that one." –Sandeep (Djangos)
"A really enjoyable cigar with flavors right in my wheelhouse. It did become more of a full strength cigar towards the end, making it more suitable as an after dinner smoke." –Ron (shuckins)
"If the cigar finished like it started I'd call it a winner for sure. Unfortunately, the last bitter notes are what I remember, and I'm feeling turned off at this point. Sad that this is my only sample as I'd like to see what more time in the humidor would do to this mostly fine cigar." –Jason H. (Jokey Smurf)
Smoking Time (in minutes): 71
Total Score: 91 (Very Good)
Edit

| Reviewer | Appea-rance | Aroma | 1/3 | 2/3 | 3/3 | Draw | Burn | Constr. | Overall |
| --- | --- | --- | --- | --- | --- | --- | --- | --- | --- |
| Paul | 95 | 90 | 95 | 90 | 95 | 95 | 100 | 97 | 95 |
| Aaron | 90 | 90 | 90 | 88 | 83 | 80 | 88 | 85 | 85 |
| Sandeep | 95 | 95 | 93 | 90 | 92 | 75 | 85 | 95 | 88 |
| Ron | 95 | 92 | 93 | 92 | 90 | 95 | 97 | 95 | 92 |
| Jason H. | 93 | 92 | 93 | 92 | 85 | 88 | 85 | 85 | 88 |
| Overall | 94 | 91 | 93 | 91 | 89 | 89 | 89 | 96 | 89 |
To view the complete scores and notes, click here.