Vital Stats:
Vitola: Churchill
Length: 6.75″
Ring Gauge: 47
Country of Origin: Nicaragua
Wrapper: Nicaraguan Habano
Binder: Nicaragua
Filler: Nicaragua
Factory: Plasencia Cigars, S.A.
Blender: Undisclosed
Number of reviewers: 5—–Ron (shuckins) Jason H. (Jokey Smurf) Sandeep (Djangos) Robert (NavyPiper) Gregg (McGreggor57)
Price: $7.99
Age: 6 Months
Release Date: July 2014
Contributed by: Crux Cigars
This cigar was reviewed blind (no bands) by a panel of at least 4 reviewers. They did not know what they were smoking beforehand. The scores are an average of all the reviewers' scores with outliers removed. All of our cigars reviewed are shipped to the panelists with Boveda packs to ensure optimal smoking experience.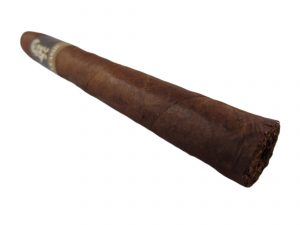 Initial Impressions
Appearance: 90
"We have a nice looking stogie that measures 6 5/8X46. It's medium dark brown, mild sheen and uniform in color with no blemishes. I'm just not sure what to call it. It kind of resembles a Torpedo, in that it has a short mild tapered head which is rounded, not pointed. Is it a torpedo, I have no idea, but I do like the look of it!" –Robert (NavyPiper)
Aroma: 92
"Leather and cedar with a hint of mint mingling with the cedar on the cold draw." –Gregg (McGreggor57)
First Third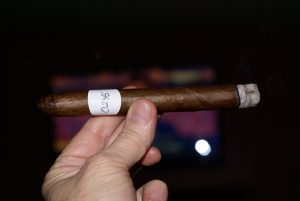 Flavor: 91
Strength: Medium
Body/Complexity: Medium
"Starts off with a creamy cedar flavor up front, helped by a little taste of leather in the background. The nutmeg flavor is in the middle of the road as the cigar progresses. Sometimes it's sweet and other times it's on the spicy side." –Ron (shuckins)
"The initial third starts off with notes of hay and dry grass with some coffee in the back ground. The pepper is present in mild amounts and adds some complexity. After the first inch or so, the flavors change to have a more woodsy character. The pepper has also increased in intensity. The draw and burn are very good with excellent smoke production. The ash is flaky and does not hold  for more than a half inch before falling off." –Sandeep (Djangos)
Second Third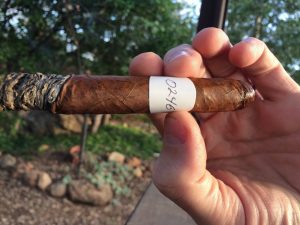 Flavor: 91
Strength: Medium
Body/Complexity: Medium
"The cedar flavor is joined by a leather that's both creamy and dry tasting which really threw my palate for a loop. The nutmeg has a pleasant sweetness to it that's kept in the background by a light dusting of pepper." –Ron (shuckins)
"Rich coffee, barely burnt toast and creamy leather have me looking forward to how this third will develop. These flavors balance perfectly with a hint of black pepper on the back of my palate. I love the smoke production of this cigar, even though the draw is a bit firm." –Gregg (McGreggor57)
Final Third
Flavor: 90
Strength: Medium
Body/Complexity: Medium
"The final third found the pepper returning along with a bit of charred oak. Almost every puff still has the delicious chocolate which has become more bitter-sweet and pairs oh so well with the coffee that has remained since the beginning. This has been a consistently good cigar that would only be better with more smoke production." –Jason H. (Jokey Smurf)
"I'm in the last third, and this third is the winner for me. The spice is the sole flavor in this third. Can't detect any of the other flavors, but the spice is fantastic. Loved this third!" –Robert (NavyPiper)
Overall Impressions
Draw: 95
"Rather than cut the tip,I poked a hole in it with my draw tool and ended up with a fantastic drawing cigar." –Ron (shuckins)
Burn: 95
"Excellent burn line the entire length of the cigar." –Sandeep (Djangos)
Construction: 91
"The burn and ash of this cigar were remarkable…no touch ups were needed and the ash was firm and strong. If the draw were better, I would have called the construction perfect." –Jason H. (Jokey Smurf)
Overall Strength: Medium
Overall Body/Complexity: Medium
Overall Experience: 90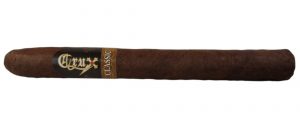 "A very pleasant and easy smoking cigar, with flavors that entertain the palate and leave it wanting more." –Ron (shuckins)
"This was a very good cigar. Strong enough in body to keep me involved, but not overbearing in any sense. I love the semi-sweet chocolate notes that paired with the espresso and wood…right in my wheelhouse. This was paired with black coffee and I couldn't have been happier. Give me more smoke output and I'd be chasing a box." –Jason H. (Jokey Smurf)
"Overall, the cigar was good with a very one dimensional character but pleasant nonetheless. The experience was sort of distorted once the bitterness started to come through. I would try one if I get one but will not go looking for one." –Sandeep (Djangos)
"This was a nice smoke. Really smooth, and the spice was great. I will be looking out for the name of this so that I can add the into the rotation." –Robert (NavyPiper)
"This cigar offered up a very satisfying richness with a near perfect blend of coffee, toast and wood. The transition between the first two thirds allowed the flavors within the profile to develop further, rather than introduce a bevy of new ones. I really enjoyed the way the pepper and leather balanced each other. The final third was a moderate letdown with the cigar becoming borderline harsh." –Gregg (McGreggor57)
–
Smoking Time (in minutes): 73
Edit

| Reviewer | Appearance | Aroma | 1/3 | 2/3 | 3/3 | Draw | Burn | Constr. | Overall |
| --- | --- | --- | --- | --- | --- | --- | --- | --- | --- |
| Ron | 90 | 95 | 90 | 90 | 90 | 95 | 93 | 92 | 90 |
| Jason H. | 90 | 97 | 92 | 92 | 95 | 88 | 97 | 95 | 95 |
| Sandeep | 95 | 90 | 90 | 90 | 88 | 97 | 97 | 90 | 88 |
| Robert | 88 | 88 | 88 | 88 | 90 | 95 | 95 | 90 | 90 |
| Gregg | 90 | 90 | 92 | 92 | 90 | 88 | 93 | 90 | 90 |
To view the complete scores and notes, click here.
–
Blind Cigar Review: Crux | Classic Churchill Marblehead
Blind Cigar Review: Crux | Classic Churchill Marblehead
91
Total Score - Very Good