Vital Stats: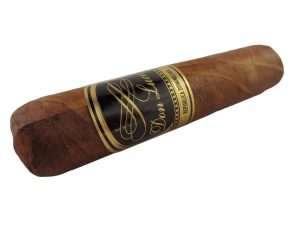 Vitola: Rothschild
Length: 4″
Ring Gauge: 54
Country of Origin: Dominican Republic
Wrapper: Dominican and Broadleaf
Binder: Dominican Republic
Filler: Dominican Republic
Factory: Don Lucas Cigar Factory
Blender: Undisclosed
Number of reviewers: 5—–Dave (mdwest) Gregg (McGreggor57) Craig (WyldKnyght) Robert (NavyPiper) Jason H. (Jokey Smurf)
Price: Unknown
Age: 7 Months
Release Date: Unknown
Contributed by: Don Lucas Cigars
This cigar was reviewed blind (no bands) by a panel of at least 4 reviewers. They did not know what they were smoking beforehand. The scores are an average of all the reviewers' scores with outliers removed. All of our cigars reviewed are shipped to the panelists with Boveda packs to ensure optimal smoking experience.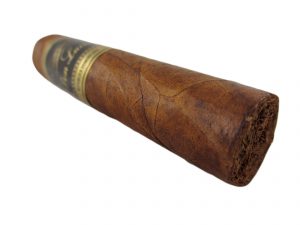 Initial Impressions
Appearance: 91
"This is one stout little cigar! It sports a chocolate brown wrapper leaf that glistens with oils and is just slightly toothy to the touch. The cap and wrapper are firmly applied, however, the cap is cut quite crookedly. There are several prominent veins in the cigar, but given the stout appearance, they actually enhance the manly look of this stick." –Jason H. (Jokey Smurf)
Aroma: 91
"The smell of wet grass and tobacco emit from the foot and present a bit of an odd, but very nice aroma, that is both strong and slightly sweet." –Dave (mdwest)
First Third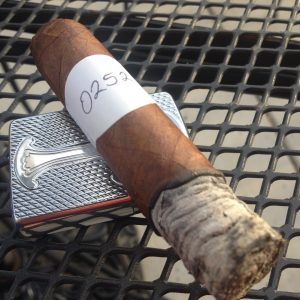 Flavor: 88
Strength: Medium
Body/Complexity: Medium
"The pepper burst quickly subsides leaving behind the flavor without the heat. A bit of baking spice is in the background, but a firm draw is making it difficult to taste much else. A quick ream with a draw tool and some floral notes are becoming noticeable." –Gregg (McGreggor57)
"After punching the cap, I am greeted with a wide open draw that has small hints of the sweetness I detected in the aroma. There is just a bit of tingle on my lips from the wrapper leaf on the cold draw. Upon lighting, I was blasted with a molasses sweetness and just a bit of pepper. After the first few puffs, the sweetness faded and a dark bitter chocolate note developed. Not an unpleasant bitterness, but the bitter flavor of very high cacao chocolate. The smoke has a dry characteristic that has me sipping my tea a little more often but that's ok with me…these flavors are intriguing." –Jason H. (Jokey Smurf)
Second Third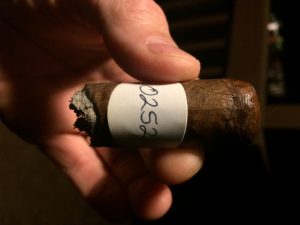 Flavor: 90
Strength: Medium
Body/Complexity: Medium
"Flavors have become a little bit muddled in the second third and harder to detect, but there are definitely some dark bread notes in there (maybe rye?), and lots of wood notes that become clear a little later into the smoke. As I get ready to progress into the final third, flavors start to become more defined and the smoke gets back on track. Nice!" –Dave (mdwest)
The chemical aftertaste has decreased some, but other than that, no change at all in flavors. Not a bad thing, I mean we're smoking tobacco leaves, so having a stogie that is pretty much just tobacco flavored is ok. Burn is still decent, a little wavy but not bad, but man, something's gotta be done about this draw, it's killin' me." –Robert (NavyPiper)
Final Third
Flavor: 92
Strength: Medium-Strong
Body/Complexity: Medium
"The final third was by far the best. The spiciness completely mellowed out, and I started getting a nice earthy flavor. The burn continued to be nice and even. The ash was solid and had light grey color." –Craig (WyldKnyght)
"As this cigar entered the final third, I began to lose the chocolate notes…only slightly detecting them through my nose as I exhaled a mouthful of smoke. Interestingly, the smoke has become more luxurious and has lost the dry characteristic I had mentioned in the first third. Predominant flavors now are charred oak and espresso…deep and meaty. The strength has returned to medium, along with the body, and that is just fine as I'm avoiding any sort of nicotine rush." –Jason H. (Jokey Smurf)
Overall Impressions
Draw: 88
"Although it started out tight, it did loosen up as it went along." –Craig (WyldKnyght)
Burn: 92
"Burn was good. It had a little wave the whole time, but not enough to require touching it up." –Robert (NavyPiper)
Construction: 89
"Despite the draw issues I experienced, this cigar appears to be well made. Consistent firmness and packed full of tobacco." –Gregg (McGreggor57)
Overall Strength: Medium-Strong
Overall Body/Complexity: Medium
Overall Experience: 92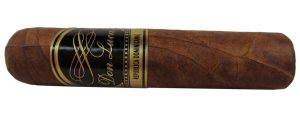 "I really enjoyed this cigar overall and would be happy to add a handful to the humidor and share with friends. A nice stick." –Dave (mdwest)
"While I'm sure there were more flavors than I experienced, the draw was just too tight to pull many out. The coffee and leather that came through during the second half offered a welcome change from the floral and baking spices that began this cigar. I would like to try another one." –Gregg (McGreggor57)
"I found this cigar to be great. It started out spicy but mellowed out to a nice earthy flavor with very good construction. I would have preferred a thicker smoke, but it wasn't bad. I will definitely try this cigar again." –Craig (WyldKnyght)
"As much as I hate to say it, I can't say I enjoyed this one. Mainly because of the draw. It was a constant fight, and definitely gave me a workout. I probably got the one fluke out of the box that got too tight a wrap. The flavors, while not very exciting, were ok. It seemed like a slow burner, and one thing that impressed me was the ash. It was very tight, maintained the shape of the stogie, and actually well into the final third before dropping off. That was impressive!" –Robert (NavyPiper)
"An outstanding cigar for me. A wide variance of flavor and superb performance. This is a flavor bomb, and in a vitola that I enjoy…I want some more! I would definitely recommend this to my cigar smoking buddies." –Jason H. (Jokey Smurf)
–
Smoking Time (in minutes): 60
Edit

| Reviewer | Appearance | Aroma | 1/3 | 2/3 | 3/3 | Draw | Burn | Constr. | Overall |
| --- | --- | --- | --- | --- | --- | --- | --- | --- | --- |
| Dave | 90 | 90 | 90 | 90 | 90 | 88 | 88 | 90 | 90 |
| Gregg | 90 | 90 | 88 | 88 | 90 | 85 | 90 | 88 | 88 |
| Craig | 92 | 92 | 85 | 90 | 95 | 88 | 97 | 90 | 95 |
| Robert | 90 | 88 | 88 | 88 | 88 | 70 | 88 | 90 | 75 |
| Jason H. | 92 | 95 | 95 | 92 | 95 | 90 | 97 | 95 | 95 |
To view the complete scores and notes, click here.
–
Blind Cigar Review: Don Lucas | A.L. Series Short Toro
Blind Cigar Review: Don Lucas | A.L. Series Short Toro
90
Total Score - Very Good