Vital Stats: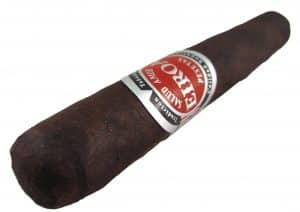 This cigar was reviewed blind (no bands) by a panel of at least 4 reviewers. They did not know what they were smoking beforehand. The scores are an average of all the reviewers' scores with outliers removed. All of our cigars reviewed are shipped to the panelists with Boveda packs to ensure optimal smoking experience.
Vitola: Robusto
Length: 5″
Ring Gauge: 50
Country of Origin: Honduras
Wrapper: San Andres Maduro
Binder: Honduras
Filler: Honduras
Factory: El Aladino
Blender: Christian Eiroa
Number of reviewers: 5—–Kent (Throck) Jiunn (jliu) Gregg (McGreggor57) Ron (shuckins) Dave (mdwest)
Price: $10.00
Age: 2 Months
Release Date: July 2014
Contributed by: C.L.E. Cigar Company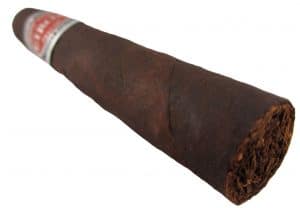 Initial Impressions
Appearance: 89
"Very dark and uniform wrapper (think dark chocolate). Cigar is well rolled with no soft spots. Three major visible veins covering the extent of the cigar. Head is capped off with a well adhered triple cap." –Jiunn (jliu)
Aroma: 91
"Nutmeg and sweet earth are well defined in the pre-light aroma." –Dave (mdwest)
First Third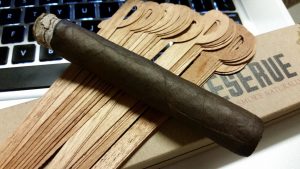 Flavor: 88
Strength: Medium
Body/Complexity: Medium
"Starts off with a woodsy tasting tobacco up front for the first few puffs. A dry leather and coffee flavor mix joins the fun, bringing another dimension and much needed excitement to the cigar as I smoke steadily past the first third." –Ron (shuckins)
"Slightly sweet on the front, with a note that could only be described as "dirt like" on the finish, with a hint of pepper in between. I never thought I would admit to liking something "dirt like", but this cigar is off to a good start, and I am enjoying it." –Dave (mdwest)
Second Third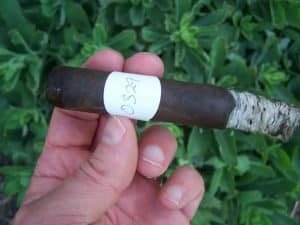 Flavor: 89
Strength: Medium
Body/Complexity: Medium
"Second third continues to be a powerful earthy smoke. Still getting flavors of dominant oily white pepper, followed by charred wood and stone fruit. There is a slight non-sweet creaminess mixing in which helps taper down the pepper. Body still at a medium. Strength still at a medium full." –Jiunn (jliu)
"Leather with a mix of grasses and hay begin to develop. Although there is still a noticeable spice of pepper, it's more manageable than in the beginning. The draw is spot on with lots of smoke. A little cocoa is appearing in the background." –Gregg (McGreggor57)
Final Third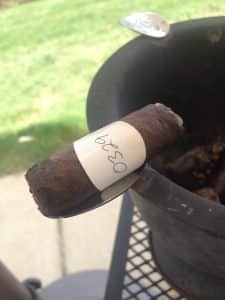 Flavor: 89
Strength: Medium
Body/Complexity: Medium-Full
"The final third was the most enjoyable with increased complexity of almonds, leather and slight evergreen flavors. The drawing difficulty continued, but I was happy that the flavor profile increased from the prior segments. The nicotine level maintained consistent throughout the cigars life and did not drop off." –Kent (Throck)
"The final third finishes up strong with great flavor and a continuation of the nutmeg and sweet notes that were found in the second third. A great way to end things. Really enjoyable." –Dave (mdwest)
Overall Impressions
Draw: 89
"An excellent draw the entire time. Just tight enough to keep my attention, but enough smoke for clouds to form." –Ron (shuckins)
Burn: 94
"Despite a somewhat wavy burn line, this cigar offered a ton of smoke and firm ash." –Gregg (McGreggor57)
Construction: 90
"There were no issues with the cigars construction while smoking. It held together well and did not have any bulging or unwrapping. This was a shining point for the cigar." –Kent (Throck)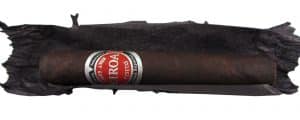 Overall Strength: Medium
Overall Body/Complexity: Medium-Full
Overall Experience: 89
"This is not a cigar that I would seek out to smoke again. The initial harsh flavor at its onset was off-putting, but the slightly developing complexity was its saving grace. I kept hoping for increasing subtle flavor changes but these did not seem to come to fruition. I was disappointed in the difficulty drawing that emerged in the second third which did not alleviate." –Kent (Throck)
"This was a mediocre cigar for me. I recommend this cigar for someone who enjoys a stronger nicotine cigar that is of dominant earthy flavors. As for me, this is an easy pass." –Jiunn (jliu)
"Lots of pepper and spice that dominated this cigar. There were glimpses of cedar, florals, grasses and chocolate present that were never allowed to shine. A bit one dimensional in this sense and frustrating in that a better balance wasn't achieved. More rest might help even out the flavors." –Gregg (McGreggor57)
"Although another dimension or two would have been nice, still an enjoyable cigar to smoke, and one I will smoke again." –Ron (shuckins)
"An overall excellent experience with great flavor and above average performance from start to finish. I'll be looking to buy some of these after the reveal is made." –Dave (mdwest)
–
Smoking Time (in minutes): 74
Reviewer

Appearance

Aroma

1/3

2/3

3/3

Draw

Burn

Constr.

Overall

Kent
Throck)
92
92
88
90
92
85
95
95
88
Jiunn
jliu)
88
85
80
80
80
83
95
85
80
Gregg
McGreggor57)
90
90
88
88
88
97
93
90
88
Ron
shuckins)
90
92
88
90
88
92
93
88
90
Dave
mdwest)
85
90
90
90
90
85
93
90
92
To view the complete scores and notes, click here.
–
Blind Cigar Review: Eiroa | CBT Maduro Robusto
Blind Cigar Review: Eiroa | CBT Maduro Robusto
90
Total Score - Very Good