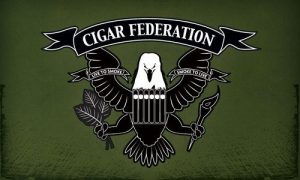 Cigar Info
Dustin (Catfish) and Seth (Big Tuna) from the What Embargo? show on Cigar Federation and Habanos Critic asked us if we would be interested in doing a blind cigar review of two Cuban cigars using our format. The review would consist of Dustin and Seth from What Embargo? and Emmett and Aaron from Blind Man's Puff as the reviewers. The cigars were provided by Blind Man's Puff reviewer Jiunn (Thanks Jiunn) so that none of the review participants had any prior knowledge of the cigars which is our normal operating procedure here at Blind Man's Puff. The review as it is initially posted shows the results of the review, but the cigar is not yet revealed. The actual cigar will be revealed on the What Embargo? show that is airing this Saturday, November 8th at 6PM Pacific/9PM Eastern. After the cigars are revealed on the show here, we will come back and update these reviews with the cigar name and details so that it reflects our normal blind review format.
This cigar was reviewed blind (no bands) by a panel of at least 4 reviewers. They did not know what they were smoking beforehand. The scores are an average of all the reviewers' scores with outliers removed. All of our cigars reviewed are shipped to the panelists with Boveda packs to ensure optimal smoking experience.
To view the review of the other cigar being revealed on the show, click here.
Vital Stats: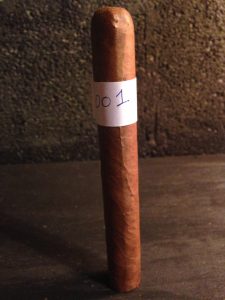 Vitola: Robusto
Length: 5.6″
Ring Gauge: 46
Country of Origin: Cuba
Wrapper: Cuba
Binder: Cuba
Filler: Cuba
Factory: Habanos S.A.
Blender: Unknown
Number of reviewers: 4 —- Seth (Seth's Humidor) Dustin (CatfishBluezz/Cigar Federation) Aaron (aaron72) Emmett (rhetorik)
Price: Unknown
Age: 2 Years 9 Months
Box Code: SOT ENE 12
Contributed by: Jiunn
Initial Impressions
Appearance: 96
"The first thing you notice about this cigar is how soft to the touch it is, like velvet. Second, you notice how beatufiful the wrapper is, nearly flawless with just a hint of a vein. It has a slight sheen to it, and of course a triple cap." –Emmett (rhetorik)
Aroma: 93
"The aroma from the wrapper is a light mix of leather and barnyard. The aroma from the foot is primarily leather with a bit of sweet tobacco." –Aaron (aaron72)
First Third
Flavor: 93
Strength: Medium
Body/Complexity: Medium
"Giving off some Partagas flavors. I am picking up some nice barnyard qualities. Bits of wood, hay and rich earth. Also picking up some Asian spice qualities that are paired with this subtle stone fruit quality. It is filling and complex. You really get a nice bit of spices on the finish and that is when the strength and body really present themselves. The construction is dead on as well and it is producing a lovely charcoal ash on the end of the cigar. Great draw and a nice bit of smoke production." – Seth (Seth's Humidor)
"The first third hit me with classic Partagas flavors, including wood, earth and peanuts. The draw was smooth and nutty, with the earth and cedar notes hitting the nose. The finish was excellent, and long enough to break for a few minutes. A light cocoa flavor change took place, with an added creamy texture to the draw." –Dustin (CatfishBluezz/Cigar Federation)
Second Third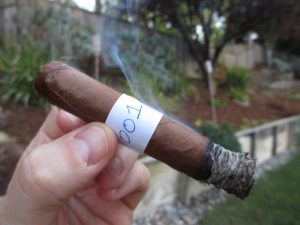 Flavor: 94
Strength: Medium
Body/Complexity: Medium-Full
"A nice charred musk arrived, making for a smokey cedar as well. Stone fruit develops on the draw, which led to cherry on the tongue. The cedar and musk continued to grow on the retro as well as I neared the finale." –Dustin (CatfishBluezz/Cigar Federation)
"Cedar is still the core flavor along with a little bit of pepper, so not much of a change from the first third. Halfway into the third, some mineral flavor is joining with the cedar. The mineral flavor has really made its presence felt in the retrohale which is very enjoyable. Near the end of the third, the cedar changes to a charred oak." –Aaron (aaron72)
Final Third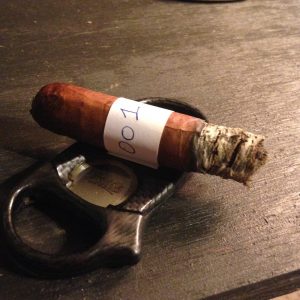 Flavor: 93
Strength: Medium-Strong
Body/Complexity: Medium-Full
"The final third shows a nice finishing flavor profile and it has some sour fruit notes, sour stone fruit qualities, and it has some tobacco, leather, wood and earth present. There are some peppery notes present on the finish and it is very enjoyable." –Seth (Seth's Humidor)
"The twang has picked up in this third and the spice has increased. I haven't had to touch the burn once, and it's razor sharp the whole way. The draw is also great. This cigar stayed cool and tasty all the way to the end. I should not that the finish was somewhat dry and leathery, not very long. I really enjoyed this third, it was balanced and a great crescendo to end it." –Emmett (rhetorik)
Overall Impressions
Draw: 89
"The draw was a bit stiff for my tastes, but did not tar the cigar at all." –Dustin (CatfishBluezz/Cigar Federation)
Burn: 100
"The burn line was razor sharp from beginning to end. Simply perfect." –Seth (Seth's Humidor)
Construction: 96
"Considering the roll was too tight, I cannot rate it too high, but it was very enjoyable, and that is what matters. I'm just being picky." –Dustin (CatfishBluezz/Cigar Federation)
Overall Strength: Medium
Overall Body/Complexity: Medium-Full
Overall Experience: 94
"I loved the flavor profile present, really up my alley, and it was complex with a nice bit of depth. There was some transitioning throughout, but it kept this core flavor profile as well that really changed up in thirds. I loved the body and strength present with the cigar and it made for a great evening smoke. I am a big fan of cigars in this size, corona gorda area, and they perform incredibly well when constructed correctly. This will only get better with age, and if it did not have some age on it right now, I would be surprised. I believe a lot of smokers would love this cigar and enjoy what was offered." –Seth (Seth's Humidor)
"This was an excellent cigar, but I am not a huge fan of the earthiness it had that I associate with Partagas. However, the cream soda note in the end was unreal, and I know from experience that Partagas ages extremely well over a long period of time. That being said, it would be a no brainer to grab five, and depending on price a box split." –Dustin (CatfishBluezz/Cigar Federation)
"This was a really good cigar, one of the best I have had in a while. While not the most complex, the flavors were great and worked perfectly. if I had to guess, I would guess this is a Romeo y Julieta based on the flavor profile and appearance. I'm excited to see the reveal. Highly recommend." –Emmett (rhetorik)
"The first half of the cigar was primarily cedar with a bit of pepper. The second half was primarily charred oak with some mineral flavor. The transition at the halfway point was the only real transition to speak of. The flavors were good, I just wished there were more nuances to make it more interesting. The draw tightness took a bit away and not sure if it had any effect on flavors throughout the smoke due to how hard I had to draw on the cigar. Probably not something I would chase down more of, but would smoke one again if handed one." –Aaron (aaron72)
–
Smoking Time (in minutes): 90
Edit

| Reviewer | Appearance | Aroma | 1/3 | 2/3 | 3/3 | Draw | Burn | Constr. | Overall |
| --- | --- | --- | --- | --- | --- | --- | --- | --- | --- |
| Seth | 88 | 85 | 90 | 93 | 90 | 100 | 100 | 100 | 93 |
| Dustin | 97 | 97 | 97 | 97 | 97 | 85 | 100 | 85 | 95 |
| Emmett | 97 | 95 | 95 | 95 | 95 | 97 | 100 | 97 | 95 |
| Aaron | 93 | 90 | 88 | 90 | 88 | 85 | 93 | 90 | 88 |
To view the complete scores and notes, click here. –
Blind Cigar Review: H. Upmann (Cuba) | Connoisseur No. 1
Blind Cigar Review: Hoyo de Monterrey (Cuba) | Epicure No. 1