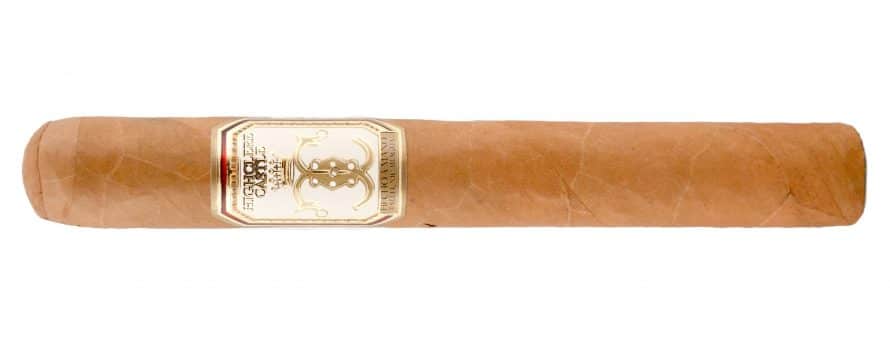 Cigar Info
The Highclere Castle Cigar was announced just before IPCPR 2017. It is made in Estelí, Nicaragua at Tabacalera AJ Fernandez, using a Connecticut Shade wrapper, and both Criollo and Corojo from the volcanic soils of Jalapa and the island of Ometepe. The binder a Brazilian Mata Fina. The blend is finished with an exclusive hybrid seed the company has named Nicadán.
This cigar was reviewed blind (no bands) by a panel of at least 4 reviewers. They did not know what they were smoking beforehand. The scores are an average of all the reviewers' scores with outliers removed. All of our cigars reviewed are shipped to the panelists with Boveda packs to ensure optimal smoking experience.
The first release is limited and were available in select cigar lounges and tobacco shops across the United States by September 1, 2017, followed by availability at Highclere Castle and internationally. Sizes to include Churchill, Toro, Petit Corona, Robusto, and Corona.
Highclere's rich history starts in 1862, when cigars were first acquainted with England. The convention at Highclere Castle has been to resign to the library after supper for a cigar and whiskey. In 1922, the present Earl's great-grandfather celebrated his and Howard Carter's revelation of King Tut's Tomb with a good cigar smoke. As of late, Highclere Castle's historian found letters and individual record records of the Carnarvon's cigar purchases in the mid 1900s from merchants in London and also the Ritz Hotel. Melillo, in this way, made a cigar that mirrors that noteworthy flavor profile and smoking style.
Highclere Castle is a 5,000 acre estate in Hampshire, England and has been the nation seat of the Earl of Carnarvon since 1679. One of the world's most popular homes, it rose to worldwide notoriety as the primary recording area for the wildly successful TV show, Downton Abbey. The 5th Earl supported and went with prehistorian Howard Carter for the revelation of the tomb of Tutankhamun in 1922 and Highclere at present has an instructive historical center display for the discovery. Highclere Castle has more than 110,000 guests every year. The present Countess of Carnarvon has composed two New York Times best silling books including Lady Almina and the Real Downton Abbey, and in March 2017 distributed At Home: Entertaining at the Real Downton Abbey.
Vital Stats:
Vitola: Toro
Length: 6″
Ring Gauge: 52
Country of Origin: Nicaragua
Wrapper: Connecticut Shade
Binder: Brazilian Meta Fina
Filler: Nicaragua
Factory: Tabacalera AJ Fernandez 
Blender: Nicholas Melillo
Number of reviewers: 5 – Isaac M. (The Nothing) Stefan (Stefan) Jason H. (Jokey Smurf) Adam B. (Bushboy) Steve (ThaGreatWazoo)
Price: $15.00
Age: 2 Months
Release Date: July 2017
Contributed by: Foundation Cigars
Initial Impressions
Appearance: 92
"This is a nice looking cigar that is sporting a Connecticut shade wrapper leaf with a few medium veins and that feels like a couple of stems running the length of the cigar. It has a double cap which is nicely applied and tight invisible seams." –Jason H. (Jokey Smurf)
Aroma: 90
"Subdued aroma of vanilla biscuits and soft wood." –Stefan (Stefan)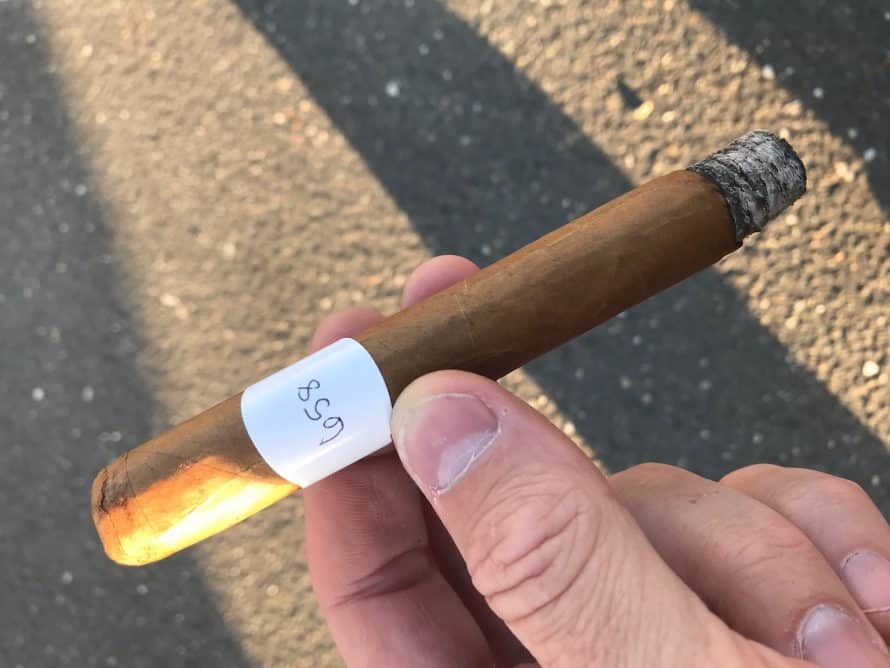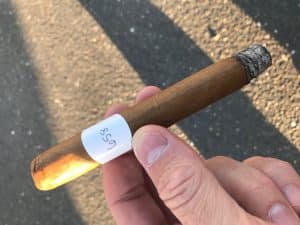 First Third
Flavor: 89
Strength: Medium-Strong
Body/Complexity: Medium
"The initial puffs present me with a wide open draw and woodsy charcoal notes. There is also a fair amount of black pepper that lingers on my palate long after each puff. As the cigar warmed up the pepper intensified and overpowered all other flavors." –Jason H. (Jokey Smurf)
"Nougat, caramel and spice to start off. Black pepper that delivers a tingly burn. Toasty and slightly bread-like flavors with a long finish. Black and white zebra ash that is forming in nice tiny layers. Almost perfect burn with a pronounced black burn line that looks like somebody put a ring from a sharpie on this stick." –Adam B. (Bushboy)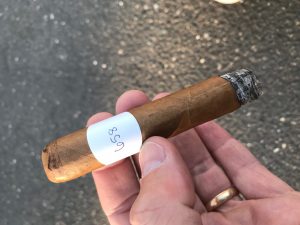 Second Third
Flavor: 90
Strength: Medium-Strong
Body/Complexity: Medium-Full
"The nutty note to this cigar really seemed to swing decidedly towards Brazil nuts at this point. There was still a dry grass quality to it as well, and there was a slow build up of creamy white pepper in the background. The retrohale on this cigar was quite intensely spicy and extremely contradictory of the mellow flavors." –Isaac M. (The Nothing)
"The second third started off with a slight touch-up to the burn. A subtle char can be seen while the cigar burns. The smoke and aroma stays very abundant and pleasant. There was not that nasty overwhelming smoke, just a real nice aroma that hovered in the air. The flavor profile begins to open up a little more. The notes of oak and earth become more abundant and compliment the new pepper draws that are coming in. The cigar is medium to full strength, but is not overpowering the senses." –Steve (ThaGreatWazoo)
Final Third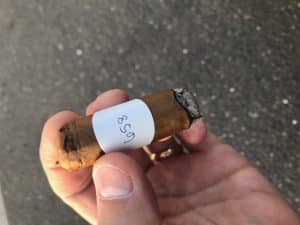 Flavor: 90
Strength: Medium-Strong
Body/Complexity: Medium-Full
"The ending of this cigar showed a natural progression from the beginning. While the same nut and dry grass flavors persisted, there was an increase of body, and a slight bit more of a creamy white pepper, that brought about a satisfying conclusion. " –Isaac M. (The Nothing)
"The final third introduced more dry spices. The smoke became medium in flavor, with a profile revolving around white and black pepper, fennel seeds, anise and dill." –Stefan (Stefan)
Overall Impressions
Draw: 88
"The draw was a nice attribute to the cigar. Nothing to over the top, but definitely not to open with a straight cut. I would like to try this cigar with a v-cut, just to see if there is a real difference." –Steve (ThaGreatWazoo)
Burn: 94
"There were no issues with the burn on this sample… Even with significant wind the burn line remained sharp and even." –Jason H. (Jokey Smurf)
Construction: 92
"I really liked the construction of this cigar. From the smooth looking wrapper and its color to the nice cap and feel, this cigar gave that feeling of mid to high end production value." –Steve (ThaGreatWazoo)
Overall Strength: Medium-Strong
Overall Body/Complexity: Medium-Full
Experience Overall: 86
"If you're looking for a mild, introductory cigar, this just might be the right thing. It's very mild and very easy to enjoy. However, the lack of heft to a cigar this size immediately suggests to me that this is a budget stick. If that is indeed the case, then it's a good cigar for the price point. If it is retailing for more than five bucks, though, it's over priced and not up to snuff with other cigars in the range. " –Isaac M. (The Nothing)
"Nothing exciting here, though a solid cigar that would make a great daily smoke for people who like white pepper flavors, if the price is right that is." –Stefan (Stefan)
"Looks aside, this was not a pleasant smoking experience. The flavors were harsh and acrid, not something I would have finished if not for the purposes of a review. The resting smoke was unpleasant as well… Making me conscious of wind direction in order to avoid the lingering smoke. This is not something I care to experience again." –Jason H. (Jokey Smurf)
"Definitely a good cigar with nice warm toasty and sweet flavors. Perfect to pair with a cool fall evening. Very warm transitions that built in strength and ended with a pop of nicotine goodness." –Adam B. (Bushboy)
"This cigar was a real nice treat to cap off the day. Nothing over the top or knock your socks off, but it did have a nice mixture of flavors that did not overwhelm or destroy the senses. The burn was a nuisance from time to time, but should not make you dismiss smoking this cigar. Grab some, enjoy. Should be worth the price point, I hope." –Steve (ThaGreatWazoo)
Smoking Time (in minutes): 67
Reviewer

Apr

Aro

1/3

2/3

3/3

Draw

Burn

Const

Ovr
All

Isaac M.
92
90
88
90
90
85
88
83
85
Stefan
90
90
88
88
88
90
95
90
87
Jason H.
90
90
90
83
78
87
95
90
83
Adam B.
92
90
90
92
92
92
97
95
95
Steve
92
85
88
90
90
87
85
92
87
To view the complete scores and notes, click here.
Blind Cigar Review: Foundation Cigars | Highclere Castle Toro
Overall Score – 89 – Good
Blind Cigar Review: Foundation | Highclere Castle Toro
Summary
"Definitely a good cigar with nice warm toasty and sweet flavors. Perfect to pair with a cool fall evening. Very warm transitions that built in strength and ended with a pop of nicotine goodness." -Adam B. (Bushboy)