Vital Stats:
This cigar was reviewed blind (no bands) by a panel of at least 4 reviewers. They did not know what they were smoking beforehand. The scores are an average of all the reviewers' scores with outliers removed. All of our cigars reviewed are shipped to the panelists with Boveda packs to ensure optimal smoking experience.
Vitola: Robusto
Length: 5″
Ring Gauge: 50
Country of Origin: Nicaragua
Wrapper: Ecuadorian Habano
Binder: Nicaraguan Corojo '98
Filler: Nicaraguan Corojo '98
Factory: Guayacan Cigars LLC
Blender: Noel Rojas
Number of reviewers: 5—–Ron (shuckins) Dave (mdwest) Gregg (McGreggor57) Sandeep (Djangos) Craig (WyldKnyght)
Price: $8.00
Age: 5 Months
Release Date: August 2012
Contributed by: House of Emilio
Initial Impressions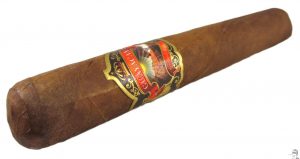 Appearance: 91
"This robusto sized (5X50) cigar had an oily, medium brown wrapper with some thin to medium veins. It had a nice triple cap. This cigar was very appealing." –Craig (WyldKnyght)
Aroma: 91
"The aroma of this cigar is slightly confusing. The smell is a very sweet, almost floral in nature, but the dry draw, though, had sweet undertones and seemed more earthy. The smell of the foot was of leather and hay." –Sandeep (Djangos)
First Third
Flavor: 88
Strength: Medium
Body/Complexity: Medium
"A strong dark roasted coffee behind the initial black pepper hit. The boldness is tempered nicely by a cedar finish. About a half inch in, the flavors settle down some and a bit of leather shows up to add a layer of smoothness." –Gregg (McGreggor57)
"The initial flavor on this cigar was light pepper which made my tongue tingle. As it progressed through, I started to get lots of pepper with hints of leather. After about 1″ the pepper died down." –Craig (WyldKnyght)
Second Third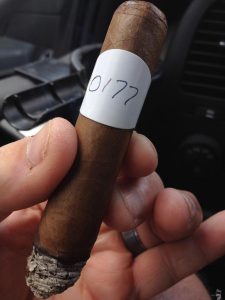 Flavor: 91
Strength: Medium
Body/Complexity: Medium
"Things settle down a bit after the first third. The earthy taste faded as the woodsy flavors moved to the front and lost the campfire taste, but kept the pepper. The coffee stayed in the background, but helped smooth the cigar out." –Ron (shuckins)
"The cigar is becoming more complex as we move along. Even though the predominant flavor remains that of leather, there is some more sweeter flavors that are emerging now. An almost floral character was present for a few puffs that then gave way to a sweet spiciness. The pepper is very light in the middle third. The burn and draw are still very good. The smoke is still very smooth and creamy. A real great transition from the initial third." –Sandeep (Djangos)
Final Third
Flavor: 90
Strength: Medium
Body/Complexity: Medium
"The final third sees quite a bit of improvement over the second third. The flavors are back! They are still faint, but at least they are present down to the final few puffs on the cigar. The smoke has remained soft and creamy and none of the harshness experienced in the first third has returned." –Dave (mdwest)
"Baking spices, leather and latte with some red pepper on the retro set up the last leg of this cigar. A nice toast finish is appearing which caps off the flavors nicely. As this cigar approaches the nub, a light char is developing." –Gregg (McGreggor57)
Overall Impressions
Draw: 90
"The perfect resistance I'm looking for in a cigar." –Gregg (McGreggor57)
Burn: 95
"Very nice burn, worry free and leaving a soft flaky ash behind." –Ron (shuckins)
Construction: 91
"The cigar was well built and firm to touch the entire length. There are no soft spots. Three well applied caps are present." –Sandeep (Djangos)
Overall Strength: Medium
Overall Body/Complexity: Medium
Overall Experience: 89
"Once it smoked past the first couple of inches it was a very tasty cigar." –Ron (shuckins)
"Despite the wrapper explosion, loss of flavors in the second third, initial tight draw and all of the other problems encountered while smoking this stick, it honestly wasn't a horrible experience. When I could get flavor out of it, it was nice. Not a stick I would seek out again any time soon, but not something I would outright avoid either." –Dave (mdwest)
"This ranks up there with one of the better blind cigars I've smoked. The coffee, leather and baking spices were perfectly balanced and changed up enough to keep it interesting. The added spice from time to time was appreciated as was the toast and char that showed up near the end. I would definitely grab more of these to enjoy." –Gregg (McGreggor57)
"Overall, the cigar was very pleasant with a good amount of complexity in the first and middle thirds. The final third was less pleasant because of some bitterness. Overall, I will definitely give this one another try." –Sandeep (Djangos)
"Overall, this was a very enjoyable cigar that I would smoke again. The change in flavors from start to finish were nice. I noticed the final third burned slower than the first two thirds. The slight draw and burn issues caused me to give this a lower rating." –Craig (WyldKnyght)
Smoking Time (in minutes): 64
Total Score: 90 (Very Good)
Edit

| Reviewer | Appea-rance | Aroma | 1/3 | 2/3 | 3/3 | Draw | Burn | Constr. | Overall |
| --- | --- | --- | --- | --- | --- | --- | --- | --- | --- |
| Ron | 95 | 88 | 88 | 90 | 90 | 90 | 93 | 90 | 88 |
| Dave | 88 | 92 | 88 | 90 | 90 | 90 | 100 | 85 | 88 |
| Gregg | 90 | 90 | 88 | 92 | 92 | 97 | 97 | 95 | 95 |
| Sandeep | 92 | 95 | 90 | 95 | 92 | 97 | 95 | 92 | 92 |
| Craig | 90 | 90 | 92 | 90 | 90 | 90 | 90 | 90 | 90 |
| Overall | 91 | 91 | 88 | 91 | 90 | 90 | 95 | 91 | 89 |
To view the complete scores and notes, click here.
Blind Cigar Review: Guayacan | Habano Robusto