Vital Stats:
Vitola: Robusto
Length: 5″
Ring Gauge: 50
Country of Origin: Dominican Republic
Wrapper: Connecticut Broadleaf Maduro
Binder: Dominican Republic
Filler: Dominican Republic
Factory: Tabacalera de Garcia
Blender: Altadis
Number of reviewers: 5 —– Robert (NavyPiper) Myles (MylesT) Milton (mjohnsoniii) Will (Dubv23) Nicholas (volpow61)
Price: $5.00
Contributed by: Ron (shuckins)
This cigar was reviewed blind (no bands) by a panel of at least 4 reviewers. They did not know what they were smoking beforehand. The scores are an average of all the reviewers' scores with outliers removed. All of our cigars reviewed are shipped to the panelists with Boveda packs to ensure optimal smoking experience.
Initial Impressions
Appearance: 88
"Nice rustic looking cigar, 5×50. Medium brown but was mottled with dark brown patches. A little lumpy, rather veiny and had a solid cap." –Robert (NavyPiper)
Aroma: 89
"I'm getting pleasant notes of tobacco along with wet grass. There's a slight hint of sweetness as well. Very pleasant." –Milton (mjohnsoniii)
Construction: 89
"Cigar had a oval press, felt nice and well packed. There was a soft spot by the head but raises no concerns. I believe this was triple capped, it was hard to tell." –Will (Dubv23)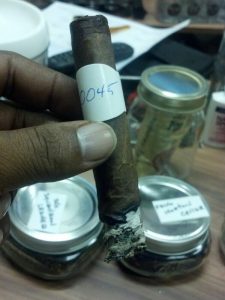 First Third
Flavor: 89
Strength: Medium
Body/Complexity: Medium-Full
"After sitting down and doing the preliminaries, I punch the cap and fire it up. I'm greeted with mostly leather, pepper and some wood. A little bitter, it's different, but not displeasing." –Robert (NavyPiper)
"Big blast of pepper up front, which mellowed out to a happy medium. Around the spice core, there was a lot of leather, earth and similar savory flavors." –Myles (MylesT)
"The first third starts of with spice, some meatiness and a nice citrus flavor." –Nicholas (volpow61)
Second Third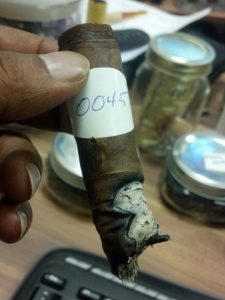 Flavor: 89
Strength: Medium
Body/Complexity: Medium-Full
"The flavors stayed fairly consistent during the second third of this one. The earthy flavors I tasted in the first third were more prominent in this third with the coffee becoming a bit milder. I had to do a couple of touch-ups on the burn after it began burning unevenly and eventually canoed. It was still good nonetheless." –Milton (mjohnsoniii)
"The spice and raisin are the main players and a woody undertone comes in to add a new dimension. Unfortunately the flavors turned slightly bitter and unsatisfying." –Will (Dubv23)
Final Third
Flavor: 89
Strength: Medium-Strong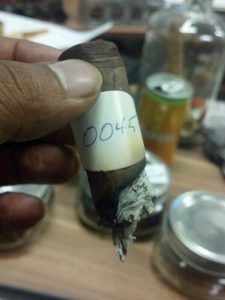 Body/Complexity: Medium-Full
"Very consistent flavors all the way through. A little 'tanginess' in this final third, and the pepper as I get closer to the end is rising. Towards the end, the cigar went from hefty and solid to very soft, almost mushy, and right before the end got pretty bitter." –Robert (NavyPiper)
"Smoke continued to billow and was creamy as ever. After some touching up, the burn constantly veered off course. The coffee notes have disappeared leaving mostly earth and mild leather which worked its way into the mix." –Milton (mjohnsoniii)
Overall Impressions
Draw: 90
"A nice open draw that let me down in smoke production." –Will (Dubv23)
Burn: 86
"The burn was all over the place. Seemed I was constantly having to touch it up and it never straightened out." –Robert (NavyPiper)
Overall Strength: Medium-Strong
Overall Body/Complexity: Medium-Full
Overall Experience: 87
"Interesting flavors in this sample. Pretty consistent the whole time. Didn't care for the bitterness or mushiness towards the end, but other than that, this was a nice stick. Definitely rustic with the rough texture and mottled colors… Nice change of pace!" –Robert (NavyPiper)
"I really enjoyed this one. Real strong spice component, but it was very well balanced, and had no issues of bitterness at the end. It was also in a size I'm quite fond of, so that added to my personal enjoyment, naturally." –Myles (MylesT)
"This was a very good cigar, flavor-wise. I would have given it a much higher rating had it not been for the draw and burn issues. I'm sure they won't all smoke this way and I welcome the opportunity to try more of these. The creamy smoke paired with the multitude of flavors and complexity kept me puffing almost one after the other. I can't wait to see what cigar maker is the name brand behind this one. I have a feeling I'll be surprised." –Milton (mjohnsoniii)
"This cigar was okay… It offered decent flavors that were very one dimensional and some would say boring. However, they were pleasant and manageable. Bitterness and harshness made its way into the profile now and again but didn't linger long. Like I said…it was okay. I wouldn't buy this one again." –Will (Dubv23)
"Overall, not a stick I would probably smoke again due to the last third. It really killed the experience for me." –Nicholas (volpow61)
Smoking Time (in minutes): 70
Total Score: 88 (Good)
Edit

| Reviewer | Appearance | Aroma | Construction | First Third | Second Third | Final Third | Draw | Burn | Overall |
| --- | --- | --- | --- | --- | --- | --- | --- | --- | --- |
| Robert | 88 | 89 | 88 | 90 | 90 | 90 | 93 | 85 | 88 |
| Myles | 87 | 90 | 94 | 89 | 92 | 90 | 92 | 95 | 93 |
| Milton | 87 | 90 | 89 | 92 | 89 | 88 | 86 | 85 | 89 |
| Will | 95 | 88 | 88 | 86 | 86 | 87 | 88 | 85 | 84 |
| Nicholas | 90 | 85 | 90 | 88 | 80 | 79 | 80 | 90 | 81 |
| Overall | 88 | 89 | 89 | 89 | 89 | 89 | 90 | 86 | 87 |
To view the complete scores and notes, click here
Blind Cigar Review: Henry Clay | Rothchilde