Vital Stats:
This cigar was reviewed blind (no bands) by a panel of at least 4 reviewers. They did not know what they were smoking beforehand. The scores are an average of all the reviewers' scores with outliers removed. All of our cigars reviewed are shipped to the panelists with Boveda packs to ensure optimal smoking experience.
Vitola: Toro
Length: 6″
Ring Gauge: 54
Country of Origin: Dominican Republic
Wrapper: USA Connecticut
Binder: Dominican Republic
Filler: Seco Corojo, Viso Corojo, Ligero Fuerte Criollo 98 and Ligero Suave Criollo 98
Factory: Palomino
Blender: Joe Baker
Number of reviewers: 4 —– Milton (mjohnsoniii) Gregg (McGreggor57) Craig (WyldKnyght) Ron (shuckins)
Price: $6.20
Age: 2 Months Rest
Release Date: 2013
Contributed by: House of Burgess Cigars LTD.

About House of Burgess
House of Burgess Cigars derives its name from the first freely elected House Of Representatives the world has ever known. Established in 1619, the Virginia House of Burgesses was the first established form of government in world history, where common men could hold political office and be elected by the people of it's region. In the same manner, House of Burgess Cigars strives to provide premium cigar brands for the everyday man, who enjoys the freedom and pleasures of smoking fine cigars.
Established in 2012, brand owners, Joe Baker and Silvio Palomino have a combined twenty-eight years of knowledge in the cigar industry. Silvio has a history of two generations behind him in cultivating and rolling cigars in his family factory, based out of the Dominican Republic. Silvio has been selling, importing, and working in the cigar industry since 1990. Joe is an entrepreneur who has several companies under his belt; He is a life-long cigar smoker who for the past sixteen years has enjoyed exploring all that cigars have to offer. Most recently, he is the former publisher of, Cigars In Review Magazine, which was sold in 2011 to form House of Burgess Cigars Ltd.
House of Burgess Cigars LTD along with its partner Silvio Palomino Cigars and Imports provides premium long leaf fillers cigars from Cuban seed. With manufacturing facilities in the Dominican Republic run by the Palomino family House of Burgess Cigars offers boutique premium cigar lines, distribution services, and private label brands.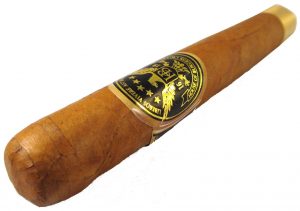 Initial Impressions
Appearance: 89
"This cigar sports an almost golden brown wrapper with a few dark, almost chocolate chip looking spots and noticeable veins. Not the prettiest cigar I've seen but looks to have potential." –Milton (mjohnsoniii)
Aroma: 91
"Some nice light tobacco from the foot and honey smell on the wrapper." –Craig (WyldKnyght)
First Third
Flavor: 90
Strength: Medium-Strong
Body/Complexity: Medium
"Leather, oak and grass were the first flavors that greeted me before it settled into creamy leather, cedar and slight wet hay flavors. A bit of toasted nuttiness was also present. The retrohale was mild with a trailing of spice. Toward the end of this third the flavors really mellowed." –Gregg (McGreggor57)
"The first third had some spiciness and wet grass to start, lots of nice thick smoke, wrapper cracked a bit, spice mellowed but was the most prevalent flavor. Like on the dry puff, the draw was a little tight. Uneven burn, had to touch up a couple times. Very thin wrapper." –Craig (WyldKnyght)
Second Third
Flavor: 91
Strength: Medium
Body/Complexity: Medium
"Woody flavors become the most prominent with earth, a bit of light roasted coffee and the addition of some floral notes. The smoke is really billowing and is creamy as ever. This is an excellent cigar thus far." –Milton (mjohnsoniii)
"Cocoa and nutmeg have blended well as the pepper fades a bit and the cedar loses most of it's dry taste. This let a little creaminess come through to please my palate even more." –Ron (shuckins)
Final Third
Flavor: 88
Strength: Medium
Body/Complexity: Medium
"Cedar and leather return with the grass and glimpses of celery. The flavors aren't as muted as before and the increased spice on the retrohale is appreciated. The thick smoke adds a creaminess to the blend." –Gregg (McGreggor57)
"The nutmeg flavor picked up more spice towards the end, but the creaminess remained as the cedar became sweet tasting again. Finished with well blended flavors and a pleasant palate pleasing taste." –Ron (shuckins)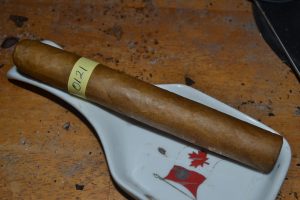 Overall Impressions
Draw: 93
"Great draw with no work involved to get the cool smooth tasty smoke." –Ron (shuckins)
Burn: 88
"No touch ups required. The burn line was wavy throughout and the ash split at the end of the second third." –Gregg (McGreggor57)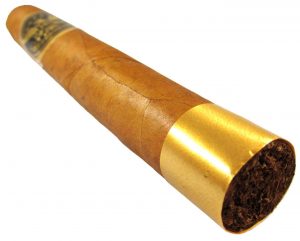 Construction: 91
"The construction on this cigar was awesome. It was very firm but not hard and gave a bit when squeezed. The wrapper was rolled close to perfect and the double cap was flawless. Kudos to the torcedors responsible for this one." –Milton (mjohnsoniii)
Overall Strength: Medium-Strong
Overall Body/Complexity: Medium
Overall Experience: 93
"Although I'm not a huge fan of lighter colored cigars, this one proved to be an exception. The first two thirds kept me puffing and I thoroughly enjoyed all the flavors and nuances this cigar offered. The final third threw me for a loop but I'd definitely try these again if the opportunity presented itself." –Milton (mjohnsoniii)
"Not a whole lot of interest but the flavors were true throughout. I would enjoy this cigar again as a morning smoke with coffee." –Gregg (McGreggor57)
"Overall this cigar was ok, I'd have to give it a second try to see if I get the same results. I spent most of the time touching up the burn. I would not chase this cigar down, but would give it a second chance." –Craig (WyldKnyght)
"A nice morning or midday smoke that I enjoyed, and would recommend to my friends." –Ron (shuckins)
Smoking Time (in minutes): 83
Total Score: 91 (Very Good)
Edit

| Reviewer | Appea-rance | Aroma | 1/3 | 2/3 | 3/3 | Draw | Burn | Constr. | Overall |
| --- | --- | --- | --- | --- | --- | --- | --- | --- | --- |
| Milton | 88 | 90 | 92 | 92 | 83 | 97 | 90 | 95 | 95 |
| Gregg | 90 | 92 | 95 | 95 | 95 | 90 | 88 | 95 | 95 |
| Craig | 90 | 90 | 85 | 88 | 85 | 88 | 75 | 88 | 85 |
| Ron | 88 | 92 | 88 | 90 | 90 | 95 | 85 | 88 | 90 |
| Overall | 89 | 91 | 90 | 91 | 88 | 93 | 88 | 91 | 93 |
To view the complete scores and notes, click here.