Vital Stats:
Vitola: Grand Robusto
Length: 5.5″
Ring Gauge: 54
Country of Origin: Honduras
Wrapper: Ecuadorian Sumatra
Binder: Mexican San Andres Maduro
Filler: Nicaraguan Corojo and Honduran Corojo
Factory: Tabacos de Oriente S.A.
Blender: Jesus Fuego
Number of reviewers: 5—–Craig (WyldKnyght) Dave (mdwest) Jiunn (jliu) Gregg (McGreggor57) Robert (NavyPiper)
Price: $10.00
Age: 4 Months
Release Date: April 2013
Contributed by: J. Fuego Cigars
This cigar was reviewed blind (no bands) by a panel of at least 4 reviewers. They did not know what they were smoking beforehand. The scores are an average of all the reviewers' scores with outliers removed. All of our cigars reviewed are shipped to the panelists with Boveda packs to ensure optimal smoking experience.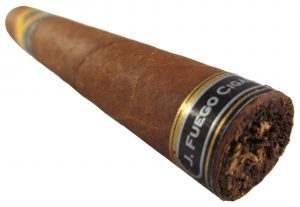 Initial Impressions
Appearance: 89
"This seems to be a very good looking and beefy stogie. The tale of the tape reveals dimensions as 5 1/2 X 54. Shape is straight and round. Head is mildly rounded and cap is centered. Color appears medium brown, but has a reddish hue to it as well. Wrapper is uniform in color with no blemishes. Seams are well done." –Robert (NavyPiper)
Aroma: 90
"Pretty much straight cedar with a hint of hay at the foot."-Gregg (McGreggor57)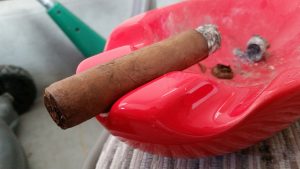 First Third
Flavor: 88
Strength: Medium
Body/Complexity: Medium
"To start, I got lots of grassy notes with a slight pepper flavor on the tongue. The burn was a little uneven and wavy. The draw was not bad, a little tight. There was a light wispy smoke. Nice marbled ash, seems solid so far." –Craig (WyldKnyght)
"I'm a little disappointed smoking the cigar during the first third. Remembering the really nice cinnamon notes in the pre-light aroma, I had hoped for some well developed baking spice type flavors to come out in the profile. While some spice notes were there, they were faint, and for the most part I just got plain, dry, tobacco. This stick isnt much of a flavor bomb." –Dave (mdwest)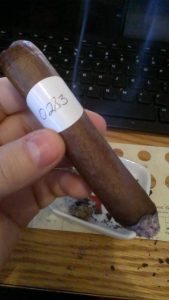 Second Third
Flavor: 88
Strength: Medium-Strong
Body/Complexity: Medium
"A nice mix of allspice and cedar with a bit of heat on the retrohale when pushed. There is a nice creaminess to the flavors and the thick smoke has a wonderful chewiness to it." –Gregg (McGreggor57)
"As I progress into the second third, tobacco flavor mellows out, and the toast slowly faded out as a nice spice/pepper mix comes in. Further into the third, the spice/pepper slowly increase in intensity. Draw remains good, ash good, burn started to get a little wave to it." –Robert (NavyPiper)
Final Third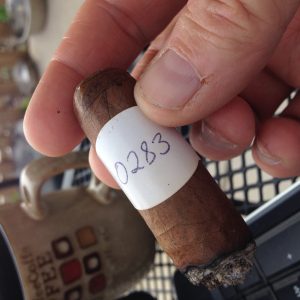 Flavor: 88
Strength: Medium-Strong
Body/Complexity: Medium
"Last third's flavors mimic the second thirds. Upfront non-sweet creaminess, oily slick pepper, cedar and roasted nuts. Pepper is still tickling the back of my throat, but nothing to make it 100% uncomfortable. Body still at a medium minus and strength at a medium plus." –Jiunn (jliu)
"Allspice is moving to the front as the cedar retreats a bit. Some heat is returning on the retrohale. The creaminess is disappearing, allowing some of the flavors to become fuller." –Gregg (McGreggor57)
Overall Impressions
Draw: 92
"Perfect draw. Need I say more?" –Jiunn (jliu)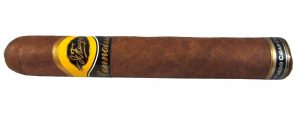 Burn: 92
"The burn was a little uneven and wavy, but not too bad." –Craig (WyldKnyght)
Construction: 89
"Solid construction produced solid performance. No problems here at all." –Dave (mdwest)
Overall Strength: Medium-Strong
Overall Body/Complexity: Medium
Overall Experience: 88
"I enjoyed this cigar, lots of flavor changes. Would have preferred a creamier thicker smoke. I would definitely smoke this cigar again." –Craig (WyldKnyght)
"This is a hard cigar for me to rate. It performed well, was nice looking and I didn't find the flavors bad in any way. The problem was, that I just couldn't find much flavor at all. I wouldnt say it's a bad stick, maybe it just isn't a good stick for me. Hopefully others had a better experience." –Dave (mdwest)
"Overall, a fair cigar. The dominant oily pepper really kills it for me. If the other flavors of cream, cedar and roasted nuts were more prominent, I would have enjoyed this cigar more. Add in sweetness, I would have scored this one a good/very good cigar. Unfortunately, this cigar will not have a place in my humidor." –Jiunn (jliu)
"The flavor changes were very subtle. With a base of cedar and allspice, the char on the first third was followed by a softer profile. The creaminess that developed in the middle was enhanced by a nice chewy smoke. The final third ended with a little harshness of flavors as the creaminess disappeared. While somewhat one dimensional, the slight changes kept it interesting." –Gregg (McGreggor57)
"First third was OK, but I couldn't decide on the other two thirds which I liked the best. Liked the flavor changes, and was a very pleasurable smoke. I'd definitely smoke this again." –Robert (NavyPiper)
–
Smoking Time (in minutes): 92
Edit

| Reviewer | Appearance | Aroma | 1/3 | 2/3 | 3/3 | Draw | Burn | Constr. | Overall |
| --- | --- | --- | --- | --- | --- | --- | --- | --- | --- |
| Craig | 90 | 90 | 90 | 90 | 90 | 85 | 88 | 90 | 90 |
| Dave | 88 | 90 | 85 | 85 | 85 | 88 | 88 | 88 | 85 |
| Jiunn | 85 | 85 | 85 | 85 | 85 | 100 | 100 | 100 | 85 |
| Gregg | 90 | 90 | 90 | 90 | 88 | 95 | 97 | 90 | 90 |
| Robert | 90 | 90 | 88 | 90 | 90 | 90 | 88 | 90 | 90 |
To view the complete scores and notes, click here.
–
Blind Cigar Review: J. Fuego | Connoisseur Grand Robusto
Blind Cigar Review: J. Fuego | Connoisseur Grand Robusto