Vital Stats:
This cigar was reviewed blind (no bands) by a panel of at least 4 reviewers. They did not know what they were smoking beforehand. The scores are an average of all the reviewers' scores with outliers removed. All of our cigars reviewed are shipped to the panelists with Boveda packs to ensure optimal smoking experience.
Vitola: Torpedo
Length: 6.5″
Ring Gauge: 54
Country of Origin: Nicaragua
Wrapper: Criollo
Binder: Nicaraguan
Filler: Nicaraguan
Factory: Segovia (Plasencia Cigars SA)
Blender: Rafael Nodal
Number of reviewers: 5 —– Craig (WyldKnyght) Ron (shuckins) Gregg (McGreggor57) Aaron (aaron72) Brian (B-daddy)
Price: $2.50 (by the box)
Age: 3 Months
Release Date: 2009
Contributed by: Blind Man's Puff
Initial Impressions
Appearance: 89
"A nice milk chocolate brown wrapper with some fairly prominent veins. The seams are pretty tight except for one spot near the band where it's slightly raised." –Aaron (aaron72)
Aroma: 90
"Coffee with nutmeg and sweet cocoa smell." –Ron (shuckins)
First Third
Flavor: 90
Strength: Medium
Body/Complexity: Medium
"The first third started out with some nice mellow/smooth leather and nutty flavors. There was a lot of smoke and even burn. The draw was a little tight, but not bad." –Craig (WyldKnyght)
"Nice and smooth with nutmeg and spicy cocoa on light up. Coffee with sweet cedar and a touch of leather provide a pleasant creaminess to the cigar. I'm liking the way this one started." –Ron (shuckins)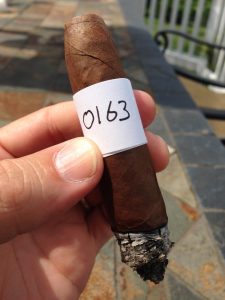 Second Third
Flavor: 90
Strength: Medium
Body/Complexity: Medium
"The spice is continuing and primarily stays at the back of the tongue. There is no spice on the retrohale which is very smooth and creamy. A little further in and the flavors begin to deepen a little with cedar coming into the profile and the spice taking a slight step down in strength. After a few more puffs, a mineral flavor starts to makes its way into the mix." –Aaron (aaron72)
"The flavors grow slightly in intensity in the second third. Same basic profile with the coffee and cedar changing places; now the cedar is the dominant flavor and the sweetened coffee is a complementary player. Body is still relatively light and there is no nicotine to speak of. Incidentally, the performance of this cigar is crazy good; draw and burn are about perfect. …But I'll get to that later. I suppose I'm talking about it here because there's just not that much more to talk about in the flavor department." –Brian (B-daddy)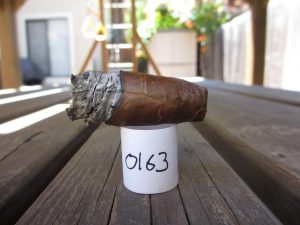 Final Third
Flavor: 89
Strength: Medium-Strong
Body/Complexity: Medium-Full
"In the final third, the flavors really started to mix together and were smooth and mellow. The leather died down and the earthy/woody flavors became more prominent. I was still getting that unknown flavor from the second third, that was quite enjoyable." –Craig (WyldKnyght)
"Roasted coffee and nuts are pushing the baking spices into the background. The flavors are becoming bolder and the kick on the retro more frequent. The mix is creating some yeasty bread dough on the finish." –Gregg (McGreggor57)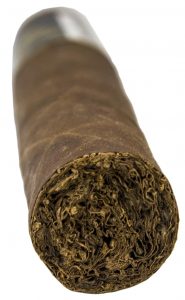 Overall Impressions
Draw: 92
"The draw was very good and performed well." –Aaron (aaron72)
Burn: 92
"Not a perfect burn, but a slow satisfying one with no touch ups needed." –Ron (shuckins)
Construction: 93
"Well built cigar. Nice wrapper work. Nice shape. Even pack without hard or soft spots." —Brian (B-daddy)
Overall Strength: Medium-Strong
Overall Body/Complexity: Medium-Full
Overall Experience: 90
"Having to tape up the cap made it hard to get some flavors as the tape kept my lips off the tobacco leaf. I definitely enjoyed the flavors, and want to revisit this cigar." –Craig (WyldKnyght)
"I enjoyed the cigar and the flavors it had. I would definitely smoke another one." –Ron (shuckins)
"The lighter flavors of the first two thirds were just the ticket for a hot humid afternoon while the bolder flavors at the end gave the cigar a nice finish. I appreciate that this stick stayed true to it's flavor profile while adding enough variation to keep it interesting." –Gregg (McGreggor57)
"This cigar had some interesting flavors with the cream soda and mineral flavors. Performance was very good throughout and I didn't have to pay attention to anything as it burned. I would be careful with what drink you pair with this as something too overpowering might mask some of the flavors. I would definitely be up for smoking this again when I was looking for this type of flavor profile." –Aaron (aaron72)
"This wasn't an unpleasant cigar but it was uneventful. None of the flavors were ever strong enough to really get my attention. I had to focus on picking up flavor (…and struggle to identify them). Maybe a smoke for when I'm doing something else, where I want to smoke and don't want to worry about performance (which was about perfect). If I wanted to smoke a flavorful cigar, this wouldn't be my choice. May be good as a hand-out to inexperienced smokers?" –Brian (B-daddy)
Smoking Time (in minutes): 67
Total Score: 90 (Very Good)
Edit

| Reviewer | Appea-rance | Aroma | 1/3 | 2/3 | 3/3 | Draw | Burn | Constr. | Overall |
| --- | --- | --- | --- | --- | --- | --- | --- | --- | --- |
| Craig | 85 | 90 | 90 | 90 | 90 | 85 | 90 | 75 | 88 |
| Ron | 88 | 90 | 90 | 90 | 90 | 88 | 88 | 90 | 90 |
| Gregg | 90 | 90 | 92 | 90 | 90 | 92 | 92 | 90 | 90 |
| Aaron | 90 | 90 | 90 | 90 | 88 | 95 | 92 | 95 | 90 |
| Brian | 90 | 92 | 90 | 88 | 83 | 100 | 97 | 95 | 88 |
| Overall | 89 | 90 | 91 | 89 | 88 | 92 | 92 | 93 | 90 |
To view the complete scores and notes, click here.
Blind Cigar Review: King Havano Criollo | Torpedo