Vital Stats:
Vitola: Belicoso
Length: 6.25″
Ring Gauge: 52
Country of Origin: Dominican Republic
Wrapper: Ecuadorian Habano
Binder: Nicaragua
Filler: Dominican Piloto Cubano and Dominican Corojo
Factory: Tabacalera Palma
Blender: Jose Blanco
Number of reviewers: 4—–Aaron (aaron72) Jiunn (jliu) Emmett (rhetorik) Sandeep (Djangos)
Price: $11.00
Age: 5 Months
Release Date: June 2014
Contributed by: Seth Geise (Seth's Humidor)
This cigar was reviewed blind (no bands) by a panel of at least 4 reviewers. They did not know what they were smoking beforehand. The scores are an average of all the reviewers' scores with outliers removed. All of our cigars reviewed are shipped to the panelists with Boveda packs to ensure optimal smoking experience.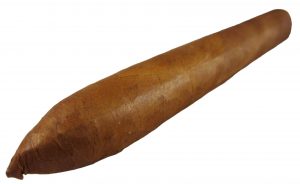 Initial Impressions
Appearance: 90
"A medium tan colored torpedo with a couple of prominent veins and some wrinkles. The seams are blended nicely and almost invisible. The cap is applied nicely with a very symmetrical tip. There is a little bit of tobacco protruding from the foot" –Aaron (aaron72)
Aroma: 91
"The cigar has earthy notes of hay and grass as well as some woodsy notes of cedar. The dry puff had more prominent leather and cedar." –Sandeep (Djangos)
First Third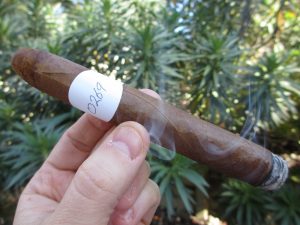 Flavor: 90
Strength: Medium
Body/Complexity: Medium-Full
"The pre-light draw brings a little spice and sweet hay. Upon lighting, a very nice cinnamon flavor is what is introduced. The retrohale also contains cinnamon along with some cream. At about 3/4 of an inch, the cinnamon fades away and is replaced by a light oak flavor. The creaminess has made its way to the mouth to mix with the oak and the same combination is present on the retrohale. The cream has gone away and a slight char has joined the oak. Just past the halfway mark of the third, the retrohale has become very bright and refreshing. Nearing the end of the third, the flavor and retrohale move back to a creamy oak." –Aaron (aaron72)
"First third immediately makes me think ligero ligero ligero! What a blast of mouth numbing pepper and chilis! The pepper and chili is a ridiculous power house. It's hard to reach for other nuances of the cigar due to the ridiculous heat. I am finding notes of oak, dried nuts and some cream. That heat just drowns out so much. Thankfully, the spice blast ends an inch into the cigar." –Jiunn (jliu)
Second Third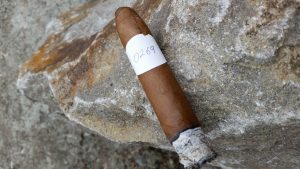 Flavor: 87
Strength: Medium-Strong
Body/Complexity: Medium
"This third starts out with a fresh flavor profile, mostly cedar right now. The finish is a green tea. This third isn't as complex, but is very enjoyable. This third finishes out much like it started with cedar and a little leather, but I enjoyed it." –Emmett (rhetorik)
"The pepper is still quite prominent in the middle third. However, this is not really adding to the complexity because most of the other flavors seem to be drowned out. Towards the end of the third, there is a harshness that is beginning to develop that is causing the back of my throat to get irritated. No issues with the draw or the burn. Towards the end of the third, the pepper is slightly less prominent and more hay and leather come through." –Sandeep (Djangos)
Final Third
Flavor: 87
Strength: Medium-Strong
Body/Complexity: Medium-Full
"This third carries over the leather from the previous third, but now the wood has changed into more like a balsa flavor, lighter. The green tea is still on the finish a bit, but now is a part of the main flavor mixture. Towards the end, some spice shows up making for a nice finish, I would call this a pepper spice, not very strong. Right at the very end, a roasted almond flavor comes in, really nice." –Emmett (rhetorik)
"The final third is yet more pepper! The little give in the pepper that I got in the middle third is gone again and the pepper is ramping up once again. The leather and cedar are only in the background after the puff is already done. The harshness luckily dies down over an inch. Overall, a very one sided pepper fiend. No issues with the draw or the burn in this third." –Sandeep (Djangos)
Overall Impressions
Draw: 93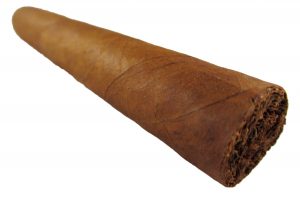 "The draw was very good most of the time, but tightened up a little at the end." –Emmett (rhetorik)
Burn: 94
"Good burner. The ash was fairly tight and ample smoke production." –Jiunn (jliu)
Construction: 93
"The construction was excellent. With great performance in the draw and burn, I needed to pay no attention to it and could really focus on the flavors it was presenting." –Aaron (aaron72)
Overall Strength: Medium-Strong
Overall Body/Complexity: Medium-Full
Overall Experience: 88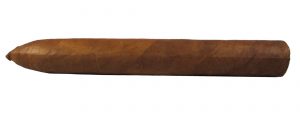 "This cigar let me down. With great flavors in the first third and excellent performance, it was on track to be something very enjoyable. The second third introduced a metallic flavor and bitterness and I couldn't get that to go away. I hope I had an exception to what the others experienced. If not, this isn't something I would want to revisit." –Aaron (aaron72)
"If you like ligero or spicy pepper bombs, buy a master case of this cigar. As for me, this type of cigar is not within my wheelhouse. The heat level considerably drowned out other flavors of the cigar. I'm actually feeling pretty light-headed as I type this. Time to go eat more sugar." –Jiunn (jliu)
"I really liked this cigar. It was a great middle of the day smoke, not too strong, not too weak. It reminded me of the Sun Grown Perdomo Champagne. There was lots of flavor, but not too much spice, until the end, when it needed it. I would definitely smoke this again, and might buy a few to age." –Emmett (rhetorik)
"Overall, the cigar was very one dimensional with pepper as the predominant flavor. If you like pepper bombs you may enjoy this one. It was definitely not in my profile so I may not go looking for one. I do, however, feel that if allowed to rest a few months this may be more promising than right now." –Sandeep (Djangos)
–
Smoking Time (in minutes): 85
Edit

| Reviewer | Appearance | Aroma | 1/3 | 2/3 | 3/3 | Draw | Burn | Constr. | Overall |
| --- | --- | --- | --- | --- | --- | --- | --- | --- | --- |
| Aaron | 90 | 92 | 92 | 83 | 80 | 95 | 93 | 92 | 83 |
| Jiunn | 90 | 85 | 85 | 85 | 85 | 88 | 88 | 88 | 85 |
| Emmett | 88 | 92 | 95 | 92 | 95 | 90 | 100 | 95 | 95 |
| Sandeep | 92 | 92 | 88 | 87 | 87 | 97 | 97 | 95 | 88 |
To view the complete scores and notes, click here.
–
Blind Cigar Review: Las Cumbres Tabaco | Señorial Belicoso No.2
Blind Cigar Review: Señorial By Jose Blanco | Belicoso No.2
90
Total Score - Very Good