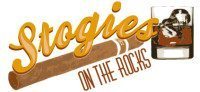 For new readers who are unfamiliar with our previous collaboration reviews, we have invited cigar reviewers from other cigar review sites, podcasts, blogs, etc. to join the Blind Man's Puff staff in doing blind reviews using our format. This collaboration review is with a new participant, Eric from Stogies on the Rocks. Stogies on  the Rocks is a site where they pair cigars and spirits to see how each one influences the flavor profile of the other. The site is very well put together. We highly recommend that you check it out.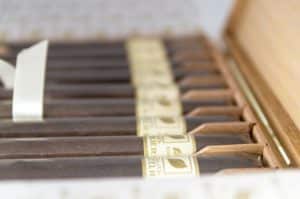 This cigar was reviewed blind (no bands) by a panel of at least 4 reviewers. They did not know what they were smoking beforehand. The scores are an average of all the reviewers' scores with outliers removed. All of our cigars reviewed are shipped to the panelists with Boveda packs to ensure optimal smoking experience.
Cigar Info
The naming of the this cigar comes from the  Burgundy wine growing region in France known for growing Pinot Noir, one of the most temperamental grape varietals. Côte d'Or is a region located in eastern France that grows pinot noir grapes and is known for also being temperamental .My Father Cigars offered the company a small batch of pelo de oro tobacco. The tobacco was banned in Cuba due to its susceptible nature to mold, but is still grown by a select few. It's noted for its golden color—pelo de oro translates into golden hair—and the challenges of growing it.
The cigar uses a Sancti Spiritus wrapper, which is a hybrid of Criollo and Pelo de Oro. It is the same the company uses on its Selection Spéciale releases. They used the darker priming wrappers for added flavor depth and worked with changing the filler blend to incorporate the Pelo de Oro. Because of the very small production numbers they choose a  7×47 size to be presented with a new band in ten count boxes. Total production for Côte d'Or will be 2,100 ten count boxes (21,000 cigars) with a MSRP of $16, or $160/box of ten. The L'Atelier Côte d'Or is made at My Father Cigars S.A. in Estelí, Nicaragua.
Vital Stats: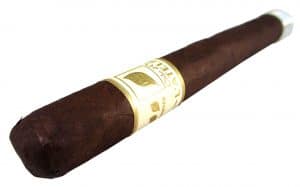 Vitola: Churchill
Length: 7″
Ring Gauge: 47
Country of Origin: Nicaragua
Wrapper: Sancti Spiritus
Binder: Nicaragua
Filler: Nicaragua
Factory: My Father Cigars S.A.
Blender: Pete Johnson
Number of reviewers: 5—–Eric (Stogies on the Rocks) Jiunn (jliu) Gregg (McGreggor57) Ron (shuckins) Craig (WyldKnyght)
Price: $16.00
Age: 2 Months
Release Date: March 2015
Contributed by: Blind Man's Puff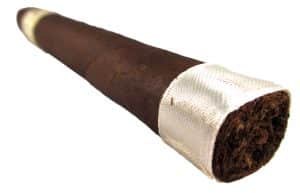 Initial Impressions
Appearance: 90
"Whole espresso bean colored cigar with a very soft box press and slight oily sheen. Cigar is well rolled with no soft spots. Head is finished off with a nicely adhered triple cap." –Jiunn (jliu)
Aroma: 92
"Lots of earth and heavy peat. Some definite notes of chocolate, hints of coffee and just a tinge of spice to make me start sneezing." –Eric (Stogies on the Rocks)
First Third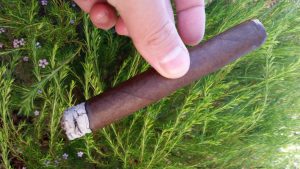 Flavor: 90
Strength: Medium
Body/Complexity: Medium
"Starts off with a touch of heat from a blast of pepper on light up. This is joined soon after by a leather and coffee mix, along with an earthy tasting tobacco. Altogether the blend proves to be a good one so far." –Ron (shuckins)
"This cigar was fairly easy to light and I initially got some nice nutty flavors to start that changed to pepper after about one inch. The burn was a little uneven and the smoke was light and wispy and smooth on the palate. Near the end of this third, I was getting a little bite on the tongue and some spiciness on the back of my throat." –Craig (WyldKnyght)
Second Third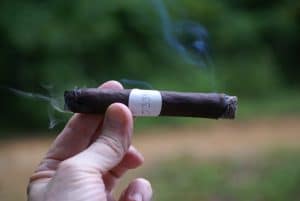 Flavor: 89
Strength: Medium
Body/Complexity: Medium
"Spice is still hanging around. Getting more of that woody char coming through. Some hints of bitter chocolate and coffee as well. Good dose of peat / dirt." –Eric (Stogies on the Rocks)
"Second third provides namely a build up of the first third. Still getting balanced and rounded flavors of black pepper, leather, cedar and sweet cream. Burnt bread is now introduced into the mix giving the cigar much more depth. Through the retrohale, still getting black pepper and cedar, but important to note the black pepper has tapered off. Strength and body still at a solid medium." –Jiunn (jliu)
Final Third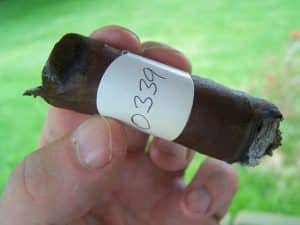 Flavor: 89
Strength: Medium-Strong
Body/Complexity: Medium-Full
"This third begins with more of the same. Oak, leather, earthy flavors and a touch of allspice. Pleasantly, the coffee is making a return. Although subtle, it is creating some additional depth to the profile." –Gregg (McGreggor57)
"Finishes with the coffee and leather blend struggling to stay relevant as the pepper and wood tasting tobacco hold onto the front spot. This keeps the strength level up as the pepper provides both a kick and a bit of heat at the very end." –Ron (shuckins)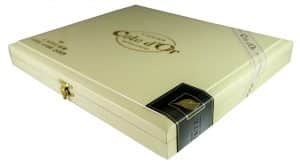 Overall Impressions
Draw: 91
"A really solid draw is needed for a cigar of this size and this one delivered." –Gregg (McGreggor57)
Burn: 89
"The burn started out a little uneven, but straightened itself out until the end." –Craig (WyldKnyght)
Construction: 89
"The cigar was a bit spongy in the middle, but didn't seem to affect the performance." –Ron (shuckins)
Overall Strength: Medium-Strong
Overall Body/Complexity: Medium-Full
Overall Experience: 89
"I wasn't blown away by this cigar, it was average. Some spots it was good, but overall just average to me." –Eric (Stogies on the Rocks)
"Overall, a very good cigar. With such a long cigar as this (roughly 7 inches and 48 ring gauge), the cigar did what I expected; start off with a core set of delicious, well balanced flavors (black pepper, leather, cedar, sweet cream, burnt bread) and build on them as the cigar progressed. I do wish the last third gave either an increase in body and/or more flavors (like the burnt bread starting from the second third). If this was the case, the cigar would have been bumped up to an excellent cigar. I would smoke this again but will pass on purchasing any." –Jiunn (jliu)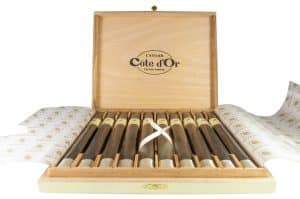 "This cigar had some really nice flavors. Being a 90 minute smoke, however, it would benefit from some additional transitions. I was a little bored in the middle, but the final third brought my interest back around. A solid cigar for those looking for a longer smoke." –Gregg (McGreggor57)
"A decent cigar overall, but lacking the wow factor needed to make it into my rotation." –Ron (shuckins)
"Overall, I'd have to say, other than the uneven burn at the start and slightly tight draw, this was a very good cigar I would smoke again. The transition was nice from the flavorful start to the mellowing in the middle and finally a spike in pepper to end." –Craig (WyldKnyght)
–
Smoking Time (in minutes): 88
Reviewer

Appearance

Aroma

1/3

2/3

3/3

Draw

Burn

Constr.

Overall
Experience

Eric
Stogies on the Rocks)
90
92
88
88
88
88
85
85
88
Jiunn
jliu)
90
95
90
90
90
92
92
92
90
Gregg
McGreggor57)
88
90
90
88
90
92
92
90
90
Ron
shuckins)
90
90
90
90
88
95
88
88
88
Craig
WyldKnyght)
92
92
90
90
88
85
88
88
90
To view the complete scores and notes, click here.
–
Blind Cigar Review: L'Atelier | Côte d'Or
Blind Cigar Review: L'Atelier | Côte d'Or