Vital Stats:
This cigar was reviewed blind (no bands) by a panel of at least 4 reviewers. They did not know what they were smoking beforehand. The scores are an average of all the reviewers' scores with outliers removed. All of our cigars reviewed are shipped to the panelists with Boveda packs to ensure optimal smoking experience.
Vitola: Double Toro
Length: 6″
Ring Gauge: 58
Country of Origin: Nicaragua
Wrapper: Ecuadorian Habano Oscuro
Binder: Nicaragua
Filler: Nicaragua
Factory: Tabacalera Fernandez S.A.
Blender: Fred Rewey
Number of reviewers: 5—–Stefan (Stefan) Gregg (McGreggor57) Ron (shuckins) Robert (NavyPiper) Dave (mdwest)
Price: $9.50
Age: 4 Months  
Release Date: August 2014
Contributed by: House of Emilio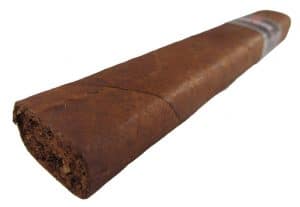 Initial Impressions
Appearance: 90
"It's a very good looking stogie. The tale of the tape reveals it to be 6X60. It's box pressed with good shaping – straight, nice box press edges (mildly rounded rather than sharp edges) and a flat head. Wrapper is a chocolate brown, uniform in color, smooth, with no blemishes or wrinkles to it. Cap is centered and is smooth." –Robert (NavyPiper)
Aroma: 89
"Emanates surprisingly floral notes at the foot, and sweaty leather from the wrapper." –Stefan (Stefan)
First Third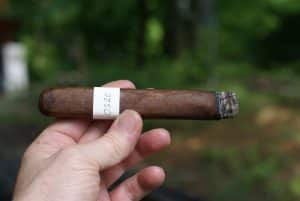 Flavor: 88
Strength: Medium
Body/Complexity: Medium
"The first third opens at the medium end of full body with notes of fresh wood, white pepper and a dark tobacco flavor leaning toward cocoa beans, all of these medium at best in intensity, none overwhelming. The white pepper is particularly noticeable on the aftertaste. Half an inch in and with a wavy burnline, the profile shifts slightly to dominant notes of vanilla oak and sweet corn on the palate, with the white pepper continuing on the long finish. Strength drops to a medium shortly after. Toward the end of the first third, the profile shifts again, this time more dramatically — it is now driven by medium-strong flavors of fresh, slightly toasted wood, which continue into the long finish. First ashing happens at the end of the first third." –Stefan (Stefan)
"Stogie started off well. Initial flavors are a mild/medium tobacco, toast and mild and faint baking spices. Ash is salt and pepper colored, and I dropped it on purpose at 1 1/2″ as it seemed to be smothering the burn. Burn is pretty straight. Draw is very loose (I'm glad I punched the cap rather than cutting it) and seemed at times that I was taking huge puffs to generate smoke." –Robert (NavyPiper)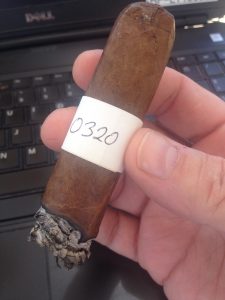 Second Third
Flavor: 88
Strength: Medium
Body/Complexity: Medium
"A mix of florals and baking spices provide a nice transition into the second third. The draw on this one is a bit loose making it difficult to pull out some of the background flavors, but a little coffee manages to land on my palate." –Gregg (McGreggor57)
"As the first third ends and the second third begins, my palate is still getting filled with tons of pepper and leather. No real transition detected as of yet." –Dave (mdwest)
Final Third
Flavor: 87
Strength: Medium-Strong
Body/Complexity: Medium
"The last third begins with notes of cocoa on the palate, espresso on the finish and white and black pepper on the aftertaste, with a progressive increase in strength. Then half an inch in, the profile turns sweet, exhibiting notes of toasty vanilla oak alongside flavors of cocoa beans. Finishes full strength at the nub with flavors of bitter chocolate." –Stefan (Stefan)
"Flare ups of peppery nutmeg highlight the final third as it weaves its magic in and out of the coffee/leather blend and adds balance to the earthy taste of the tobacco. This carries the cigar to the very end and finishes on a positive note." –Ron (shuckins)
Overall Impressions
Draw: 91
"Really too loose for a cigar of this size. The first two thirds were manageable but the final one was really affected by it." –Gregg (McGreggor57)
Burn: 88
"The cigar kept a reasonably straight burn line from start to finish with no touch ups required, and held an ash like a champ, with lengths reaching 2″ consistently before I would get nervous and tap them off in the ash tray." –Dave (mdwest)
Construction: 88
"A couple of burn issues along the way, but otherwise a first rate smoking cigar." –Ron (shuckins)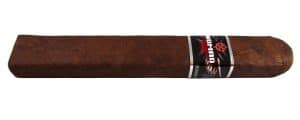 Overall Strength: Medium-Strong
Overall Body/Complexity: Medium
Overall Experience: 88
"An enjoyable smoke overall in spite of the temperamental wrapper. Could be a great stogie if the flavor profile were tweaked a bit." –Stefan (Stefan)
"Assuming the loose draw was unique to my cigar, I just wasn't wowed by the flavors. There were noticeable changes throughout, but a smoke of this duration deserves some defining flavors. A little grassy note in the beginning followed by a bit of floral and baking spices made it difficult to stay interested. I would gladly grab one for the golf course if the draw improved, but not for an evening on the patio." –Gregg (McGreggor57)
"An enjoyable cigar, although monotonous at times, the flavors suited my palate very well." –Ron (shuckins)
"Overall, I'd have to say it was mostly frustration rather than enjoyment. This was a really nice stogie in appearance and construction from visual inspection. Flavors were pretty mild, but they didn't really stimulate my taste buds or excite me. I'm guessing I got that one in a thousand fluke, and would be willing to review it again to gauge the differences. But based on this review, I don't think I'll be looking to acquire any." –Robert (NavyPiper)
"Normally, "one dimensional" would be used as a way to complain about a cigar, but in this case it is not. The one dimension presented was very good. Flavors were solid and construction was great. I'd be interested in picking some more of these up for sure." –Dave (mdwest)
–
Smoking Time (in minutes): 87
Reviewer

Appe-arance

Aroma

1/3

2/3

3/3

Draw

Burn

Constr.

Overall

Stefan
Stefan)
88
90
88
88
85
90
85
88
88
Gregg
McGreggor57)
90
90
88
88
87
85
90
90
88
Ron
shuckins)
92
90
88
88
87
95
85
88
88
Robert
NavyPiper)
90
88
88
88
85
75
90
85
80
Dave
mdwest)
90
88
88
88
87
92
88
88
88
To view the complete scores and notes, click here.
–
Blind Cigar Review: Nomad | C-276 Toro Grande
Blind Cigar Review: Nomad | C-276 Toro Grande