Vital Stats:
This cigar was reviewed blind (no bands) by a panel of at least 4 reviewers. They did not know what they were smoking beforehand. The scores are an average of all the reviewers' scores with outliers removed. All of our cigars reviewed are shipped to the panelists with Boveda packs to ensure optimal smoking experience.
Vitola: Corona
Length: 5″
Ring Gauge: 42
Country of Origin: Nicaragua
Wrapper: Ecuador Habano
Binder: Esteli
Filler: Jalapa
Factory: My Father Cigars S.A.
Blender: Eddie Ortega
Number of reviewers: 5 —– Craig (WyldKnyght) Ron (shuckins) Brian (B-daddy) Aaron (aaron72) Jason H. (Jokey Smurf)
Price: $6.40
Age: 3 Months Rest
Release Date: 2012
Contributed by: Blind Man's Puff
Initial Impressions
Appearance: 91
"Great looking cigar in the box pressed style with a nice sheen on the wrapper." –Ron (shuckins)
Aroma: 90
"The main aromas I'm getting are a light sweetness and cedar at the foot. There really isn't an aroma at the wrapper at all." –Jason H.
First Third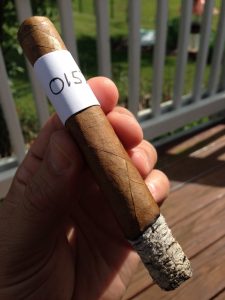 Flavor: 90
Strength: Medium-Strong
Body/Complexity: Medium-Full
"At first light, I'm getting hot pepper across my tongue and the roof of my mouth. I'm also getting some herbs, maybe oregano or thyme. After the first half inch, the pepper mellows into a creamy, spicy cedar. A touch of sweetness joins the mix and the flavors further evolve into some kind of spiced baked goods; like a spice cake or muffins or something. Wierd but pretty appealing. The sweetness fades and now I'm getting a mildly spicy leather and cedar. Nice transitions to this point." –Brian (B-daddy)
"Just a slight hint of hay on the pre-light draw. Getting some light spice on my lips from the wrapper. A big amount of pepper on the initial puffs and it really translates to the retrohale as well. The pepper fades back a bit, but is still the dominant flavor along with some cedar. At the middle of the third, the pepper has gone away and settled into a creamy cedar. Got a bit of floral notes on the retrohale just before the third wrapped up." –Aaron (aaron72)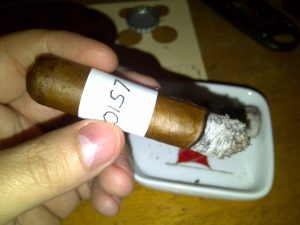 Second Third
Flavor: 90
Strength: Medium-Strong
Body/Complexity: Medium-Full
"The second 3rd mellowed out and became very enjoyable. Started to get more leather with hints of pepper. Got a nice oily feeling in my mouth." –Craig (WyldKnyght)
"The cedar picked up a bit of sweetness as the nutmeg moved to the front. Splashes of coffee, with traces of a peppery tasting leather adds a touch of creaminess,and a happy little kick to the cigar." –Ron (shuckins)
"The second third if this cigar continues with the spice, and a subdued flavor that reminds me of roasted almonds. I keep retrohaling, even though my poor sinus is telling me not to…it's a spicy one, folks…LOL! One really interesting note is the oily nature of the smoke is continuing. It's almost buttery smooth on my palate, even though my nose is tingling away…makes me not want to put it down." –Jason H.
Final Third
Flavor: 91
Strength: Medium
Body/Complexity: Medium-Full
"During the final 3rd the leather flavor really started to come through, the pepper really mellowed out. This cigar finished out really smooth." –Craig (WyldKnyght)
"Cedar and leather with splashes of light peppery nutmeg provide a tasty treat as the coffee and earthy flavors fade. Then kicking it up another notch, leaving the creaminess further behind, causing it to be touch and go at the very end." –Ron (shuckins)
Overall Impressions
Draw: 93
"The draw was excellent, just the right amount of resistance." –Aaron (aaron72)
Burn: 93
"Excellent burn, it was even throughout." –Craig (WyldKnyght)
Construction: 90
"Excellent construction, firm with a little give. I think it had a triple cap, it was hard to tell." –Craig (WyldKnyght)
Overall Strength: Medium-Strong
Overall Body/Complexity: Medium-Full
Overall Experience: 91
"I was a little worried at first, the flavor was a little off, but about 1/2″ in it mellowed out. Lots of smooth thick creamy smoke. I really enjoyed this cigar and would definitely try it again." –Craig (WyldKnyght)
"An enjoyable cigar and a great way to spend a lazy afternoon." –Ron (shuckins)
"I enjoyed smoking this cigar. The transitions in flavor profile made this an interesting smoke and the performance was outstanding. I would smoke it again and I would buy these periodically. Probably not by the box though." –Brian (B-daddy)
"Nice flavor transitions throughout. Lots of smoke output and the cigar performed well. I would classify the strength as medium full, so I would say it's a good afternoon or evening cigar, something that might pair well with a stronger libation and could probably stand up to a beer along the lines of a stout or porter. I would be up for smoking another one of these." –Aaron (aaron72)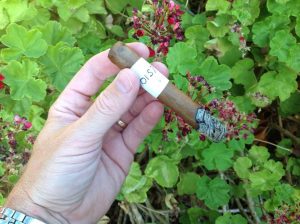 "This was really a damn enjoyable cigar. The strength was there, but not quite overpowering. The flavors were there, and changed enough to keep me on track and interested. I really liked the cherry note that popped in and out toward the end, and coffee is NEVER a bad thing in my opinion! I'd recommend this to a smoker who likes some pepper, and likes to nub their cigars…my example smoothed to the end and was worthy of some warm fingertips!" –Jason H. (Jokey Smurf)
Smoking Time (in minutes): 53
Total Score: 91 (Very Good)
Edit

| Reviewer | Appea-rance | Aroma | 1/3 | 2/3 | 3/3 | Draw | Burn | Constr. | Overall |
| --- | --- | --- | --- | --- | --- | --- | --- | --- | --- |
| Craig | 90 | 90 | 90 | 90 | 90 | 92 | 93 | 92 | 92 |
| Ron | 95 | 90 | 90 | 90 | 90 | 90 | 93 | 92 | 90 |
| Brian | 92 | 90 | 95 | 90 | 92 | 88 | 95 | 90 | 92 |
| Aaron | 90 | 88 | 90 | 88 | 90 | 95 | 93 | 90 | 90 |
| Jason H. | 90 | 88 | 95 | 92 | 95 | 95 | 88 | 90 | 95 |
| Overall | 91 | 90 | 90 | 90 | 91 | 93 | 93 | 90 | 91 |
To view the complete scores and notes, click here.