Vital Stats: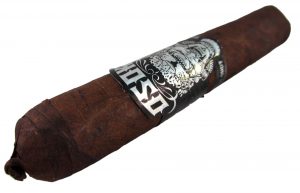 Vitola: Petite Corona
Length: 4″
Ring Gauge: 44
Country of Origin: Nicaragua
Wrapper: Nicaraguan Habano
Binder: Nicaragua
Filler: Nicaragua
Factory: Undisclosed
Blender: Edgar Hoill and Christian Eiroa
Number of reviewers: 5—–Stefan (Stefan) Gregg (McGreggor57) Jiunn (jliu) Dave (mdwest) Robert (NavyPiper)
Price: $7.16
Age: 1 Month
Release Date: July 2014
Contributed by: C.L.E. Cigar Company
This cigar was reviewed blind (no bands) by a panel of at least 4 reviewers. They did not know what they were smoking beforehand. The scores are an average of all the reviewers' scores with outliers removed. All of our cigars reviewed are shipped to the panelists with Boveda packs to ensure optimal smoking experience.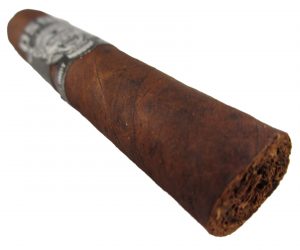 Initial Impressions
Appearance: 90
"Appearance shows a short cigar measuring 4X44. Wrapper is a dark coffee color with a nice sheen to it. Nicely shaped and rather rustic looking. Head is smooth, mildly rounded and cap has a small flag or pigtail. Seams are tight and well blended." –Robert (NavyPiper)
Aroma: 88
"Wrapper smells of dominant cedar and dry wood followed by some barnyard. Foot smells of white pepper, dry cardboard and faint stone fruits. Cold draw consists mainly of white pepper and cedar." –Jiunn (jliu)
First Third
Flavor: 90
Strength: Medium-Strong
Body/Complexity: Medium
"Leather with a bit of cedar make for a great start. There is a little spice on the retrohale, but very muted. Hints of chocolate and nutmeg linger in the background. As the cigar nears the end of this third, the leather is doing its thing by creating a very smooth blend of flavors." –Gregg (McGreggor57)
"First third gives a powerful flavor and body experience of tongue sticking oily white pepper, heavy sweet cream, leather and stone fruits. This cigar needs a close eye on the draw as frequent draws will create bitterness." –Jiunn (jliu)
Second Third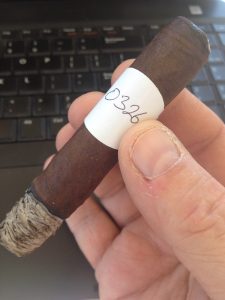 Flavor: 88
Strength: Medium-Strong
Body/Complexity: Medium
"The second third begins with a marvelous balance of white pepper, mint, sweet wood and salt flavors, with notes of pepper and salt on the long finish. Nicotine seems to have kicked up a notch and the cigar is now solidly full-bodied. The wood sweetness then comes to the forefront, and the bread notes make another appearance. Notes of roasted peanuts then become apparent, particularly on the aftertaste and also on my smoke-infused sweater. At this point, my tongue feels parched. The second third concludes with smoky notes of roasted peanuts that are balanced by medium-high acidity and a saline aftertaste with hints of anise." –Stefan (Stefan)
"The leather is beginning to fade as a little coffee makes its way into the mix. The brightness of the cedar is accentuated by the presence of some baking spices. Although small in stature, there is a lot of smoke coming from this guy." –Gregg (McGreggor57)
Final Third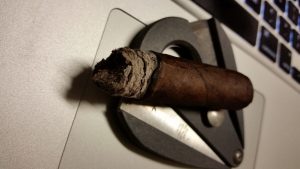 Flavor: 88
Strength: Medium-Strong
Body/Complexity: Medium
"The final third is much like the second, with no notable changes in flavor. This is a short, quick smoke however, so a lack of change doesn't detract from the cigar at all. It is still very enjoyable and my attention has been maintained." –Dave (mdwest)
"In the final third, the only real change was that the spice and pepper increased some. Still not even with the other flavors, but more noticeable, and enough to give a little zing in the sinuses. No change with the draw, burn or ash." –Robert (NavyPiper)
Overall Impressions
Draw: 93
"Exceptional, especially for a small cigar." –Gregg (McGreggor57)
Burn: 90
"Wavy burn line throughout, but I was impressed by how slow-burning this stogie was." –Stefan (Stefan)
Construction: 90
"Performance was very good, as was the cigars outward appearance. No construction issues noted." –Dave (mdwest)
Overall Strength: Medium-Strong
Overall Body/Complexity: Medium
Overall Experience: 88
"Overall, the flavors were dynamic and mostly well balanced. As stated earlier, I was impressed by the slow burn of this stick and will certainly look into purchasing a few in the future." –Stefan (Stefan)
"The flavors started nicely with the leather holding it all together and managing the profile. Sadly, once the leather faded during the middle, the cedar and baking spices began to develop a harshness that really made the final third off putting. I was hoping the coffee or chocolate that made a brief appearance would have developed a bit more. The last half would have benefitted from an additional dimension. The non-flavor factors helped score the stick a bit higher." –Gregg (McGreggor57)
"This was overall a fair cigar. The first thirds powerful flavors of heavy sweet cream and leather were very enjoyable. The seconds thirds inconsistency in flavors (especially the harsh and charcoal notes) killed it for me. I love a petite corona for a winter smoke (as winter as it gets in Northern California) but I can find many other petite coronas I would burn aside from this one. No buy for me." –Jiunn (jliu)
"Overall, this was a nice, quick smoke that would be great for those occasions where time is limited, but you would really like a cigar. Plenty of power, packed with a good amount of flavor, and well made, I would definitely be interested in buying a few more of these to keep in the humidor." –Dave (mdwest)
"Overall, a pretty decent stogie. It lasted longer than I expected. Flavors weren't bad. l'd smoke another anytime but probably wouldn't purchase a whole box." –Robert (NavyPiper)
–
Smoking Time (in minutes): 51
Edit

| Reviewer | Appearance | Aroma | 1/3 | 2/3 | 3/3 | Draw | Burn | Constr. | Overall |
| --- | --- | --- | --- | --- | --- | --- | --- | --- | --- |
| Stefan | 90 | 85 | 92 | 95 | 90 | 97 | 95 | 92 | 95 |
| Gregg | 90 | 90 | 92 | 90 | 85 | 95 | 92 | 92 | 90 |
| Jiunn | 90 | 88 | 90 | 85 | 88 | 85 | 85 | 85 | 85 |
| Dave | 92 | 88 | 88 | 88 | 88 | 95 | 88 | 88 | 88 |
| Robert | 88 | 88 | 88 | 88 | 88 | 90 | 90 | 90 | 88 |
To view the complete scores and notes, click here.
–
Blind Cigar Review: OSOK | Cabroncito
Blind Cigar Review: OSOK | Cabroncito