–
The "Revisited" review concept allows us to perform a follow up review on a cigar we have reviewed previously. These follow up reviews will be performed when the cigar has a year or more of age on them to see if time has been kind or not so kind to the cigar. The same reviewers are participating in both the original and follow up reviews whenever possible.
Vital Stats:
This cigar was reviewed blind (no bands) by a panel of at least 4 reviewers. They did not know what they were smoking beforehand. The scores are an average of all the reviewers' scores with outliers removed. All of our cigars reviewed are shipped to the panelists with Boveda packs to ensure optimal smoking experience.
Vitola: Toro
Length: 6″
Ring Gauge: 50
Country of Origin: Nicaragua
Wrapper: Ecuadorian Sumatra
Binder: Ecuadorian Habano
Filler: Nicaragua
Factory: Tobacalera AJ Fernandez
Blender: Fred Rewey
Number of reviewers: 5—–Gregg (McGreggor57) Dave (mdwest) Sandeep (Djangos) Craig (WyldKnyght) Emmett (rhetorik)
Price: $7.95
Age: 1 Year, 2 Months
Release Date: 2013
Contributed by: Nomad Cigar Company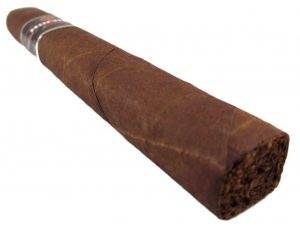 Initial Impressions
Appearance: 91
"A beefy looking box press. The cream colored veins contrast nicely with the darker wrapper. A well applied cap at one end with the binder extending past the wrapper at the foot. At first glance, there doesn't seem to be anything to prevent a nice smoke." –Gregg (McGreggor57)
Aroma: 90
"The aroma is one of tobacco and sawdust at the foot. The dry puff, on the other hand, is completely different with a mellow sweetness and cocoa. There is also a slight white pepper like tingling on the tongue. Overall, a very good start." –Sandeep (Djangos)
First Third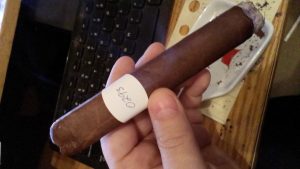 Flavor: 91
Strength: Medium
Body/Complexity: Medium
"A nice char with virtually no heat leads the way for a mellow cedar to develop with the help of some leather. On the palate lingers a bit of chocolate. As this third progresses, the char is settling down allowing more of the chocolate to shine." –Gregg (McGreggor57)
"The first few puffs are pretty mild, but earthy with some cocoa. A little further in, some pepper spices come in quickly, not overwhelming, but strong. Towards the end of the third, the pepper backs off and the cocoa fades, and most of what remains is earth. I enjoyed the transitions in this third and I hope that continues." –Emmett (rhetorik)
Second Third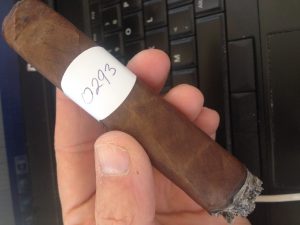 Flavor: 88
Strength: Medium
Body/Complexity: Medium
"More of the cedar is appearing in the middle third with chocolate remaining in the background. There is a supple leather that continues to keep the profile smooth while adding a creaminess to the smoke." –Gregg (McGreggor57)
"When I knocked the ash off to start the second third, the cherry was almost 1″ long, which leads me to believe the wrapper and binder are burning faster then the filler, and the burn was quite wavy. The flavor mellowed to a nice woody flavor, with a hint pepper in the background. I think there was a stem or hard piece of something in the cigar as it made a ticking sound when I tried to tap the ash off." –Craig (WyldKnyght)
Final Third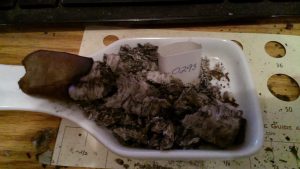 Flavor: 91
Strength: Medium
Body/Complexity: Medium
"A little bit of a musty type finish started showing up toward the end of the second third, and remains present through the end of the smoke, with the primary flavors remaining leather and tobacco." –Dave (mdwest)
"Final third starts of with almond like nuttiness that is quietly fading away into more bold, woodsy notes including cedar and sawdust. The tobacco is becoming more prominent as well as now there is a leather like component as well. The cigar is also now imparting an oily feel over the surface of the tongue. The pepper definitely picks up towards the last inch and increases in intensity towards the end. Overall, a very good finish to this cigar which did not wow in the middle third all that much. The burn and draw remained good through to the end." –Sandeep (Djangos)
Overall Impressions
Draw: 93
"I find most box press sticks to have a little bit of a loose draw, but this cigar surprisingly has an excellent draw with just enough resistance provided." –Dave (mdwest)
Burn: 88
"The burn was fairly uneven and wavy to start, but by the halfway mark it was even and straight. The ash was a light grey and flaky." –Craig (WyldKnyght)
Construction: 90
"Overall, the construction was very good, just a few minor issues with smoke production and burn that corrected eventually." –Emmett (rhetorik)
Overall Strength: Medium
Overall Body/Complexity: Medium
Overall Experience: 89

"This was an enjoyable cigar to smoke. A rich char combined nicely with a well balanced cedar. The leather and chocolate kept the flavors in check while the surprising baking spice at the end added an element of sweetness to the finish. I would gladly grab another one." –Gregg (McGreggor57)
"Overall, this was a decent smoke. It's not going to be a favorite of mine or anything I would look to add to my regular rotation, but it certainly wasn't bad, and I would be happy to revisit again in the future." –Dave (mdwest)
"Overall, the cigar with its nuttiness as well as the tobacco and woodsy notes, was quite satisfying. However, the middle third did not wow me because of a chemical taste that appeared and muddled the flavors quite a bit. Definitely would try this again after some rest." –Sandeep (Djangos)
"This cigar started out questionable, it was hard to light, and had some burn issues. Around the halfway mark, it started to turn into a very nice smoke, the issues all but disappeared and the woody and pepper flavors really started to come through and meld together nicely. I would definitely give this cigar another try. If available, I'd like to try a different vitola." –Craig (WyldKnyght)
"I really enjoyed this smoke. The flavors were great and had lots of transitions and was complex. My only complaints, although minor, are the smoke production and the burn. I'm not sure this cigar would be good for beginners, but any seasoned smoker would enjoy this. Highly recommend." –Emmett (rhetorik)
–
Smoking Time (in minutes): 92
Original Score: 93 (Excellent)
To view the original review, click here.
Edit

| Reviewer | Appearance | Aroma | 1/3 | 2/3 | 3/3 | Draw | Burn | Constr. | Overall |
| --- | --- | --- | --- | --- | --- | --- | --- | --- | --- |
| Gregg | 90 | 90 | 90 | 90 | 88 | 97 | 92 | 90 | 90 |
| Dave | 90 | 88 | 88 | 88 | 88 | 90 | 88 | 90 | 88 |
| Sandeep | 92 | 90 | 92 | 88 | 90 | 97 | 88 | 92 | 90 |
| Craig | 88 | 88 | 88 | 88 | 92 | 90 | 88 | 88 | 90 |
| Emmett | 95 | 92 | 95 | 92 | 95 | 88 | 90 | 90 | 95 |
To view the complete scores and notes, click here.
Blind Cigar Review – Revisited: Nomad | S-307 Toro
Blind Cigar Review – Revisited: Nomad | S-307 Toro
90
Revisited Total Score - Very Good