The "Revisited" review concept allow us to perform a follow up review on a cigar we have reviewed previously. These follow up reviews will be performed when the cigar has a year or more of age on them to see if time has been kind or not so kind to the cigar. The same reviewers are participating in both the original and follow up reviews whenever possible.
Vital Stats:
This cigar was reviewed blind (no bands) by a panel of at least 4 reviewers. They did not know what they were smoking beforehand. The scores are an average of all the reviewers' scores with outliers removed. All of our cigars reviewed are shipped to the panelists with Boveda packs to ensure optimal smoking experience.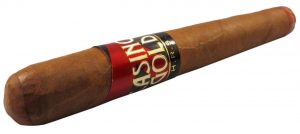 Vitola: Churchill
Length: 7″
Ring Gauge: 54
Country of Origin: Honduras
Wrapper: Habano Rosado Jalapa
Binder: Cameroon
Filler: Ometempe, Jamastran and Esteli
Factory: Tabacos De Oriente
Blender: Nestor Plasencia
Number of reviewers: 5—–Ron (shuckins) Craig (WyldKnyght) Gregg (McGreggor57) Robert (NavyPiper) Emmett (rhetorik)
Price: $6.00
Age: 1 Year, 2 Months
Release Date: August 2013
Contributed by: Royal Gold Cigars
Initial Impressions
Appearance: 91
"The wrapper on this is a bit wrinkled and looking like it's ready to crack. The cap is applied a bit sloppy as well. The proof, however, is in the smoking." –Gregg (McGreggor57)
Aroma: 88
"The wrapper and foot smell like mild tobacco and the dry puff tasted like pepper." –Craig (WyldKnyght)
First Third
Flavor: 85
Strength: Medium
Body/Complexity: Medium
"The first third was very mellow tobacco flavor to start, definitely not a strong cigar, something a new smoker might enjoy . The draw was a little tight." –Craig (WyldKnyght)
"The first few puffs are mild and woody. Further in, not much has changed. I still get a woody, almost papery flavor and not much more. The only thing that's changed by the end of this third is the burn, and for the worse." –Emmett (rhetorik)
Second Third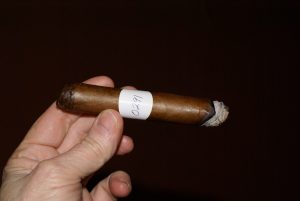 Flavor: 87
Strength: Medium
Body/Complexity: Medium
"Leather and coffee bring the sweetness from the first third back to a fuller flavor. A slight earthiness is developing in the background, adding a complimentary dimension. The wrapper lifts at one of the seams. Hopefully, it will simply burn off without an issue. Halfway through, the leather is still leading the way with burnt coffee and cedar on the retrohale." –Gregg (McGreggor57)
"In this third, the aftertaste has decreased considerably. The tobacco is still present, as well as the toast, but a flavor like hay has come in. Draw still good, however the wrapper split in this third, which began affecting the burn and ash." –Robert (NavyPiper)
Final Third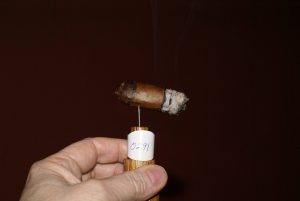 Flavor: 86
Strength: Medium
Body/Complexity: Medium
"Smoking a lot smoother than it started as the cedar and nutmeg join forces to knock the last of the wood taste out and put a damper on the pepper. This gives the cigar a cleaner taste and truer flavors at the very end." –Ron (shuckins)
"The final third begins a little flat, but soon some sweet tobacco appears and the leather returns. The spice from the beginning is coming back on the finish. A little harshness, however, is developing." –Gregg (McGreggor57)
Overall Impressions
Draw: 91
"A fantastic draw with plenty of smoke, although it did have some heat to it at first." –Ron (shuckins)
Burn: 88
"Burn was OK until the wrapper split/cracked. After that, sadly, it was all over. With wrapper issues continuing to worsen, it didn't seem to be worth the effort to try and correct it." –Robert (NavyPiper)
Construction: 88
"Construction was average, nothing went terribly wrong, but it could have been better." –Emmett (rhetorik)
Overall Strength: Medium
Overall Body/Complexity: Medium
Overall Experience: 86

"Not a complicated cigar, but one with a couple of dimensions that kept it interesting and entertaining after a rough start." –Ron (shuckins)
"This cigar was very plain. If it hadn't fallen apart, I would have recommended it for a beginner, but trying to hold it together would be very off putting." –Craig (WyldKnyght)
"Each of the first two thirds, on their own, offered some nice flavors although they never really developed as I hoped. The final third was a bit of a disappointment. I really look for more flavors out of a 90 minute smoke to hold my interest and this cigar didn't quite accomplish it." –Gregg (McGreggor57)
"Overall, I'll give it a 'Good'. Had the wrapper not split, I think burn and ash would've stayed in great shape. I'm not a fan of Connecticut cigars, but don't want my personal preferences to possibly influence someones decision to try these. Myself, the flavors just really didn't trip my trigger." –Robert (NavyPiper)
"I really didn't enjoy this cigar at all, the flavors were boring and never changed. I don't think I would try this one again, unless the other guys had a much different experience. I can't even recommend this as a golf cigar because of the problems with the burn. Sorry guys, I can't recommend this one." –Emmett (rhetorik)
–
Smoking Time (in minutes): 95
Original Score: 90 (Very Good)
To view the original review, click here.
Edit

| Reviewer | Appearance | Aroma | 1/3 | 2/3 | 3/3 | Draw | Burn | Constr. | Overall |
| --- | --- | --- | --- | --- | --- | --- | --- | --- | --- |
| Ron | 95 | 85 | 85 | 87 | 87 | 90 | 90 | 92 | 87 |
| Craig | 80 | 85 | 85 | 85 | 85 | 83 | 85 | 83 | 83 |
| Gregg | 88 | 90 | 87 | 87 | 85 | 90 | 90 | 90 | 87 |
| Robert | 90 | 88 | 85 | 87 | 87 | 90 | 85 | 90 | 87 |
| Emmett | 90 | 92 | 85 | 83 | 83 | 95 | 88 | 85 | 83 |
To view the complete scores and notes, click here.
Blind Cigar Review – Revisited: Royal Gold | Casino Gold HRS King
Blind Cigar Review – Revisited: Royal Gold | Casino Gold HRS King
87
Revisited Total Score - Fair