Vital Stats: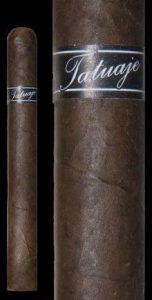 Vitola: Petite Lancero
Length: 6″
Ring Gauge: 38
Country of Origin: Nicaragua
Wrapper: Sun Grown Nicaraguan Criollo
Binder: Nicaragua
Filler: Nicaragua
Factory: My Father Cigars S.A.
Blender: Pete Johnson and Don Pepin Garcia
Number of reviewers: 4 —– Ron (shuckins) Aaron (aaron72) Jiunn (jliu) Emmett (rhetorik)
Price: $8.50
Age: 3 Years, 2 Months
Release Date: 2011
Contributed by: Seth Geise (Seth's Humidor)
This cigar was reviewed blind (no bands) by a panel of at least 4 reviewers. They did not know what they were smoking beforehand. The scores are an average of all the reviewers' scores with outliers removed. All of our cigars reviewed are shipped to the panelists with Boveda packs to ensure optimal smoking experience.
Initial Impressions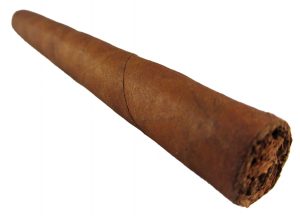 Appearance: 91
"This is a pretty good looking petite lancero. There are a few big veins but good seam work and a nicely applied triple cap." –Emmett (rhetorik)
Aroma: 89
"The wrapper gives the aroma of a lightly sweet hay. The foot is an even sweeter hay with a bit of leather." –Aaron (aaron72)
First Third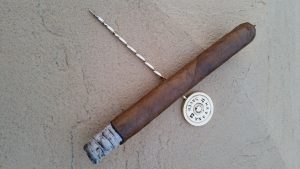 Flavor: 89
Strength: Medium
Body/Complexity: Medium-Full
"Starts with a peppery wood tasting tobacco that has both a touch of heat and harshness to it. This lasts for the first inch or so, then eases off enough to let a taste of coffee, with a hint of leather to move forward." –Ron (shuckins)
"The draw is quite tight to start, which has me worried. There is a nice woody flavor to start, soon joined by some spice that mixes quite well. Towards the end of the third, some baking spices join in and replace the pepper." –Emmett (rhetorik)
Second Third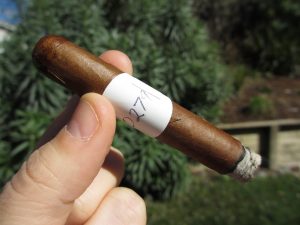 Flavor: 89
Strength: Medium-Strong
Body/Complexity: Medium-Full
"Smoothing out nicely as more leather joins the coffee and brings it to the front. There is still a robust peppery tobacco present, but the heat and harshness have faded, making it a much more tasty cigar." –Ron (shuckins)
"The oak is continuing as the primary flavor with the addition of a little char on the retrohale. As the third progresses, the char is making its way into the mouth and increasing on the retrohale. The char begins to turn into a very dark roast coffee. The coffee went away almost as fast as it arrived and the companion to the oak was back to a light char." –Aaron (aaron72)
Final Third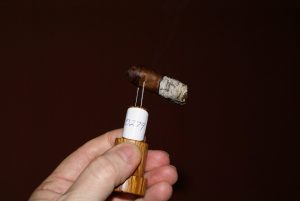 Flavor: 88
Strength: Medium-Strong
Body/Complexity: Medium
"Creamy leather, peppery cedar and a coffee laced tobacco join together to provide an enjoyable flavor profile. This lasted until the very end along with a light pepper that provided an entertaining kick on the finish." –Ron (shuckins)
"Last third flavors are not as complex as the second third, leaving me mainly bitter notes of white pepper, cedar  and slight roasted nuts. At random points, the cream becomes fuller almost at the consistency of 2% milk. Body is still at medium. Medium plus nicotine."  –Jiunn (jliu)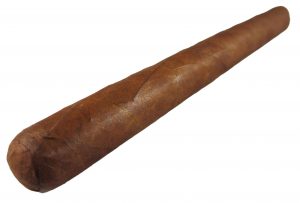 Overall Impressions
Draw: 89
"The draw was firmer than I prefer. With the small ring gauge, I chose not to attempt to correct it as it was still a serviceable draw." –Aaron (aaron72)
Burn: 94
"Almost a razor sharp burn. Nice tight ash. Awesome." –Jiunn (jliu)
Construction: 91
"The cigar was very firm, which may have contributed to the tight draw. The performance of the smoke experience was very good." –Aaron (aaron72)
Overall Strength: Medium-Strong
Overall Body/Complexity: Medium-Full
Overall Experience: 89
"Finished much better than it started, but overall it was a very enjoyable cigar that I would like to smoke more of." –Ron (shuckins)
"The flavors had a few transitions, and those flavors were good, but nothing exceptional. I could see this being something to reach for when in the mood for that woody/char experience. If others experienced a better draw, then I could see this being something to smoke on occasion." –Aaron (aaron72)
"Overall, a fair cigar. I really enjoyed the first third's balanced flavors of white pepper, roast nuts and bread notes. The second and last third's bitterness really kills the nuances. Nothing really great or bad about the cigar. Just not much there to really reel in my interest. This one is a no buy." –Jiunn (jliu)
"This was a really good tasting cigar, I wish I could try another sample before finding out what it is because mine has some draw issues that really held back towards the end of the cigar. If nobody else had construction issues, I could wholeheartedly recommend this cigar to anyone as the flavors were absolutely great." –Emmett (rhetorik)
–
Smoking Time (in minutes): 75
Edit

| Reviewer | Appearance | Aroma | 1/3 | 2/3 | 3/3 | Draw | Burn | Constr. | Overall |
| --- | --- | --- | --- | --- | --- | --- | --- | --- | --- |
| Ron | 88 | 88 | 88 | 90 | 90 | 90 | 97 | 88 | 90 |
| Aaron | 90 | 90 | 88 | 88 | 88 | 88 | 97 | 90 | 88 |
| Jiunn | 90 | 85 | 90 | 85 | 85 | 97 | 97 | 97 | 85 |
| Emmett | 95 | 92 | 92 | 95 | 90 | 83 | 85 | 88 | 92 |
To view the complete scores and notes, click here.
–
Blind Cigar Review: Tatuaje | Black Label Petite Lancero
Blind Cigar Review: Tatuaje | Black Label Petite Lancero
90
Total Score - Very Good