Vital Stats:
This cigar was reviewed blind (no bands) by a panel of at least 4 reviewers. They did not know what they were smoking beforehand. The scores are an average of all the reviewers' scores with outliers removed. All of our cigars reviewed are shipped to the panelists with Boveda packs to ensure optimal smoking experience.
Vitola: Robusto
Length: 4.75″
Ring Gauge: 52
Country of Origin: Nicaragua
Wrapper: Habano
Binder: Nicaraguan Criollo '98
Filler: Esteli and Jalapa
Factory: Nuestra Fabrica
Blender: Undisclosed
Number of reviewers: 5 —– Craig (WyldKnyght) Gregg (McGreggor57) Ron (shuckins) Jason (Jokey Smurf) Milton (mjohnsoniii)
Price: $10.50
Age: 3 Months
Release Date: 2009
Contributed by: Tesa Cigar Co.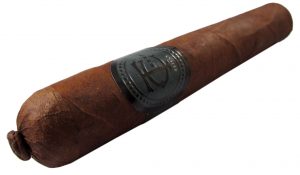 Initial Impressions
Appearance: 93
"This robusto (4.5X52) cigar looked very appealing. It had a nice dark brown oily wrapper with a nice tight pigtail cap." –Craig (WyldKnyght)
Aroma: 90
"There is a very slight cedar and tobacco aroma with a light, sweet, fruitiness. I'm eager to light this cigar! The pre-light draw is very mild and has a sweet fig note." –Jason (Jokey Smurf)
First Third
Flavor: 90
Strength: Medium-Strong
Body/Complexity: Medium
"I'm old school,so naturally I bit the pig tail off. A little dry tasting on light up, with cedar and light pepper to start. A taste of coffee joined in soon after and blended nicely to provide a tasty start to the cigar." –Ron (shuckins)
"There was no need for a cutter as I twisted the pigtail off with my teeth, which left an open draw to die for. While taking that pre-light draw, I tasted notes of raisins and honey along with cedar. At initial light, I got a blast of pepper and a hint of sweetness in the background. The smoke was billowing from the onset and really lingered on the palate. Those flavors soon transitioned into more milder spices and sweetness." –Milton (mjohnsoniii)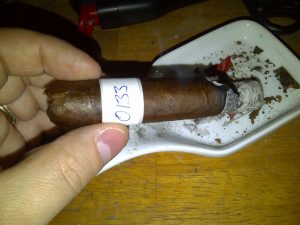 Second Third
Flavor: 89
Strength: Medium-Strong
Body/Complexity: Medium
"Creamy leather, light coffee and hints of toast. The spice on the retro is gone but there is a citrus tartness left on the palate. Deeper into this third I get flashes of floral and cedar before the leather takes over again. There is an interesting back and forth of flavors." –Gregg (McGreggor57)
"The second third began with mild spices and a leather/walnut mix. It was a bit unusual but pretty good nonetheless. I guess that's the reason for various tasters on the panel, right? The smoke continued billowing and was as creamy as ever. A slight hint of toffee began to show towards the end of the second third." –Milton (mjohnsoniii)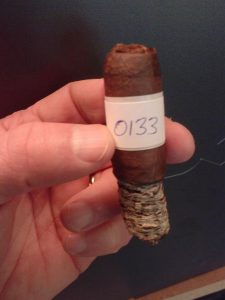 Final Third
Flavor: 89
Strength: Medium-Strong
Body/Complexity: Medium
"The pepper toned down towards the end as the woodsy tobacco moved to the front. Coffee with splashes of leather provided teases of creaminess that, sadly, never fully came through, although it was still a tasty cigar down to the nub." –Ron (shuckins)
"The final third of this cigar became more interesting. I'm picking up some baking spice notes that remind me of paprika. There is a little more pepper, but no harshness…just a little sinus sizzle to wake me up! The finish is short, and has a brief earthy mustiness. I'm really digging this section." –Jason (Jokey Smurf)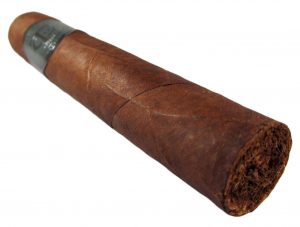 Overall Impressions
Draw: 91
"This cigar had a draw that was really just right…a little resistance, but just enough so it didn't feel like sucking through a straw…hard to be much better. Plenty of smoke for each puff as well." –Jason (Jokey Smurf)
Burn: 94
"No touchups required and the burn line never wavered too far off line. Good smoke production with an ash that held on for long stretches at a time." –Gregg (McGreggor57)
Construction: 94
"The construction on this cigar was very good, nice and firm with no soft spots, very appealing." –Craig (WyldKnyght)
Overall Strength: Medium-Strong
Overall Body/Complexity: Medium
Overall Experience: 91
"This cigar was a one trick pony. Right from the start to the very end, it was a leathery cigar with a hint of spice. Some may like it that way, but this was definitely not my kind of cigar." –Craig (WyldKnyght)
"I really enjoyed this cigar. Leather seemed to be the underlying flavor yet never overpowering. The progression through the thirds was balanced with each of the flavors coming to the front for a moment. In the end, I was left with a smoke that kept my interest and allowed the flavors it offered to mesh perfectly." –Gregg (McGreggor57)
"A very fun cigar to smoke. It had enjoyable flavors, although a couple more dimensions would have been nice." –Ron (shuckins)
"This was a good smoke, but the last third tells me it could have been great. I'd smoke more, for sure, especially in the morning, or when I just want a nice easy cigar to smoke…And the pigtail is just soooooo cute!" –Jason (Jokey Smurf)
"With the construction, draw and burn, this cigar crept its way into the "excellent" realm. The flavors and complexity alone would have had this cigar rated anywhere between "good" and "very good". I enjoyed it, but it wasn't enough to make me scour the earth for another." –Milton (mjohnsoniii)
Smoking Time (in minutes): 78
Total Score: 91 (Very Good)
Edit

| Reviewer | Appea-rance | Aroma | 1/3 | 2/3 | 3/3 | Draw | Burn | Constr. | Overall |
| --- | --- | --- | --- | --- | --- | --- | --- | --- | --- |
| Craig | 90 | 85 | 88 | 88 | 88 | 88 | 90 | 90 | 88 |
| Gregg | 93 | 95 | 92 | 92 | 95 | 90 | 93 | 95 | 95 |
| Ron | 95 | 90 | 88 | 90 | 90 | 90 | 95 | 95 | 90 |
| Jason | 95 | 90 | 92 | 88 | 92 | 95 | 95 | 95 | 90 |
| Milton | 90 | 90 | 90 | 90 | 88 | 100 | 95 | 93 | 92 |
| Overall | 93 | 90 | 90 | 89 | 89 | 91 | 94 | 94 | 91 |
To view the complete scores and notes, click here.
Blind Cigar Review: Tesa | Cabinet 312 No. 3