Vital Stats: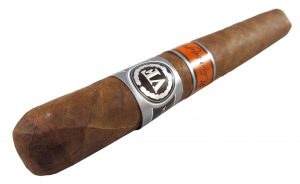 This cigar was reviewed blind (no bands) by a panel of at least 4 reviewers. They did not know what they were smoking beforehand. The scores are an average of all the reviewers' scores with outliers removed. All of our cigars reviewed are shipped to the panelists with Boveda packs to ensure optimal smoking experience.
Vitola: Toro
Length: 6″
Ring Gauge: 52
Country of Origin: Dominican Republic
Wrapper: Nicaraguan Habana 2000
Binder: Nicaragua
Filler: Nicaragua
Factory: Tabacalera de García
Blender: Grupo de Maestros
Number of reviewers: 5 —– Dan (Danfish) Craig (WyldKnyght) Kent (Throck) Jack (Jack_H) Robert (NavyPiper)
Price: $6.25
Age: 2 Months
Release Date: December 2014
Contributed by: Altadis U.S.A.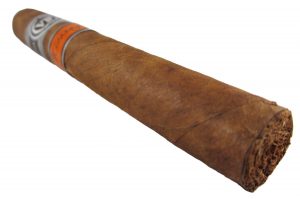 Initial Impressions
Appearance: 91
"It's a good looking stick with no visible issues. It has a nice color but it's not an aesthetically beautiful cigar in its own." –Jack (Jack_H)
Aroma: 89
"The wrapper smelled like sweet honey, almost intoxicating. The foot had a light tobacco aroma and the dry puff tasted like pepper" –Craig (WyldKnyght)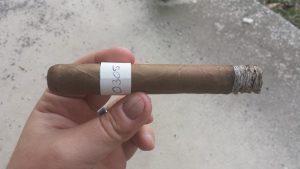 First Third
Flavor: 90
Strength: Medium
Body/Complexity: Medium
"Upon starting the cigar I noted a fairly consistent earth-tone flavor that had an immediate impact which was later joined by notes of cherries. It was this third that had the most flavor and potency when compared to the remainder. There were no issues with the construction during this section. I had hoped to find more complexities as I progressed." –Kent (Throck)
"Interesting start to this stogie. Flavors of spice, tobacco, and dried fruit are present, with the spice being the dominant flavor. Draw is snug, but doable. Not much smoke. Burn is wonky, and the cigar does not seem to want to stay lit. Had a few relights as well as touch ups on the burn. Ash is very flaky. Cigar was quite firm before lighting, but seems to be getting a bit soft." –Robert (NavyPiper)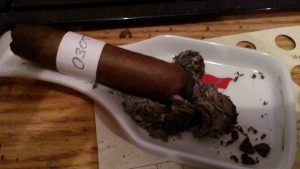 Second Third
Flavor: 88
Strength: Medium
Body/Complexity: Medium
"Body drops back to a mild-medium for the second third. The sweetness I picked up initially comes back and the pepper fades to a general mild spiciness. No further flavors develop and the cigar is quite boring." –Dan (Danfish)
"The second 3rd had the pepper mellowing out and some nice woody flavors starting to come through. The cigar went out around the halfway mark and I had to relight." –Craig (WyldKnyght)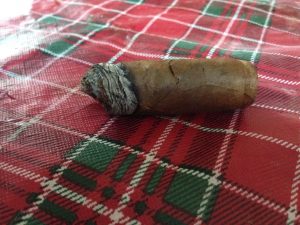 Final Third
Flavor: 86
Strength: Medium-Strong
Body/Complexity: Medium
"The sweetness leaves again and I'm left with just a mild pepper and general tobacco flavor. The cigar isn't bad by any means, just very mundane. Towards the end I overheat the cigar a bit trying to get more flavor out of it so it gets a bit harsh." –Dan (Danfish)
"The flavors have become more muted as the cigar has gone on. What started on a high note has gradually decreased in flavor and complexity until we reach the final third which is the most dull. By no means is this a bad cigar but it is a far cry from the start. The draw has taken a significant hit and I think this is where the flavor issues are coming from." –Jack (Jack_H)
Overall Impressions
Draw: 85
"The draw was initially good as there was a smooth, consistent flow. It was not until the second third when construction issues started to emerge which caused air leaks along the course of the cigar. I am not entirely certain if this was a humidification issue, as there was also tar present and cap bulging, but I am almost certain that this was not caused by transportation as a cursory examination of the cigar did not show these blemishes." –Kent (Throck)
Burn: 90
"The burn was fairly uneven and wavy from start to finish." –Craig (WyldKnyght)
Construction: 88
"This cigar was like a college QB that was picked first but never really panned out. It showed great promise even some flashes of greatness, but when the lights bright and the cameras were on something was left wanting. " –Jack (Jack_H)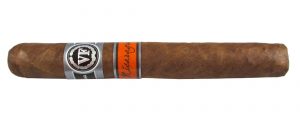 Overall Strength: Medium-Strong
Overall Body/Complexity: Medium
Overall Experience: 86
"This wasn't a bad cigar, but it was very generic. There was no complexity to be found here and I was quite bored of it by the end. If the price was low a smaller size would make for a decent yard gar or a good cigar to give to a new cigar smoker. That being said I don't see myself purchasing this in the future." –Dan (Danfish)
"I really enjoyed the flavor profile of this cigar, the pepper and woody flavors really mixed well together. Even though there were issues with the burn and draw. The flavor and thick creamy smoke made up for it." –Craig (WyldKnyght)
"The burn was a great aspect of this cigar. If the construction matched this, I feel that this would have been a much more pleasurable experience. I was able to detect notes of cherries which seemed to make this a more unique cigar for me, but this too became fairly one dimensional and left me wanting greater complexity in it duration." –Kent (Throck)
"What can I say that I haven't said. Overall this cigar was a shoulder shrug. I didn't dislike it, and I didn't love it. I would give it another chance to be fair, but I could only see myself buying these if they were a great price and I was going golfing." –Jack (Jack_H)
"The flavors were unique to me, except for the spice. It would've been much more enjoyable but the issues with the burn and wanting to go out were really frustrating. Another interesting and puzzling issue was the more it was smoke the softer it got. This was a very firm stogie, and had a couple weeks rest in a 64% humidor prior to smoking. The humidor is pretty full, and haven't had this issue with any other stogie so I'm puzzled why this took place." –Robert (NavyPiper)
–
Smoking Time (in minutes): 84
Edit

| Reviewer | Appearance | Aroma | 1/3 | 2/3 | 3/3 | Draw | Burn | Constr. | Overall |
| --- | --- | --- | --- | --- | --- | --- | --- | --- | --- |
| Dan | 92 | 90 | 90 | 88 | 85 | 92 | 92 | 90 | 85 |
| Craig | 95 | 97 | 92 | 95 | 95 | 85 | 88 | 88 | 92 |
| Kent | 88 | 88 | 90 | 88 | 87 | 83 | 95 | 83 | 85 |
| Jack | 90 | 90 | 90 | 88 | 85 | 87 | 90 | 88 | 87 |
| Robert | 90 | 88 | 88 | 88 | 87 | 85 | 83 | 88 | 85 |
To view the complete scores and notes, click here.
–
Blind Cigar Review: VegaFina | Nicaragua Gran Toro
Blind Cigar Review: VegaFina | Nicaragua Gran Toro