Vital Stats:
Vitola: Robusto
Length: 5″
Ring Gauge: 52
Country of Origin: Dominican Republic
Wrapper: Peruvian Habano
Binder: Peru
Filler: Domincian Republic and Nicaragua
Factory: Undisclosed
Blender: Undisclosed
Number of reviewers: 5—–Stefan (Stefan) Craig (WyldKnyght) Ron (shuckins) Dave (mdwest) Jack (Jack_H)
Price: $5.50
Age: 3 Months
Release Date: Undisclosed
Contributed by: Blind Man's Puff
This cigar was reviewed blind (no bands) by a panel of at least 4 reviewers. They did not know what they were smoking beforehand. The scores are an average of all the reviewers' scores with outliers removed. All of our cigars reviewed are shipped to the panelists with Boveda packs to ensure optimal smoking experience.
Initial Impressions
Appearance: 89
"Extremely veiny and cloaked in a mottled wrapper, the cigar is rustic in appearance, but still appealing to the eye." –Dave (mdwest)
Aroma: 90
"Aromas of grassy cedar and light peppery nutmeg bring a smile to my face." –Ron (shuckins)
First Third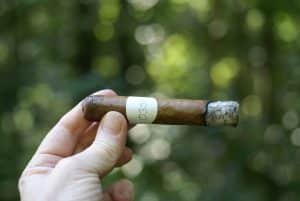 Flavor: 88
Strength: Medium
Body/Complexity: Medium
"This cigar was easy to light, but the burn was uneven and needed to be touched up right away. Right off the first puff I started to get some spice, maybe nutmeg or allspice, and nice slightly sweet note. As the cigar progressed, the flavor transitioned into more earthy and woody flavors. The smoke was very light and silky." –Craig (WyldKnyght)
"The cigar has some richness to it and I get a dark fruity taste, almost like a plum. I also taste leather and some slight spice almost like cumin. It is very complex in flavor while being light in body. I could see it pairing with a barley wine just as well as a pale ale. I was worried about construction when I first saw the cigar but the burn has been razor sharp and the ash has the dark richness like a Cuban." –Jack (Jack_H)
Second Third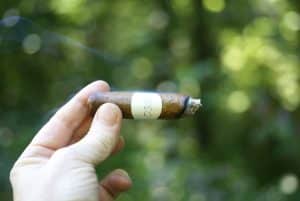 Flavor: 89
Strength: Medium-Strong
Body/Complexity: Medium
"Smoking smooth with fresh cedar and grassy tobacco flavors up front. There was a boost in strength as more pepper joined the nutmeg, with enough pop to stir things up and take the cigar in a new direction." –Ron (shuckins)
"By the second third, the smoke starts to smooth out a little and keeps the same basic profile from the first third, with just a hint of some woody type notes making their way into bread and baking spice type flavors." –Dave (mdwest)
Final Third
Flavor: 89
Strength: Medium-Strong
Body/Complexity: Medium-Full
"The last third is all pepper — mostly white pepper on the palate, red pepper on the backpalate and retrohale and black pepper on the long finish — all together fairly balanced. Around the middle of the last third, there is also some hickory smoke in the mix, then close to the nub mild cocoa notes." –Stefan (Stefan)
"A peppery allspice has moved to the front as the cigar nears the end. This pushes the grassy taste out while the cedar turns to more of a woodsy taste. The closer to the end it got, the bolder and stronger it got." –Ron (shuckins)
Overall Impressions
Draw: 91
"Outstanding draw throughout, through a 7mm hole." –Stefan (Stefan)
Burn: 88
"The burn was uneven for most of the cigar and only evened itself out during the final third." –Craig (WyldKnyght)
Construction: 89
"The ash held firm, the burn was good and the draw consistent. The cigar wasn't entirely round and the exterior worried me. The cigar ended up being very solid overall." –Jack (Jack_H)
Overall Strength: Medium-Strong
Overall Body/Complexity: Medium
Overall Experience: 90
"A good-to-very good spicy smoke, albeit a rather uneventful smoking experience." –Stefan (Stefan)
"After smoking the first third of this cigar I did not have any high hopes, it was a mediocre cigar, but then the second third picked it up a notch with a couple flavor changes and a thicker smoke. But it did not end there, the final third was by far the best. Everything seemed to come together, the flavors became stronger, the smoke thicker and creamier. I will definitely try this cigar, maybe in a different vitola to see if I can recapture the last half of this cigar." –Craig (WyldKnyght)
"A fun cigar to smoke, with enough flavor profile changes to keep me interested and wanting more." –Ron (shuckins)
"Overall, a nice cigar. While nothing earth shattering was experienced, it performed well and had a good flavor profile. If it's priced right, it would probably be something I'd consider adding to my rotation as a daily smoker." –Dave (mdwest)
"The cigar isn't the most beautiful but it is complex and it progresses in both strength and flavor. It lacked refinement and it didn't do anything to distinguish itself from any cigars I have smoked in my past. This was however a blue collar, quick burning cigar that for the right price could easily make it into any regular smokers rotation." –Jack (Jack_H)
–
Smoking Time (in minutes): 73
Reviewer

Appearance

Aroma

1/3

2/3

3/3

Draw

Burn

Constr.

Overall
Experience

Stefan
Stefan)
88
90
85
88
85
97
95
97
88
Craig
WyldKnyght)
90
88
88
90
92
85
83
88
92
Ron
shuckins)
90
92
90
90
90
90
85
90
90
Dave
mdwest)
88
88
85
88
88
88
88
88
88
Jack
Jack_H)
83
90
92
90
90
95
90
92
90
To view the complete scores and notes, click here.
–
Blind Cigar Review: Villiger | La Libertad Robusto
Blind Cigar Review: Villiger | La Libertad Robusto