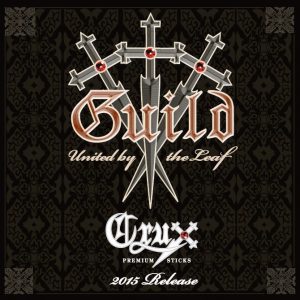 (Miami, Fla.) – After launching its brand with six different blends in 2014, Crux Cigars is proud to announce it will have three brand new releases in the second half of this year.
One of the three brand new lines for Crux Cigars will be the Crux Guild, a complex and rich blend with a mosaic of flavors that will delight your palate. The Guild release is meant to honor the craftsmanship and history of cigars as a hand made product, which allows each person who enjoys them to be "United By The Leaf." This new cigar is the pinnacle of talent and determination. Just as skilled metallurgists created great coats of armor, the Crux Guild is a symbol, and we hope, an example of masterful achievement.
The Crux Guild features a Ecuadorian Habano wrapper as well as a Nicaraguan binder and filler made up of tobacco from Nicaragua. As with all Crux cigars so far, the Crux Guild will be produced at Plasencia Cigars in Esteli, Nicaragua, and will be a regularly available release.

There will be five different vitolas when the new line launches: the 5.5 x 42 Crux Guild Corona priced at $6.99, the 5 x 50 Crux Guild Robusto priced at $7.99 each, the 5.25 x 54 Crux Guild Robusto Extra priced at $9.50, the 6 x 50 Crux Guild Toro priced at $8.99 each and the 6.5 x 52 Crux Guild Toro Extra Marblehead (Box Pressed) priced at $9.99 each. All five sizes will be sold in boxes of 20 priced at $139.80, $159.80, $190.00, $179.80 and 199.80 respectively.
The Crux Guild will be officially launched at the upcoming IPCPR Show in New Orleans, La., and is scheduled to begin shipping to retailers in October of 2015.
For questions or additional details, contact Logan Drake at logan@cruxcigars.com.