General Cigar announces that Punch Rare Corojo will make its annual return to retail beginning on February 16, 2015. The seasonal collection will welcome a new frontmark and a limited edition size available exclusively this year.

The 2015 release of Punch Rare Corojo marks the addition of El Diablo, a burly 6.5" x 66 cigar, as a permanent new item in the collection. El Diablo will be packaged in the brand's traditional wooden cabinet-style box and will sell for an SRP of $8.25 per cigar.
In addition, the brand will launch a limited edition cigar called Rare Lapiz. The 6.75" x 56 tapered smoke will come in a sleek, ten-count box. Rare Lapiz will only be available to retailers through a special trade deal and will be sold until May 15, or when the allotment is depleted.

Punch Rare Corojo is made with a lustrous Sumatra wrapper cultivated in the mountains of Ecuador. Grown only in limited quantity, these rare, reddish leaves give Punch Rare Corojo its uniquely smooth taste. Bound with hearty Connecticut Broadleaf, the blend features a spicy blend of Nicaraguan, Honduran and Dominican tobacco for a uniquely-flavored, complex smoking experience.
Ed McKenna, senior brand manager for General Cigar's Punch brand said, "Punch Rare Corojo started the trend of seasonal cigars, and each year, we're pleased with the response to this annual collection. Given the range of frontmarks and the addition of Rare Lapiz to this year's lineup, we are confident that Punch Rare Corojo will sell out quickly."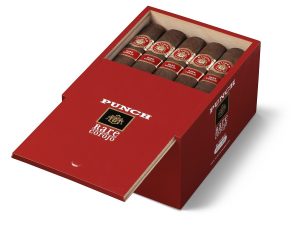 Reintroduced in 2001 after a shortage of wrapper leaves caused the product to disappear at retail for several years, Punch Rare Corojo sold out as quickly as it returned that year. Since then, General Cigar has been able to secure a sufficient amount of the rare Ecuadoran Sumatra wrapper for a limited annual release of Punch Rare Corojo. Punch Rare Corojo is handcrafted in Honduras and is now available in eight sizes, ranging in SRP from $3.99 to $8.25 per cigar.
–
Cigar News: Punch Rare Corojo Returns with Two New Frontmarks