Vital Stats: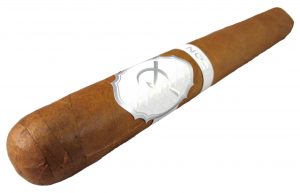 Vitola: Toro
Length: 6″
Ring Gauge: 50
Country of Origin: Dominican Republic
Wrapper: U.S. Connecticut Shade
Binder: Dominican Republic
Filler: Dominican Republic
Factory: TabaDom
Blender: Undisclosed
Number of reviewers: 5—–Gregg (McGreggor57) Jack (Jack_H) Dave (mdwest) Robert (NavyPiper) Emmett (rhetorik)
Price: $11.25
Age: 1 Month
Release Date: July 2013
Contributed by: Hammer + Sickle
This cigar was reviewed blind (no bands) by a panel of at least 4 reviewers. They did not know what they were smoking beforehand. The scores are an average of all the reviewers' scores with outliers removed. All of our cigars reviewed are shipped to the panelists with Boveda packs to ensure optimal smoking experience.
Initial Impressions
Appearance: 89
"This is a very nice looking Connecticut shade cigar. The wrapper color is even and feels less dry to the touch than most Connecticuts. There is a decent triple cap and the veins and seams are somewhat visible." –Emmett (rhetorik)
Aroma: 88
"Straight tobacco along the length with some hay and bit of barnyard at the foot. Cedar on the cold draw." –Gregg (McGreggor57)
First Third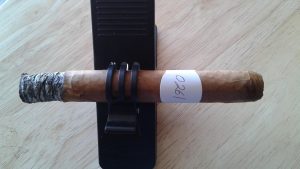 Flavor: 89
Strength: Medium
Body/Complexity: Medium
"A picture perfect draw is allowing fresh cracked pepper to dominate initially. Slowly, a little clove and burnt caramel begin to creep in. With the pepper fading, leather and tobacco come to the front leaving the clove in the background." –Gregg (McGreggor57)
"I taste hints of walnut, with a sweet but not over powering flavor on the inhale. Overall, I get an earthy retrohale, a bit faint but not displeasing at all. This is definitely a mild cigar. After about twenty minutes, notes of toasted marshmallow appear. Throughout the first third there were moments where the flavor was a bit harsh. The burn is razor sharp and it produces a milky white ash." –Jack (Jack_H)
Second Third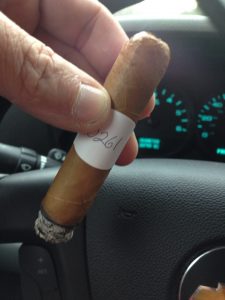 Flavor: 89
Strength: Medium
Body/Complexity: Medium
"In the second third, the toast, earth, spice and pepper are still present, but there's a mild nuttiness now, and as before all are working very well together. Still very good and enjoyable." –Robert (NavyPiper)
"This third has been mostly the same cedar and coffee notes, but that's not a bad thing. There is a lot more spice here than I would have thought. Further in, a nice nutty flavor becomes present, somewhat replacing the cedar." –Emmett (rhetorik)
Final Third
Flavor: 89
Strength: Medium
Body/Complexity: Medium
"Thankfully, the harshness that showed up around the mid point goes away quickly and the final third is very smooth. The finish now has a very light, almost minty taste to it that is refreshing and enjoyable." –Dave (mdwest)
"The spice has definitely died down in this third, making room for more subtle wood and nut notes. Even down to the nub, this cigar doesn't get hot, just flavorful. This third was definitely the best." –Emmett (rhetorik)
Overall Impressions
Draw: 98
"All I can say is that the draw was absolutely perfect from start to finish." –Robert (NavyPiper)
Burn: 95
"Good burn, the ash held for a long time and was a pleasant white. No touch ups whatsoever." –Jack (Jack_H)
Construction: 93
"While notably "ugly" in appearance, from a performance standpoint, there is really nothing to complain about with this stick. It performed exceptionally well." –Dave (mdwest)
Overall Strength: Medium
Overall Body/Complexity: Medium
Overall Experience: 91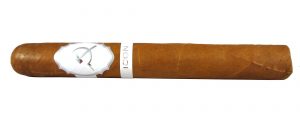 "This cigar appeared to have an intentional development of flavors. I appreciated the transitions, even if some of the flavors weren't in my wheel house. The back and forth of intensity during the final third made me chuckle at times. If judged on flavors alone, I would have scored the cigar a little lower. But all of the other components of the smoke added to my experience." –Gregg (McGreggor57)
"This would be a good cigar to have with some coffee or start your day. At a lower price point this is a solid cigar, not amazing, but something easy to reach for in the morning or afternoon." –Jack (Jack_H)
"Overall, a nice cigar that I think would pair well with a coffee and be great in the mornings. I'd be willing to buy a few and revisit again soon." –Dave (mdwest)
"Why is it when I buy a Connecticut stogie, which is pretty rare for me, that they never quite come close to this sample? Which is why I'm not real fond of Connecticut stogies. But this guy was a paradigm shifter for me. Loved every inch of it, except when I scorched my finger taking it to the nub. This is one I'll be looking out for to add it to the rotation in the future!" –Robert (NavyPiper)
"This was a truly great Connecticut cigar, one of the best I've had. This was strong enough that it is never boring, but not too strong that it still wouldn't make a good morning cigar. This could be smoked anytime by anyone, highly recommend." –Emmett (rhetorik)
–
Smoking Time (in minutes): 88
Edit

| Reviewer | Appearance | Aroma | 1/3 | 2/3 | 3/3 | Draw | Burn | Constr. | Overall |
| --- | --- | --- | --- | --- | --- | --- | --- | --- | --- |
| Gregg | 88 | 90 | 90 | 88 | 88 | 98 | 95 | 93 | 92 |
| Jack | 90 | 88 | 88 | 90 | 85 | 90 | 95 | 90 | 88 |
| Dave | 85 | 88 | 88 | 88 | 90 | 95 | 95 | 95 | 90 |
| Robert | 92 | 88 | 90 | 90 | 90 | 100 | 88 | 93 | 90 |
| Emmett | 90 | 92 | 92 | 95 | 95 | 100 | 100 | 97 | 95 |
To view the complete scores and notes, click here.
–
Blind Cigar Review: Hammer + Sickle | Icon Toro
Blind Cigar Review: Hammer + Sickle | Icon Toro
91
Total Score - Very Good