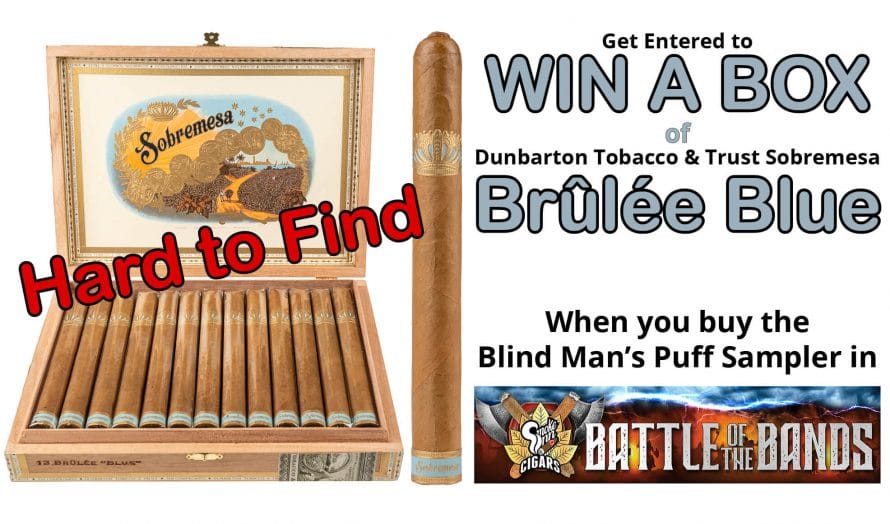 From now until the end of Smoke Inn's Battle of the Bands on midlight (EDT) October 4th, when you buy the Blind Man's Puff Sampler, you can be entered to win an entire box of the super hard-to-find and rare Dunbarton Tobacco & Trust Sobremesa Brûlée Blue! All you have to do is purchase the sampler between now and then, and email me a picture of your receipt (info@blindmanspuff.com) and you are entered to win, that's it! The sampler is also currently 20% off bringing it down to $43.00 from its normal $53.75.
Steve Saka released the Sobremesa Brûlée Blue last month, and is a special size and blend of the Sobremesa Brûlée. The size is a 6 1/4 x 46 lonsdale that is described as a "tweaked" version of the regular Sobremesa Brûlée blend. The blend uses an Ecuadorian Connecticut wrapper, Mexican binder, and four Nicaraguan filler tobaccos. The Brûlée Blue was also aged for and extra year after rolling before being sold. The primary and secondary bands are a different color than the regular line and the cap is a pigtail. Each cigar sells for $14.95 and only 1,000 boxes of 13 were made. These are completely sold out and almost impossible to find, but now's your chance!
Read a description of Battle of the Bands and an explanation of our picks here or watch the video below.
See official rules below.
OFFICIAL RULES
1. Introduction/Eligibility
The Blind Man's Puff Promotion is governed by the following Official Rules. By submitting an entry, Participants agree to the terms of these Official Rules.
Participants in this Promotion must be legal U.S. resident, 21 years or older, and accessing this site in the United States, its territories, possessions, or commonwealths. This Promotion is void where prohibited.
By submitting an entry, Participants further agree that these Official Rules will be construed and evaluated according to the laws of the United States.
There must be a total of at least 10 entries for the contest to be considered valid. In the event 10 entries are not submitted, no prize will be given.
2. Promotion Sponsor
The sponsor of this promotion (the "Sponsor") is: Blind Man's Puff
3. Promotion Duration
The Promotion will begin on September 29, 2020 at 00:00 and run through 23:59 on October 4, 2020. All times referenced in these Rules are in the America/Denver timezone, and the official time for the purposes of the Promotion will be the time as kept on the servers hosting the Promotion.
4. How to Enter
No purchase necessary.
Participants may enter in any one of the following ways:
i. Purchase the Blind Man's Puff Battle of the Bands sampler at Smoke Inn https://www.smokeinn.com/Blind-Mans-Puff-Battle-of-the-Bands.html, then email a picture/copy of the recipt to info@blindmanspuff.com.; or
ii. Sending an email to the address: info@blindmanspuff.com with the Subject Line, "Official Promotion Entry," and including your full legal name and email address.
Each Participant must be a natural person, and each Participant is limited to a single entry. Multiple Participants are not permitted to share the same email address, Facebook account, and/or other accounts used for entry. Any incorrect or incomplete entry is void.
Any attempt by any Participant to obtain entries by using multiple/different email addresses, Facebook and other social media accounts, identities, registrations or logins, or any other methods will void that Participant's entries and that Participant will be disqualified from the Promotion.
There must be a total of at least 10 entries for the contest to be considered valid. In the event 10 entries are not submitted, no prize will be given.
5. The Prize
The prize Winner will receive:
1 (ONE) box of Dunbarton Tobacco & Trust Sobremesa Brluee blue cigars.
The Approximate Retail Value (ARV) of the Prize is $194.34.
Odds of winning will vary depending upon the number of entries submitted.
The specifics of all aforementioned elements of the prize are solely determined by Sponsor. All costs, taxes, fees, and expenses associated with any element of the prize not specifically addressed above are the sole responsibility of the respective Winner. All federal, state and local taxes on prizes are the prize Winner's responsibility.
Prize cannot be transferred, substituted, or redeemed for cash except at Sponsor's sole discretion. Sponsor reserves the right to substitute the prize, or portions thereof, with a prize of equal or greater value.
All rules and prizes subject to change at any time.
6. Selection and Notification of Winners
The prize Winner will be selected in a random drawing from all eligible Participants. The prize Winner will be contacted by email thereafter.
After notification to the prize Winner, the Winner's name may be displayed in place of the Online Entry Form wherever published, and will be available by contacting the Sponsor at info@blindmanspuff.com.
7. Privacy
Privacy policy of the Sponsor, located at: https://blindmanspuff.com/about-us/privacy-policy/. Except where prohibited, participation in the Promotion constitutes your consent to Sponsor's use of your name, likeness, entry, and state of residence for promotional purposes in any media without further payment or consideration.
8. Governing Law
This Promotion is governed by United States law, is subject to the laws and regulations of the 50 States, of the District of Columbia, and of the Federal Government, and is void where prohibited. In the event of a dispute arising out of this Promotion, the Participant agrees that the law of Colorado will govern and specifically consents to personal jurisdiction over any such dispute in Colorado.
Any claims, judgments, or awards will be limited to actual costs associated with entering this promotion. The Participant hereby waives any rights or claims to attorney's fees and indirect, special, punitive, incidental, or consequential damages of the Participant, identifiable persons, or third parties, whether foreseeable or not and whether based on negligence or otherwise.
9. Severability
The provisions of these Rules are severable, and in the event any provision is determined to be invalid or unenforceable, the remaining provisions will remain in effect.
10. Liability Waiver
The Sponsor and other participating vendors (collectively with Sponsor, the "Promotion Entities"), their respective affiliates, subsidiaries, parent, advertising and promotion agencies, and their respective officers, directors, shareholders, employees and agents, and any and all Internet servers and access provider(s) are not responsible for: any incorrect or inaccurate entry information; human error; technical malfunctions; failures, omissions, interruptions, deletions, or defects of any telephone networks, computer online systems, computer equipment, server providers, or software, including any injury or damage to Participant's or any other person's computer relating to or resulting from participation in this Promotion; inability to access the Website; theft, tampering, destruction, or unauthorized access to, or alteration of entries; transactions that are processed late or incorrectly, or are incomplete or lost due to computer or electronic malfunctions or traffic congestion on the Internet or at any web site; printing or human or other errors; and any entries which are late, lost, incomplete, misdirected, stolen, or any combination thereof. Online submission is not considered proof of delivery or receipt. All entries become the property of Sponsor and will not be returned.
By entering, all Participants also agree to release, discharge, indemnify and hold harmless the Promotion Entities and their respective parent companies, subsidiaries, their respective representatives and agents, advertising and promotion agencies, promotion partners and prize suppliers, and all of their respective affiliated companies, employees, officers, directors and shareholders, from and against all claims and damages or liability arising in connection with each Participant's participation and/or entry in the Promotion and/or their receipt or use of any prize awarded in this Promotion or due to any injuries, damages or losses to any person (including death) or property of any kind resulting in whole or in part, directly or indirectly, from acceptance, possession, misuse or use of any prize or participation in any promotion-related activity or participation in this Promotion. Any and all warranties and guarantees are subject to the respective manufacturer's terms.
Participants further understand and agree that all rights under Section 1542 of the Civil Code of California ("Section 1542") and any similar law of any state or territory of the United States that may be applicable with respect to the foregoing release are hereby expressly and forever waived. Participants acknowledge that Section 1542 provides that:
A general release does not extend to claims which the creditor does not know or suspect to exist in his or her favor at the time of executing the release, which, if known by him or her must have materially affected his or her settlement with the debtor.
The releases hereunder are intended to apply to all claims not known or suspected to exist with the intent of waiving the effect of laws requiring the intent to release future unknown claims.
11. Contact for Questions
In the event any Participant suspects that a technical error has occurred, believes their entry was not properly submitted, or has other questions about this Promotion and its administration, the Sponsor can be contacted at: info@blindmanspuff.com.