We are giving away an entire box of the New Studio Tobac Reckoning as a thank you to our readers. We recently reviewed this cigar and gave it a 91 rating (Very Good) and thought we would give you a chance to enjoy it as well.
Here is an excerpt from our review: "This cigar started off slow and a little boring for me, but won me over in the end with some great transitions and balance of flavors. The profile was a very good woody and spicy balance. It wasn't too strong, but not so mild I would call it a morning cigar, right in the middle. I would definitely smoke this again and recommend a fiver to see how it ages." -Emmett (rhetorik)
Be sure to read our whole review of the Studio Tobac Reckoning Toro here:
Studio Tobac Reckoning Toro – 91 points
The contest runs for 7 days. You can enter a number of ways, by commenting, following us on twitter, liking us on facebook, tweeting about the contest, and signing up for our emails. You can do some or all of these things to get more entries. You can also tweet about the contest 1 time per day for another entry.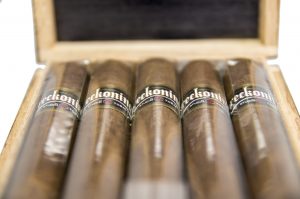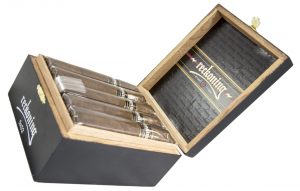 Contest: Win a Box of Studio Tobac Reckoning Robusto