Source: http://www.cigaraficionado.com/webfeatures/show/id/17081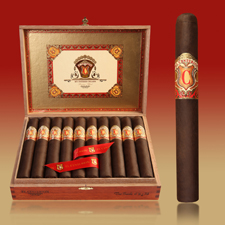 David Savona
Posted: May 20, 2013
El Centurion is shipping to cigar stores. The cigar is made in Nicaragua by the Garcia family, owners of My Father Cigars, and the smoke is being released as part of a 10-year anniversary celebration commemorating when family patriarch José "Pepin" Garcia began rolling cigars in the United States.
The cigars, which we wrote about in March, are a new incarnation of a previously limited-edition smoke that first came out in 2007.
El Centurion has a new blend, a new look and lower prices than the original version. The cigars are made from an all-Nicaraguan blend that has four seed varietals: Criollo, Corojo Habano, Sancti Spiritus and Criollo '98.
El Centurion comes in four sizes. Robusto, which has a suggested retail price of $7.10, Belicoso ($7.40), Toro ($8.10) and Toro Grande ($8.60). They come in boxes of 20. Look for a taste test in an upcoming issue of Cigar Insider.