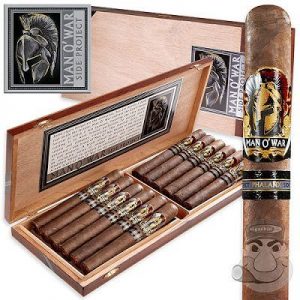 Vital Stats:
Vitola: Toro Gordo
Length: 6.5″
Ring Gauge: 56
Country of Origin: Nicaragua
Wrapper: Pennsylvania Broadleaf Maduro
Binder: Nicaragua
Filler: Nicaragua
Factory: Tabacalera Fernandez
Blender: A.J. Fernandez
Age: 1 year
Number of reviewers: 5 — Brian (B-daddy), Will (Dubv23), Robert (NavyPiper), Ron (shuckins), Nicholas (volpow61)
Price: $7 per stick (cigars international/cigar.com exclusive)
Contributed by: Emmett (rhetorik)
This cigar was reviewed blind (no bands) by a panel of at least 4 reviewers. They did not know what they were smoking beforehand. The scores are an average of all the reviewers' scores with outliers removed. All of our cigars reviewed are shipped to the panelists with Boveda packs to ensure optimal smoking experience.
Appearance/Aroma: 93
 "This cigar looked like a good cigar that was well made and that will be enjoyable.  It was a little intimidating at first sight because of its size coupled with the dark wrapper. I thought this cigar would be a powerhouse. It had a nice dark brown wrapper that was a consistent color. The wrapper showed a few veins, no tooth, and the seams were smooth. The wrapper also had a nice soft, slick feel to it like it was oily that was also visible in the nice shine the wrapper had." –Will (Dubv23)
"Nice firm feel,with a light earthy and cocoa smell." –Ron (shuckins)
 Construction/Burn/Draw: 88
 "Great construction, some veins, perfect cap, some soft spots in first third, rest of stick was solid. Loose draw in first third which tightened up after first third." –Robert (NavyPiper)
"Pre-light draw is slightly loose and tastes of sweet tobacco, reflective of the aroma. Looseness of the draw is indicative of the light pack. For a large stick, it isn't heavy. At the light and throughout the smoke, the cigar puts out huge volumes of smoke from the draw and off of the foot. Large smoke volume but it's surprisingly light and airy, not heavy/chewy. Burn throughout is a touch wonky and requires a couple touch-ups to even out the wrapper burn rate but this is never a problematic." –Brian (B-daddy)
First Third
"Little spice with sweetness and dough,with a touch of a sour note. Strength had a decent punch to it but not to over powering. Fairly complex body with subtle flavor changes." –Nicholas (volpow61)
"Initial flavor profile is of sweet tobacco and coffee with cream and touch of milk chocolate; kind of like a mocha. The finish is relatively short and clean, without any spice/pepper. Towards the end of the first third, I start getting some hints of dried fruit (raisins/prunes) and some molasses. Even with these rich flavor types the body is surprisingly light and there is little strength (no nicotine kick). I'm enjoying this. Not overly complex but everything is in balance." –Brian (B-daddy)
Second Third
Flavor: 90
Strength: medium-strong
Body/Complexity: medium-full
"The second third was similar to the first with the pepper mellowing a bit leaving a earthier profile that was complimented by the espresso and dark chocolate. In the second third there was a lingering oily aftertaste that wasn't terrible but not the most appealing. Strength was similar to the first third. I still felt the nicotine but it did not get stronger and body was similar with the flavors switching slightly as it progressed into this portion of the cigar." –Will (Dubv23)
"Draw tightened up this third so that it was pleasant- not too easy, but not too difficult, which was nice as I like fairly easy drawing cigars.  Flavor really started to kick up this third, with increased coffee, tobacco, wood, and spice all increasing nicely as I was afraid the dry boxing might have messed things up for this stick. Started getting some nicotine this third. One touch up with lighter." –Robert (NavyPiper)
Final Third
Flavor: 92
Strength: medium-strong
Body/Complexity: medium-full
"Spice dies down from the second third and gives way to more sweetness with some citrus and dough flavors added in. The body and complexity really stand out in the final third with more complexity than the other two thirds." –Nicholas (volpow61)
"No real change in flavors. Thought I was tasting a little leather,but the pepper kicked it up a notch,and what little leather I tasted was covered up by it. Coffee ended up on a lighter note and the woodsy flavor lost some of it's campfire taste, and the cigar actually tried to get a little creamy for a minute." –Ron (shuckins)
Overall:
Overall Experience: 91
Overall Strength: medium-strong
Overall Body/Complexity: medium-full
Smoking Time: 94 minutes
"This cigar is very comfortable for me. The flavor profile is right in my sweet spot (coffee, chocolate, and a hint of spice) but it is not particularly intense. It is easy going. Everything evolves and grows in harmony and is enjoyable throughout." –Brian (B-daddy)
"Overall, I enjoyed this cigar.  I'm a fan of full body cigars that offer strong flavor and this was on point.  For being a bigger cigar that took longer than average to smoke I was impressed by the small transitions in flavor to keep me interested.  The only downside for me was the burn requiring touch ups on multiple occasions and the fact that I needed to puff more than normal to create ample smoke production.  Thankfully the cigar did not go bitter because of this." –Will (Dubv23)
"If you like a smoke with a nice punch to it with an above average spice to it this is it; this smoke got more enjoyable to me the more it burned." –Nicholas (volpow61)
Total Score: 90 (Good)