Reviewer: Derek (StogieNinja)
Initial Thoughts
The cigar appears well made. Firm to the touch, slight amount of give. Beautiful variegated brown wrapper, with a very nice sheen. The aroma is slight barnyard/hay, with hints of cocoa and some spice.
The Smoke
In the first third, the draw is very loose, but in an acceptable range. Tons of thick, satisfying smoke. Starts strong with cocoa and pepper. This don't make sense until you try one, but it's a smooth pepper. There's a sweetness on the lips, like toasted caramel, and a bitter, hoppy citrus, like an IPA. At an inch in, the bitterness noticeably fades, and there's a warm sweetness that takes center stage. Toasted caramel, burnt sugar, cocoa, a floral essence, some citrus and a light pepper in the background. The draw is perfection at this point. The burn line is really wavy, but seems to self-correct.
Into the middle third, there's not much change. Flavors remain largely the same, though a sourness appears, that is oddly charming. It's a citrus flavor that blends rather nicely with the other flavors. The complexity of the sour citrus with the burnt sugar sweetness and the subtle cocoa and tobacco is very unusual, but very enjoyable.
There's an interesting transition into the final third as the sourness fades and the toasted sugar sweetness bursts to the front. The citrus is there, surely, and a major player, but burnt sugar plays first chair now. It's delicious to the last sip.
Overall Impressions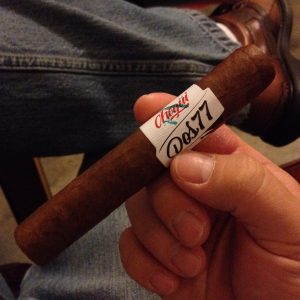 I'm very impressed. To be honest, I went into this wondering whether it would be a mediocre smoke, or whether it would be decent. It's far better than I'd hoped. The only thing I've had remotely similar was the Daruma Mutante, which I disliked. The citrus didn't work for me with that stick, but it works so well here. I'm guessing this is going to be a polarizing cigar, with some who love it, and some who hate it, but all will likely admit that the quality is high. I recommend giving it a try!
Quick Cigar Review: Chogüí | Dos77