*Note: This is not a blind review, this is just to give a quick take on a cigar that was provided to us by the distributor.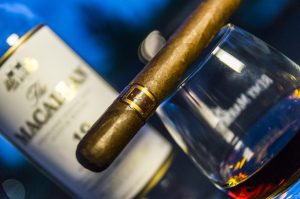 This cigar was sent to us by Valerie Bradshaw on behalf of Daniel Marshall so that we could participate in their Twitter tasting that was held on Wednesday, August 20th. You can see the results of the Twitter tasting by searching for the hashtag #DMCigars. We decided that we would also create a dual quick review for this cigar as well.
The Red Label uses an Ecuador Connecticut shade wrapper with Dominican binder and filler. It is blended by Manuel Quesada.
Initial Impressions
The cigar has a nice milk chocolate brown wrapper with some visible veins. The wrapper color is very consistent throughout. The seams are tight, but visible. The aroma is a mix of hay and leather from the wrapper. From the foot, I get a mix of tobacco and raisin sweetness. -Aaron
This cigar is quite something to look at. The wrapper is just gorgeous, very very oily and an enticing reddish brown color. It is very even in color and construction. -Emmett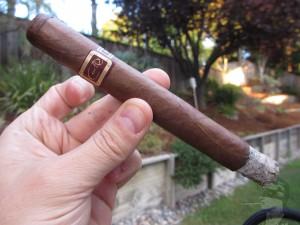 The Smoke
A little spice on the lips along with the raisin sweetness from the pre-light draw. I got some pepper on the initial few puffs, but that quickly faded to a creamy cedar. The cigar has a long finish which tastes of slightly charred oak. The retrohale reminds me of campfire. The flavor transitions to a slightly spicy cedar along with some floral notes in the retrohale. I would rate the strength at mild to medium with a body of medium. -Aaron
This cigar is very easy to smoke. I'm getting a very woody, and creamy flavor to start the cigar. The finish is actually pretty spicy which is interesting given that this is a pretty mild cigar overall. -Emmett
The second third continues with the slightly spicy cedar. Some sweetness comes in and out, and the retrohale is maintaining a slightly spicy charred oak with some floral notes popping in from time to time. All of the spice in the flavor and retrohale has subsided. A smooth oak is what remains. I put the strength at a solid medium and the body at medium/full. -Aaron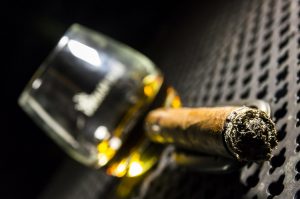 This third, I've gotten a more pronounced wood flavor. Now it is oak. The smoke is less creamy, but I'm getting an added coffee flavor. -Emmett
The oak flavor is very prominent at the start of the final third. I get a lighter example of the flavor through the retrohale. The creaminess is starting to come back to mix in with the oak. A mineral flavor has come into the mix now. The strength remained at medium with the body continuing at medium/full. -Aaron
This third is much like the previous, but perhaps falls a little flat in dimension. -Emmett
Overall Impressions
The draw was very nice. Just about the perfect level of resistance that I prefer. The burn line was very straight throughout and required no attention. The cigar was fairly firm throughout, with some slight soft areas in the middle. With a great burn and draw, the slight soft spots caused no issues. -Aaron
This was a very smooth cigar. Being a Churchill, it presents a long experience. There were some good flavor transitions, but oak was the predominant flavor throughout which mixed well with the other flavors that presented themselves. I think this cigar would be great in the morning paired with some coffee or as the first cigar of the day. It could also be paired with some other libations that aren't overpowering such as a nice peaty Scotch. I could definitely see myself smoking more of these. -Aaron
This was a pleasure to smoke, and I would gladly pay for a few more. I would like to see how a little more time improves the final third. The construction was fantastic throughout the smoke, the draw, burn and smoke production were great. The flavors were not super complex, but they were a delight to smoke. -Emmett
Personal scores:
Aaron: 91
Emmett: 91
Quick Cigar Review: Daniel Marshall Red Label Churchill