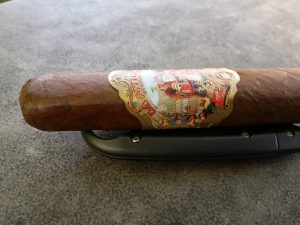 Cigar Info
A slightly reddish-hued Ecuadorian Habano Rosado Oscuro wrapper blankets a double Nicaraguan binder, one Criollo the other Corojo. Inside, a collection of Nicaraguan tobaccos from three prominent growing regions.
La Antiguedad (The Antiquity) is the Garcia's second project to be developed after the mega success of Flor de las Antillas, in which they will once again embrace the authenticity and historic value of the original Cuban art. : Created by master blenders Jose "Pepin" Garcia and Jaime Garcia, La Antiguedad is a super-premium cigar handcrafted in Nicaragua, using the world's finest Cuban seed Nicaraguan grown tobacco. This addition to the My Father Cigars portfolio will continue to showcase the Garcia's Cuban heritage and respect for tradition. The filler tobacco for La Antiguedad is cultivated entirely in Nicaragua on the farms of San Rafael, Las Quebradas, and San Jose, all privately owned and operated properties of My Father Cigars. These tobaccos undergo a very strict and rigorous curing process of no less than three and a half years to guarantee exceptional quality. The Garcia family classifies the blend found in La Antiguedad as medium to full in strength, which offers complex yet balanced flavors. Finished with a Habano Ecuador rosado oscuro wrapper, La Antiguedad is available in boxes of 20, in 5 different box pressed sizes. Robusto – 5 1/4 X 52, Toro – 5 5/8 X 55, Corona Grande – 6 3/8 X 47, Super Toro – 7 X 56 and Toro Gordo – 6 X 60.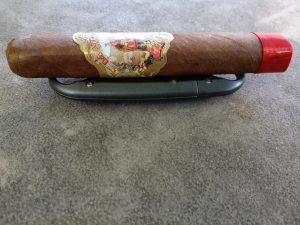 Wrapper: Habano Ecuador Rosado Oscuro
Filler: Nicaragua
Binder: Corojo and Criollo
Pre-light
The presentation of these is great, the band is elegant and the red foot band is a nice touch. There is a triple cap and a hard box-press. The Ecuador Habano wrapper is very even in color and pretty smooth.There are very few veins and even seams.The aroma is very earthy with almost a wet mossy smell and oak. Pre-light draw is much the same.
First Third
The first few puffs are fairly peppery as you would expect from Don Pepin Garcia, but there's a nice wood flavor to accompany it. The draw is very light, almost too much. A fairly prominent raw coca flavor comes out after 1/4 an inch and compliments the wood very well. More into the third, some really nice spices come out. The burn has gone a little askew, but the interesting spices make up for it. I'm getting some allspice and nutmeg.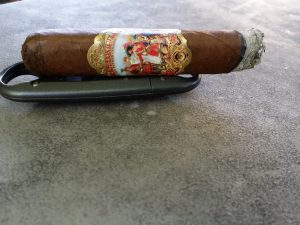 Second Third
The flavors have gotten a little more smooth still with the baking spices and wood. There is definitely some black pepper to be found, still with the allspice and nutmeg.
Final Third
The draw has really taken its toll on the burn, and has needed to be fixes a few times, but the flavors are still good. It has gotten a little harsh in this third. Mostly pepper now, but more green instead of black. Finishes out pretty hot, but overall still a good third.
Final Thoughts
This was a good cigar, better than average. It has some really interesting flavors and unique spices. The too loose draw made the burn go wonky and the cigar get hot towards the end, but I think, knowing the quality of cigars coming out of my father, this is not a normal occurrence. I would definitely smoke this again, but I don't know if it's box worthy, maybe a 5er to see how it ages. I give this a personal score of 90.