Sounds odd, right? This is definitely something you should be aware of. I participate on multiple forums, and people share the fact they they are finding holes in their cigars or dust in their humidors and ask what they can do. Sometimes, people just tell them to toss them and be more careful about their environment, but this could have been prevented and that doesn't always get shared which is the reason I wanted to create this article.
There is such a thing as tobacco beetles and they could be inside of your cigars. Typically it will start out with the eggs or larvae being inside of the cigars and they hatch when the environment is right. Development of the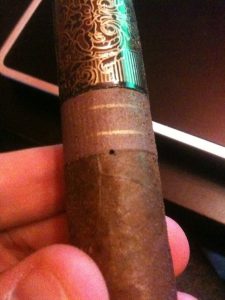 eggs can happen above 65 degrees, but really accelerates above 70 degrees and in high humidity. Since we are trying to keep the humidity up in our environments, it makes it pretty easy for this to happen, especially if we are over humidifying. Once they hatch, they begin eating away at the tobacco of the cigar which can ruin them and deprive you of the treat of getting to smoke them. Some of the telltale signs of cigar damage are small pinholes in the wrapper of the cigar along with fine dust near that cigar which is parts of tobacco and the beetle dung. Once they hatch, they're not confined to the cigar they started in; they can move to the other cigars in your collection and really do a lot of damage. Cellophane will not contain cigars beetles as they can eat through it and move on to other cigars in the humidor.
Some people will say that manufacturers freeze cigars before they get distributed, which is true for some manufacturers. I have two issues with that as a reason to not freeze for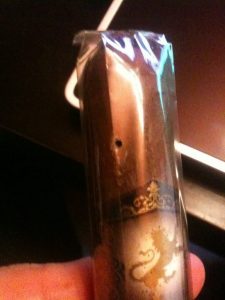 prevention. How often does the manufacturer ship directly to you, and what other cigars were they in close proximity to before they reached you? Cigars that you acquire could come from a B&M where they are next to cigars from many other manufacturers. They could also come to you in a trade, bomb or sale from another cigar smoker in which they were in very close proximity to many other cigars. Why would you want to take a chance that the B&M or fellow cigar smoker took the time to prevent this or is possibly giving you something that could create a catastrophe in your humidor.
There's really no way to tell if the eggs exist within your cigars until they hatch and at that point it is too late. With this unknown, I take preventative measures with all cigars I plan to put into my humidor and that preventative measure is freezing. Some people don't like the freezing technique as they say it will damage the cigars or change their taste. I have never experienced any damage due to the freezing process or experienced any discernible flavor change either. There are many others that use the freezing technique without issue.
Here is the process that I follow:
1. For single cigars or boxes, put them in a freezer bag and remove as much air as possible without damaging the cigars or box
2. Put this bag into another freezer bag and repeat the air removal process
3. Put the bag of cigars into the refrigerator for 12-24 hours (this will slowly reduce the temperature of the cigars)
4. Put the bag of cigars into the freezer for 72 hours (double this if you're putting in a box of cigars due to the insulating factor of the box itself)
5. Put the bag of cigars back into the refrigerator for 12-24 hours (this will slowly raise the temperature of the cigars)
6. Remove the bag from the refrigerator and let sit out at room temperature for 8-12 hours (this will slowly raise the temperature of the cigars)
7. Move the cigars to your humidor and let them rest for up to two weeks to acclimate to the proper temperature and humidity
This process has worked successfully for me. It takes patience, but for any cigars that will be spending time in your humidor, I feel that it is well worth the peace of mind and insurance that you will not have a destructive beetle outbreak.
Tips and Tricks: Cigars and Beetles