Vital Stats:
This cigar was reviewed blind (no bands) by a panel of at least 4 reviewers. They did not know what they were smoking beforehand. The scores are an average of all the reviewers' scores with outliers removed. All of our cigars reviewed are shipped to the panelists with Boveda packs to ensure optimal smoking experience.
Vitola: Robusto
Length: 5″
Ring Gauge: 50
Country of Origin: Dominican Republic
Wrapper: Ecuadorian Connecticut
Binder: Indonesian Bezuki
Filler: Ligero and Seco Cubano
Factory: Undisclosed
Blender: Undisclosed
Number of reviewers: 5 —– Sandeep (Djangos) Craig (WyldKnyght) Gregg (McGreggor57) Brian (B-daddy) Jason H. (Jokey Smurf)
Price: $7.45
Age: 1 Month Rest
Release Date: August 2013
Contributed by: Durango Cigars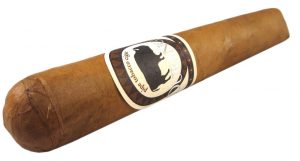 Cigar Information
(From Manufacturer) –Literally "sweet and smokey," this stick consists of  naturally sweet matured Virginias blended with the right amount of smokey Perique, then we finish it off with Anejo tequila, lime peel, agave nectar, and spicy jalapeño. This might be our most interesting blend to date… Lots of flavor with lots of layers. – See more at: http://durangocigars.com/dc/product/dolce-y-ahumado/#tab-description
Initial Impressions
Appearance: 90
"A nice Connecticut shade of wrapper with some haphazard seams. Minimal veins and nicely applied cap. The foot looks like it wants to be a box press but comes off a bit trapezoidal." –Gregg (McGreggor57)
Aroma: 91
"Very nice aroma, smells like some light tobacco. The foot has a nice sweet smell" –Craig (WyldKnyght)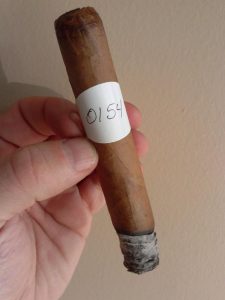 First Third
Flavor: 91
Strength: Mild-Medium
Body/Complexity: Light-Medium
"Surprisingly for a flavored cigar this is quite good. There is no artificial sweetness and neither is the wrapper sweetened. There is a blast of various spices and the most predominant one is cloves! There is definitely some white and pink pepper that fade in and out. I am also getting a saltiness that is quite a new flavor profile for me. All in all not bad. The draw is great and the burn line is perfect. The grey ash is holding for an inch before falling. Lots of creamy rich smoke." –Sandeep (Djangos)
"At first light, the flavors are mellow, mild and smokey sweet. The scent and flavor of pipe tobacco comes through. I'm still getting coffee and smokey flavors after the first inch. Maybe just a hint of some kind of liquer flavor in there, like bourbon. Scotch? Flavors consistent through the first third. I'm enjoying this so far." –Brian (B-daddy)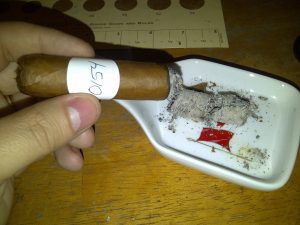 Second Third
Flavor: 89
Strength: Mild-Medium
Body/Complexity: Light-Medium
"Some leather is coming into play but milk chocolate is still the predominate flavor. The finish has been consistent with the liqueur note which is also adding a bit of kick on the retro. Great draw, burn and smoke production thus far." –Gregg (McGreggor57)
"At the start of the second third, the flavor profile is similar to the first. I'm getting the smokey pipe tobacco and some sweet coffee flavors. Every once in a while a buttered popcorn flavor comes and goes. Towards the end of this third, I start picking up a little spice, maybe some mild pepper or some cinnamon heat, on the finish." –Brian (B-daddy)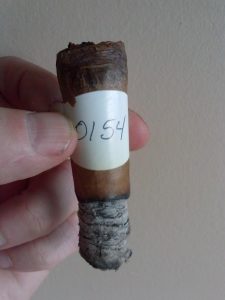 Final Third
Flavor: 87
Strength: Medium
Body/Complexity: Medium
"Unlike the last couple of thirds, this final third took a turn for the worse towards the very end with a lot of harshness as well as bitterness. The spices are dying down with a more leathery character emerging. Still no artificial seeming flavors or sweetness. The burn, draw as well as smoke are great to the very end." –Sandeep (Djangos)
"The final third took a downward spiral, as it became harsh and bitter, but not unbearable. I would probably have tossed it before the end, but continued for the review." –Craig (WyldKnyght)
Overall Impressions
Draw: 95
"Nice easy draw with plenty of smoke. No complaints in this department." –Jason H. (Jokey Smurf)
Burn: 95
"A little wavy but typically evened out by itself. One touch up." –Brian (B-daddy)
Construction: 93
"This cigar was firmly packed and appeared well made with the exception of the crooked foot. The ash was flowery and held for an inch or so before falling." –Jason H. (Jokey Smurf)
Overall Strength: Mild-Medium
Overall Body/Complexity: Medium
Overall Experience: 89
"Overall this cigar was pleasant except for the final third. This was definitely not what I expected from a flavored cigar, having had some very unpleasant experiences in the past with a few others which had a lot of artificial flavors as well as sweetness. If it hadn't been for the final third it may even have scored higher. Might give it another shot." –Sandeep (Djangos)
"This cigar started out very well, but did not get better as it when on. The smoke actually smelled sweeter than the flavor tasted. Had I not know it was a flavored cigar, I probably would not have guessed it. The only thing that gave it away was the dark leaf in the middle of the cigar. I would give this cigar another try." –Craig (WyldKnyght)
"The issue I have with infused cigars are their seemingly single dimension. The initial flavors remained throughout this cigar and any third by itself would be considered a solid smoke. The sweetness of the chocolate was a bit much for my palate but I did enjoy the subtle grass/herb notes in the beginning as well as the Khalua and coffee profile near the end. This cigar would be given high marks up against other infused sticks I've had." –Gregg (McGreggor57)
"Aside from the pre-light aroma, this stick was not obviously infused. And the unusual flavors it did exhibit were more akin to a rich mellow pipe tobacco versus potpourri-ish flavors. I quite enjoyed it and I'd smoke it again. Would probably be very nice with a cup of coffee in the morning or as a dessert stick." –Brian (B-daddy)
"I have smoked some infused sticks in the past that were quite good…unfortunately this one was not in that category. From the first puff this stick was harsh and unpleasant. It never achieved even tolerable status for me, and is something that I would steer far clear of." –Jason H. (Jokey Smurf)
Smoking Time (in minutes): 61
Total Score: 91 (Very Good)
Edit

| Reviewer | Appea-rance | Aroma | 1/3 | 2/3 | 3/3 | Draw | Burn | Constr. | Overall |
| --- | --- | --- | --- | --- | --- | --- | --- | --- | --- |
| Sandeep | 95 | 95 | 90 | 90 | 87 | 97 | 97 | 93 | 88 |
| Craig | 90 | 90 | 90 | 88 | 85 | 90 | 93 | 90 | 88 |
| Gregg | 90 | 92 | 92 | 90 | 92 | 95 | 97 | 95 | 90 |
| Brian | 90 | 88 | 90 | 90 | 90 | 95 | 95 | 95 | 90 |
| Jason H. | 88 | 90 | 83 | 83 | 85 | 95 | 93 | 90 | 83 |
| Overall | 90 | 91 | 91 | 89 | 87 | 95 | 95 | 93 | 89 |
To view the complete scores and notes, click here.
Blind Cigar Review: Durango | Dolce y Ahumado Robusto