Vital Stats:
This cigar was reviewed blind (no bands) by a panel of at least 4 reviewers. They did not know what they were smoking beforehand. The scores are an average of all the reviewers' scores with outliers removed. All of our cigars reviewed are shipped to the panelists with Boveda packs to ensure optimal smoking experience.
Vitola: Robusto
Length: 4.5″
Ring Gauge: 50
Country of Origin: Nicaragua
Wrapper: Nicaraguan Corojo
Binder: Nicaragua
Filler: Brazil, Dominican Republic and Nicaragua
Factory: My Father Cigar Factory
Blender: Nestor Miranda
Number of reviewers: 5 —– Ron (shuckins) Gregg (McGreggor57) Brian (B-daddy) Jason H. (Jokey Smurf) Milton (mjohnsoniii)
Price: $6.50
Age: 2 Months Rest
Release Date: July 2013
Contributed by: Miami Cigar & Company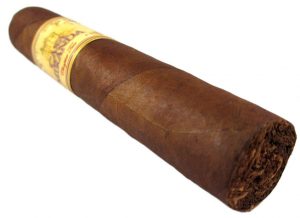 Initial Impressions
Appearance: 90
"Upon first glance, I notice that this cigar is sporting a beautiful reddish brown wrapper with a few medium sized veins and a silky smooth feel. The seams are nice and tight, and the triple cap is very well applied. I do notice two small holes in the wrapper leaf just below the cap. They are not into the binder, so I don't expect a problem from them. The pack is a little on the light side but it is very consistent from head to foot." –Jason H. (Jokey Smurf)
Aroma: 91
"I got lots of barnyard notes like hay, wood and also raw leather." –Milton (mjohnsoniii)
First Third
Flavor: 89
Strength: Medium
Body/Complexity: Medium
"Starts off with an earthy tasting tobacco that has a musty after taste. A nice blend of leather, with coffee and splashes of pepper flavors show up soon. The new flavors join with the earthy tasting tobacco, pushing the mustiness away and provide a tasty start to the cigar." –Ron (shuckins)
"Oak, leather and coffee with an earthiness are the initial flavors. A mild nutty spice on the first few retrohales with the bitter sweetness of molasses lingering on the palate. The draw is a bit tight. Halfway through this third the coffee has moved to the finish. A perfect ending to the richness of the wood and leather." –Gregg (McGreggor57)
Second Third
Flavor: 93
Strength: Medium
Body/Complexity: Medium
"As the second third starts I noticed that the pepper is fading and more flavors are emerging. The earth is still there, but it's "nicer" now, and has picked up some of the vanilla sweetness that I detected before lighting up. There is also just a hint of leather in the background. The smoke output has increased a bit here as well as the draw loosening up. The smoke is oily and coats my palate well…this makes the sweet finish last a bit longer and is pleasant." –Jason H. (Jokey Smurf)
"Espresso really showed through at this point with the unsweetened chocolate transitioning to a caramel-like taste. There were also hints of spices and red pepper." –Milton (mjohnsoniii)
Final Third
Flavor: 89
Strength: Medibum
Body/Complexity: Medium
"The earthy flavor fades as the tobacco picks up a woodsy taste. There is also a bit of light pepper that showed up in the woodsy tobacco flavor, but not enough to chase the creamy leather coffee flavor from the front. Everything blended well together for a great finish to the cigar." –Ron (shuckins)
"In the final third, the spice dies down some and the draw flavors are dominated by toasted wood. A creamy leather flavor joins the mix, coming in at the start of the finish and hangs on for quite a while. The nub gets hot earlier than I'd like and there's a little harshness." –Brian (B-daddy)
Overall Impressions
Draw: 89
"A bit tight throughout requiring a slower smoke to coax out the flavors without them becoming harsh." –Gregg (McGreggor57)
Burn: 90
"This cigar burned a little quickly for me and as a result I think the smoke was less flavorful than it could have been. The last 1.5″ was unpleasant due to bitter and hot smoke." –Jason H. (Jokey Smurf)
Construction: 91
"Nice and evenly firm throughout. Great performance aside from a bit of a fast burn. Nice wrapper work and triple cap. Well constructed cigar." –Brian (B-daddy)
Overall Strength: Medium
Overall Body/Complexity: Medium
Overall Experience: 90
"A very enjoyable cigar, with well blended palate pleasing flavors that I would definitely add to my rotation." –Ron (shuckins)
"Smoking slower certainly allowed the richer flavors to shine through. When I became too aggressive, the profile changed dramatically. The final third however, lost the deeper richness of flavors I was enjoying up to that point. Still, I would keep a few of these on hand as it was a solid smoke." –Gregg (McGreggor57)
"Flavors were good but not particularly remarkable; didn't really stand out from the crowd as exceptional but still solid. The performance was great, a joy to smoke and allowed me to relax and enjoy. I'd definitely smoke this again. If the price is low, it would make a very nice every day smoke." –Brian (B-daddy)

"This cigar had a lot of promise during the middle portion. Unfortunately, it just didn't last long enough for me to want to chase some down. Not a train wreck, but not a show stopper." –Jason H. (Jokey Smurf)
"I could see myself giving these another shot. It wasn't a bad cigar by any means just not an excellent one. There were definitely great moments during the 65 minutes it took to smoke it. Maybe with a bit more time to mature, they could potentially be that excellent stogie. Who knows?" –Milton (mjohnsoniii)
Smoking Time (in minutes): 66
Total Score: 90 (Very Good)
Edit

| Reviewer | Appea-rance | Aroma | 1/3 | 2/3 | 3/3 | Draw | Burn | Constr. | Overall |
| --- | --- | --- | --- | --- | --- | --- | --- | --- | --- |
| Ron | 90 | 90 | 90 | 93 | 92 | 90 | 92 | 90 | 92 |
| Gregg | 90 | 88 | 92 | 93 | 90 | 88 | 90 | 90 | 90 |
| Brian | 92 | 92 | 90 | 90 | 90 | 100 | 92 | 95 | 92 |
| Jason | 90 | 92 | 88 | 93 | 88 | 90 | 90 | 90 | 90 |
| Milton | 90 | 90 | 88 | 90 | 88 | 88 | 90 | 92 | 90 |
| Overall | 90 | 91 | 89 | 93 | 89 | 89 | 90 | 91 | 90 |
To view the complete scores and notes, click here.
Blind Cigar Review: Casa Miranda | Chapter 2 Robusto