Editor's Note
We want to give a special shout out to Brandon Luna and Randy Rankin of Calypso Cigar Review for joining us on this review. We all smoked this cigar together via Google Hangouts, without knowing what it was, as always. They filled out the same form as our normal panel and turned it into a video podcast. It can also be downloaded as audio only through iTunes, Spreaker, iHeart Radio and most of the other podcast sites. Be sure to look at the final notes and scores below.
This cigar was reviewed blind (no bands) by a panel of at least 4 reviewers. They did not know what they were smoking beforehand. The scores are an average of all the reviewers' scores with outliers removed. All of our cigars reviewed are shipped to the panelists with Boveda packs to ensure optimal smoking experience.
Vital Stats:
Vitola: Toro
Length: 6″
Ring Gauge: 52
Country of Origin: Nicaragua
Wrapper: Nicaraguan Habano Maduro
Binder: Nicaragua
Filler: Honduras
Factory: Segovia
Blender: David Blanco
Number of reviewers: 5 —– Emmett (rhetorik) Milton (mjohnsoniii) Craig (WyldKnyght) Randy, Brandon
Price: $7.00
Age: 3 Months
Release Date: August 2013
Contributed by: CZ Cigars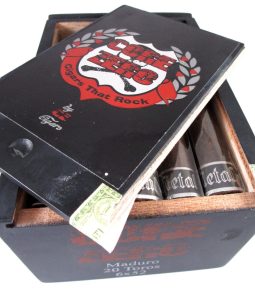 Cigar Info
From Manufacturer -"At first glance it is an impressive, dark rich looking Maduro. Don't let the appearance fool you however, we have worked hard to bring a beautiful, flavor packed maduro to the world without going into a complete full-bodied cigar. Beginning with the sheen of the oily Nicaraguan Habano Maduro wrapper this promises to awe a wide range of cigar lovers. Metal is a medium bodied strength smoke with the complexity and flavor of the finest full bodied cigars. The Metal is available in three sizes: Robusto (5×52), Toro (6×52) and the Sesenta (6×60). We are pleased to announce that the new re-worked Metal is now in stock and available for purchase! The Metal saw it's debut at the 2013 Rocky Mountain Cigar Festival in Boulder on 8/24/13 to rave reviews of it's fans! Go to the online store and get your 5 pack or box today….you won't be disappointed!"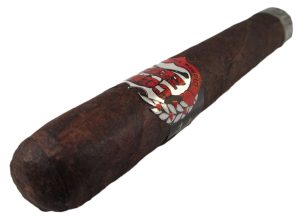 Initial Impressions
Appearance: 90
"This cigar is almost jet black, this was the darkest cigar in my humidor I could compare it to when I pulled it out of the top shelf. There are a few veins, but nothing bad." –Emmett (rhetorik)
Aroma: 94
"The smell on the foot was ALL Nicaraguan. Very spicy, very sweet, with a cocoa aroma permeating throughout. Again, I was reminded of a Liga or something similar." –Brandon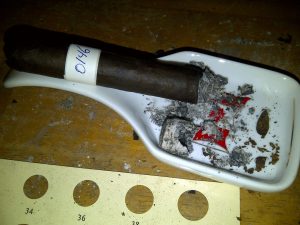 First Third
Flavor: 93
Strength: Medium-Strong
Body/Complexity: Medium
"Very spicy to start out, a nice little kick to grab your attention. It mellows into a more creamy profile with a nice espresso background." –Emmett (rhetorik)
"There was the definite presence of strong tobacco along with a nice hit of black pepper at the initial light. The smoke began billowing almost immediately. The burn started off rather uneven and the ash was flaky as well. As the black pepper settled, espresso and leather crept in along with slight floral hint." –Milton (mjohnsoniii)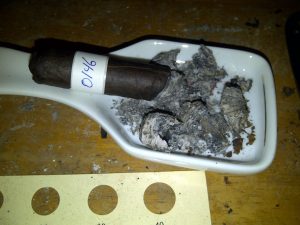 Second Third
Flavor: 93
Strength: Medium
Body/Complexity: Medium
"Spice is much milder in the second third. A creamy coffee flavor has started to emerge." –Randy
"In the second third, the cigar seems to have settled down a bit. No longer the pepper bomb it once was. The flavors have eased into a smoother profile. The cocoa has melted into more of a dark coffee flavor. There is a creaminess to the retrohale that really compliments the coffee notes present. If you leave the smoke in your mouth and move it around, it actually makes your tongue burn from the spice. Very nice second third for sure. If this is NOT a Liga, I sure want a whole lot of them if the price point is right." –Brandon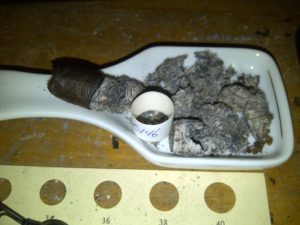 Final Third
Flavor: 91
Strength: Medium-Strong
Body/Complexity: Medium
"The final third was pretty much the same as the second, mellow with some coffee like flavor. There was a pick up in spice right at the end." –Craig (WyldKnyght)
"Black coffee takes over most of the flavor profile on the last third. The creaminess has trailed off and unfortunately a certain degree of bitterness has joined the flavor profile. The last third also has become very spicy, leaning it more towards the full side strength wise. I have a feeling that the bitterness I am getting might be because of the age of these cigars. I am hoping that it is relatively young and if you put 6 months to a year on them, maybe that bitterness might be a thing of the past." –Brandon
Overall Impressions
Draw: 98
"Great draw, no issues at all." –Randy
Burn: 88
"The burn wasn't a problem at all, but did require several touchups. It started to canoe a little at one point." –Emmett (rhetorik)
Construction: 91
"This cigar's construction was on point. It was firm, had uniform color and the wrapper was rolled on perfectly. Its double cap was applied with precision and there were no issues at any point during the almost two hours that it took to smoke it." –Milton (mjohnsoniii)
Overall Strength: Medium-Strong
Overall Body/Complexity: Medium
Overall Experience: 95
"This was a very good experience. I would have liked a little more complexity and less harshness at the end, but I think with some age these will be great. There were some good, solid espresso and coffee flavors with a good kick of spice, so if those flavors sound like something you would enjoy, I would definitely recommend this cigar. If the price is right, I would pick up a box." –Emmett (rhetorik)
"Although I don't think I'd go too far out of my way to search for one, it was an excellent way to spend a couple of hours. I'd hoped for a bit more complexity, but it offered plenty of flavors that came and went and I'd welcome the opportunity to give it another shot." –Milton (mjohnsoniii)
"I'm definitely going to buy more of these. This cigar had a "Liga"esque taste to it and it definitely felt like a quality cigar." –Craig (WyldKnyght)
"Great stick, would definetly smoke again!" –Randy
"If not for the bitterness in the last third this would have easily gotten an Extraordinary rating. Once I know what it is, I will get a bunch and put them aside for a good while and see what they become. I have a good feeling this will age quite nicely." –Brandon
Smoking Time (in minutes): 83
Total Score: 93 (Excellent)
Edit

| Reviewer | Appea-rance | Aroma | 1/3 | 2/3 | 3/3 | Draw | Burn | Constr. | Overall |
| --- | --- | --- | --- | --- | --- | --- | --- | --- | --- |
| Emmett | 95 | 95 | 97 | 95 | 90 | 98 | 88 | 90 | 95 |
| Milton | 90 | 93 | 88 | 88 | 92 | 98 | 88 | 92 | 93 |
| Craig | 90 | 88 | 90 | 90 | 90 | 95 | 90 | 90 | 93 |
| Randy | 95 | 95 | 95 | 95 | 92 | 98 | 97 | 97 | 95 |
| Brandon | 90 | 93 | 93 | 93 | 88 | 98 | 97 | 97 | 95 |
| Overall | 90 | 94 | 93 | 93 | 91 | 98 | 88 | 91 | 95 |
To view the complete scores and notes, 

click here

.
Blind Cigar Review: CZ Cigars | Metal Toro