Vital Stats:
This cigar was reviewed blind (no bands) by a panel of at least 4 reviewers. They did not know what they were smoking beforehand. The scores are an average of all the reviewers' scores with outliers removed. All of our cigars reviewed are shipped to the panelists with Boveda packs to ensure optimal smoking experience.
Vitola: Toro
Length: 6″
Ring Gauge: 50
Country of Origin: Nicaragua
Wrapper: Nicaraguan Habano
Binder: Nicaraguan Habano
Filler: Nicaraguan
Factory: Tabacalera Carreras S.A
Blender: Craig Cunningham
Number of reviewers: 5 —– Craig (WyldKnyght) Sandeep (Djangos) Gregg (McGreggor57) Ron (shuckins) Emmett (rhetorik)
Price: $6.20
Age: 3 Months
Release Date: 2008
Contributed by: Esteban Carreras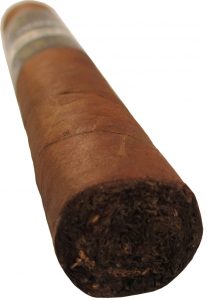 Initial Impressions
Appearance: 93
"This cigar has a very nice appearance with a medium dark brown oily wrapper, a little bit of tooth and an even cap and foot. There are minimal veins but a few glue spots." –Emmett (rhetorik)
Aroma: 91
"Not much aroma to speak of off the foot or wrapper, maybe a little pepper. The pre-light draw however is a creamy caramel." –Emmett (rhetorik)
First Third
Flavor: 90
Strength: Medium
Body/Complexity: Medium
"Slightly burnt caramel on the palate with baking spices on the retrohale were the initial flavors to greet me. A light coffee lingered. Muted vanilla, oak and a touch of cedar combined with the caramel and baking spices. Not much spice on the retrohale after the first 1/2 inch." –Gregg (McGreggor57)
"Peppery tatsing cedar on light up, that was a little on the dry side. The pepper faded pretty quick though, at least enough to let a nice leather and coffee flavor come through, although the dryness remained throughout the first third." –Ron (shuckins)
Second Third
Flavor: 91
Strength: Medium
Body/Complexity: Medium
"The flavors from the previous third carry on into the second third as well. Mostly the flavors consist of hay and grass. There is more pepper now in this third and seems to gravitate to the back of the throat. The smoke and burn are good and the ash is holding well over an inch before falling off. Sadly, the flavors are one dimensional and not may changes are appreciated. Towards the end of this third, the cracks in the wrapper that I talked about earlier begin to widen and the wrapper is beginning to peel." –Sandeep (Djangos)
"Light coffee, caramel and baking spices began this third with a creamy leather/oak on the finish. A sweet nuttiness was present as well. These flavors worked very well together and had enough subtle changes to keep it interesting. Further into this third, the woodsy flavors have become more dominant with the light coffee and baking spices providing a background of sweetness." –Gregg (McGreggor57)
Final Third
Flavor: 89
Strength: Medium
Body/Complexity: Medium
"Charcoal flavor went away and started getting some nutty flavor, very plain." –Craig (WyldKnyght)
"The nutmeg flavor didn't last long when the pepper kicked back in as the final third began. Cedar also faded a little bit, but never lost it's good flavor profile. The leather lost a bit of its creaminess, but the coffee kept its rich taste until the very end." –Ron (shuckins)
Overall Impressions
Draw: 89
"While the draw seemed good, it took a bit of work to get a full mouthful of flavor and smoke." –Gregg (McGreggor57)
Burn: 91
"Burn was pretty even, ash was flaky." –Craig (WyldKnyght)
Construction: 89
"Well rolled, tightly packed, with just one visible vein and a good looking cap." –Ron (shuckins)
Overall Strength: Medium
Overall Body/Complexity: Medium
Overall Experience: 87
"Flavor-wise, this was an extraordinary cigar. The slight sweetness of caramel, coffee and cream throughout really balanced the woods and leather. I imagine this stick would pair very well with the vanilla/oak notes of a bourbon. Definitely one to look at putting in rotation." –Gregg (McGreggor57)
"I can't really judge this cigar based on this sample because the draw was so tight I couldn't make it past the first third, even with a draw poker. Hopefully my sample was a fluke and the other reviewers had a better experience." –Emmett (rhetorik)
"Not a great stick, but also not a bad stick, not something I would go looking for." –Craig (WyldKnyght)
"The issues with the wrapper definitely brought down the score quite a bit since it was not repairable. Also, the flavors were very unilateral and one dimensional. I would have liked a little bit more spice and complexity to my smoke. I might give it another shot just to see if the wrapper issue was a fluke, but definitely not going to look for one." –Sandeep (Djangos)
"No bells or whistles, but a solid cigar nonetheless that I would enjoy smoking again." –Ron (shuckins)
Smoking Time (in minutes): 75
Total Score: 89 (Good)
Edit

| Reviewer | Appea-rance | Aroma | 1/3 | 2/3 | 3/3 | Draw | Burn | Constr. | Overall |
| --- | --- | --- | --- | --- | --- | --- | --- | --- | --- |
| Craig | 90 | 90 | 88 | 88 | 85 | 88 | 88 | 88 | 85 |
| Sandeep | 88 | 88 | 88 | 88 | 85 | 90 | 88 | 85 | 85 |
| Gregg | 95 | 95 | 95 | 97 | 95 | 90 | 95 | 95 | 95 |
| Ron | 93 | 92 | 90 | 90 | 90 | 88 | 92 | 90 | 90 |
| Emmett | 95 | 90 | 70 | 50 | 50 | 50 | 50 | 50 | 70 |
| Overall | 93 | 91 | 90 | 91 | 89 | 89 | 91 | 89 | 87 |
To view the complete scores and notes, click here.
Blind Cigar Review: Esteban Carreras | Habano Toro